Let's be honest; we're all sick and tired of wearing surgical and N95 masks. More so, we're sick and tired of looking like doctors and surgeons for most of the day; why can't we just have a face mask that matches our clothes and doesn't really stand out?
Well, black disposable face masks are the answer from the mask Gods. A black mask will provide all the protection you may need, and will also match the majority of your closet.
But, how do you know which black mask to buy? They're seemingly everywhere right now, and every brand claims their black face mask is the best.
Well, we've got you covered. We've gotten through dozens of black face masks and made our final list of the masks which look good, feel good and protect well. So, without further ado, let's get started!
Our Guide To Best Black Face Masks
UNIQLO Airism Face Mask in Black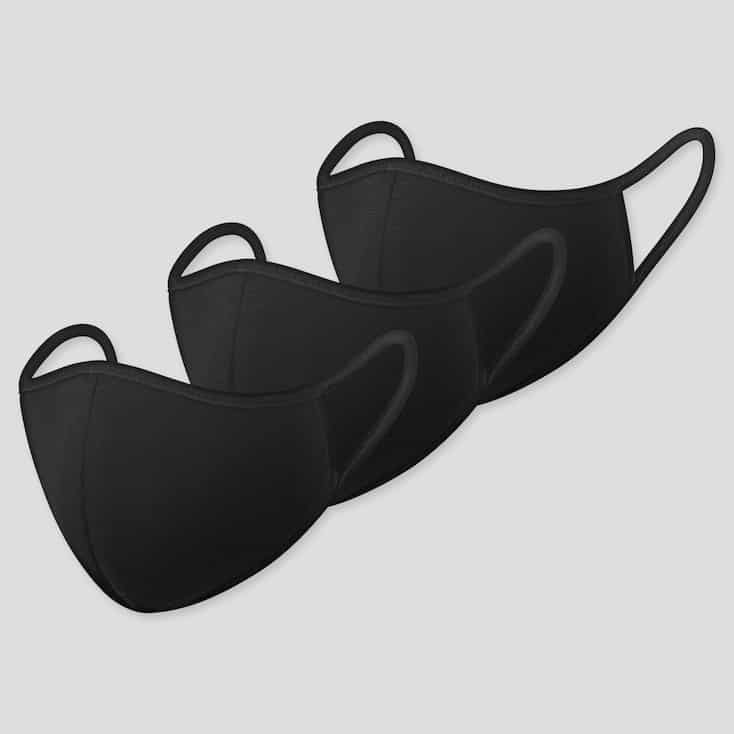 This mask has become one of the best-selling face masks during the pandemic. Not only does it comes in three colors (black is the best in our humble opinion), but it is also quite affordable since you're getting 3 masks for the small price of $15.
One of the main appeals of this mask is its breathability and high-quality material. Many describe it as 'the closest thing you'll wear on your face and not feel like it's there'.
This mask has a 3-tier structure;
The first layer of AIRism fabric tackles the moisture issue
The second layer has a washable, built-in filter
The third layer uses AIRism Mech to block UV rays and airborne particles
Shop The Mask at Uniqlo website for the price of $15 for 3 masks.
WWDOL KN95 Mask in Black
Now, what better to go around the town nowadays than by wearing a 95%-protective KN95 mask, but in black. Never thought we'd see this day, but this maks has officially also become cool, not just super useful.
This mask creates a powerful barrier between your nose and mouth and the rest of the world. No airborne particles, toxic fumes, UV lights, and other uninvited guests will be entering your respiratory system; not with this mask.
This mask has a 5-tier structure, which makes it medical grade;
The first (outer) layer features non-woven fabric and filters large airborne particles
The second layer is made from melt-blown fabric which blocks around 95% of particles
The other two layers feature cotton, PM2.5 filter
The fifth layer is made from non-woven, skin-friendly material for breathability and comfort
ApePal Disposable Face Mask in Dust Black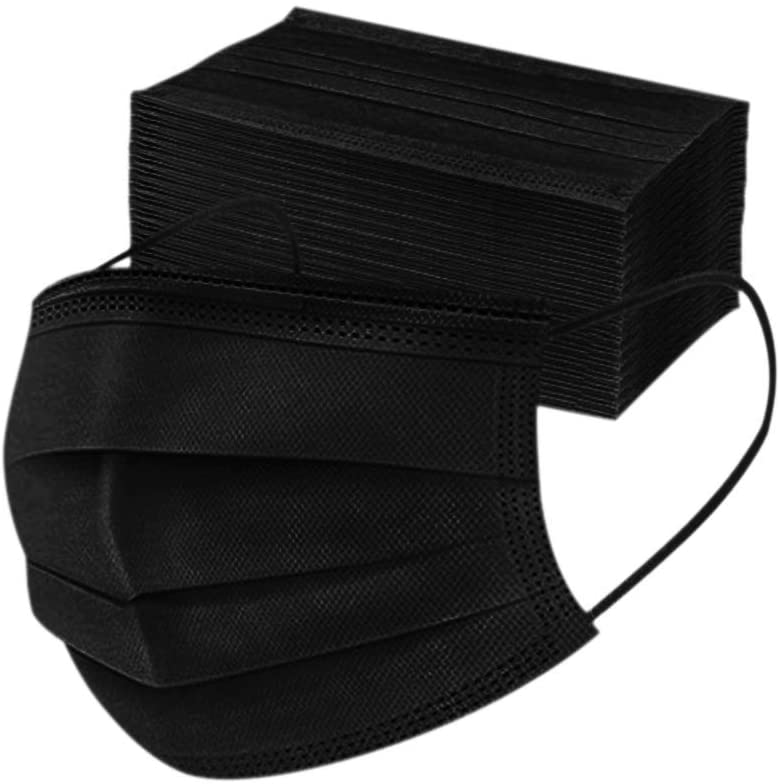 If you're looking for a standard medical-grade disposable mask, chances are you'll be getting the blue one. But, why buy a blue mask when you can have the same mask in the color black.
The mask will not only provide the proper protection, but chances are it will look so much better on you. This disposable mask has received a makeover and now looks cooler than ever.
The mask has a 3-tier structure and works well against airborne particles and UV rays.
SUDILO Black Disposable Face Mask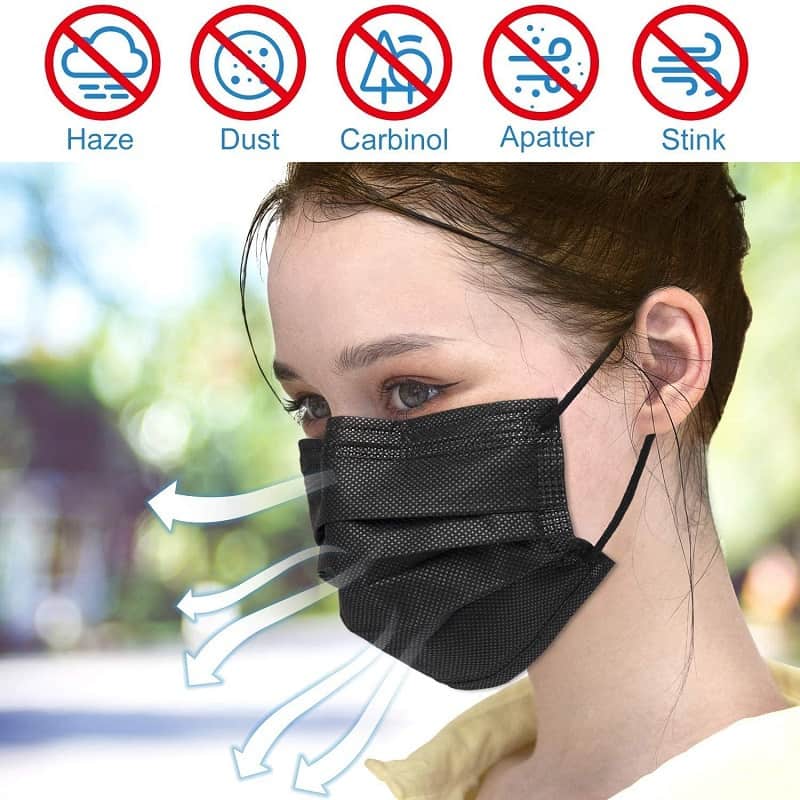 Now, this mask is currently the #1 best seller on Amazon. Over 89,544 people have rated it with more than 4.5 stars. This is how you know the mask is good and reliable.
In our humble opinion, this mask is exceptional. It has a standard 3ply structure and a 3D design to fit the face perfectly. There is also the black color of the mask, which makes it super flattering and appealing to larger masses. We've found that people feel more comfortable when wearing black masks, compared to the standard medical blue ones.
As we mentioned, the mask has a 3-tier structure;
The first (outer) layer is made from non-woven fabric, to protect you from inhaling large particles
The second and third layer feature melt-blown, non-irritating fabric which ensures protection and comfortable wearing
Evolvetogether Black Face Mask
Looking good and stylish can be hard when you have to wear a mask that's covering a good majority of your face. But, with a black face mask from evolvetogether, you can be sure to look stylish every day.
The company has named their black mask Milan. They describe it as timeless, since it is in black, and a little bit edgy. All in all, it is a hell of a stylish mask to wear. But, it's not all about looks when it comes to this mask.
The Milan face mask has a superior filtration efficiency (approximately 98%) and falls under Personal Protective Equipment (PPE). This means it will keep you safe from airborne particles (viruses, bacteria, allergens, and pollution).
The mask has a 4-tier structure;
The first two (outer) layers feature non-woven, black fabric
The third layer is made from white, melt-blown fabric
The fourth layer is made from white, non-woven fabric
La Ligne Le Mask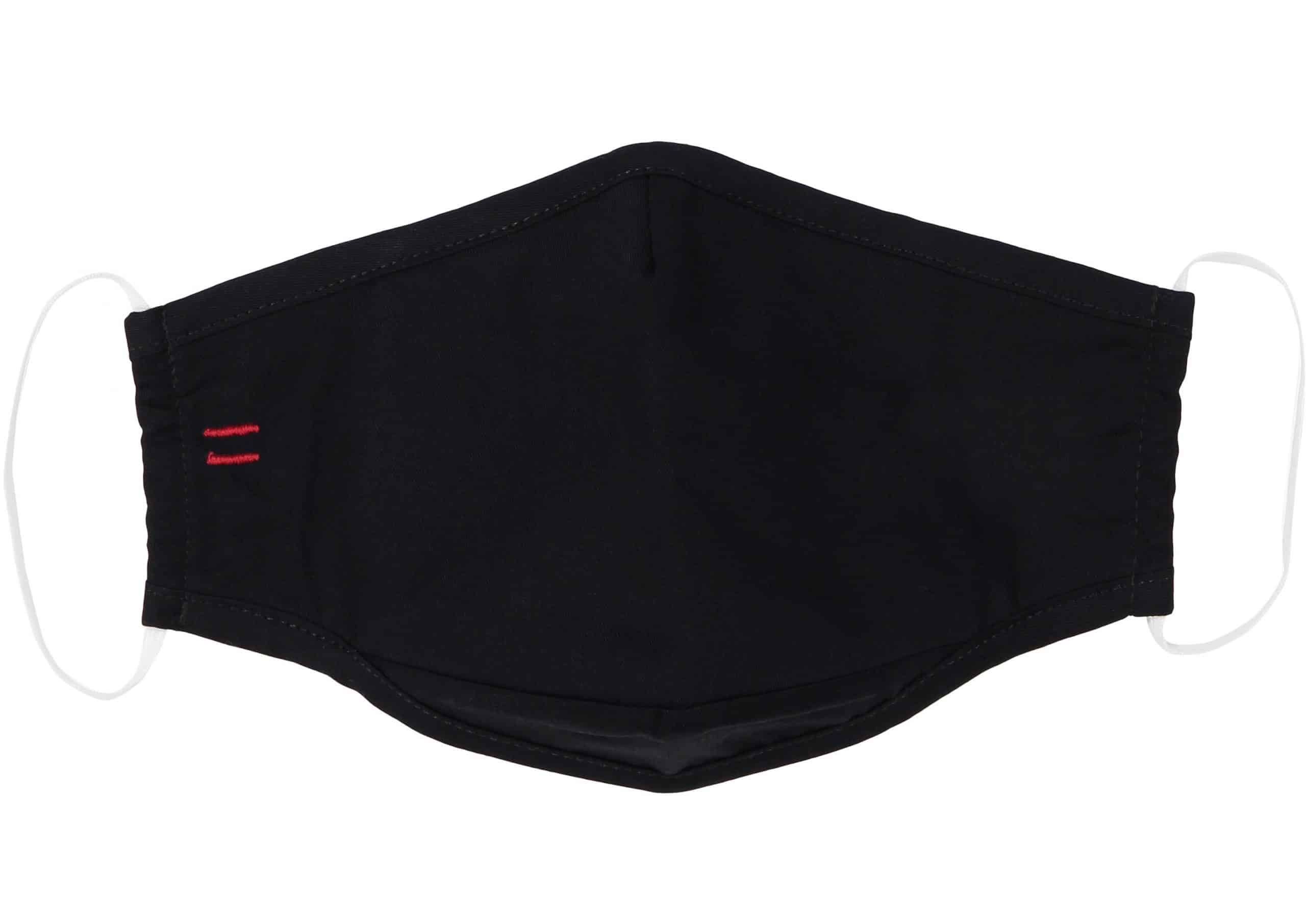 Who said wearing masks cannot be high fashion? With La Ligne's black mask you'll feel like you belong on the fashion runways of Paris. The mask is handmade from fine, luxury materials and comes in different colors (we recommend the black mask, of course).
The mask is super comfortable and soft but manages to stay sturdy and provide the same high-level protection as a standard mask. There is also a filter pocket in case you want to double up your protection. Unfortunately, the filter is not included with the mask.
The mask is made from;
100% cotton poplin
100% organic cotton jersey for the lining
Stretchable and adjustable ear straps
Shop the mask at La Ligne for the price of $30 for 3 pieces.
Casetify Black Cloth Mask
Now, this mask is not disposable; it is washable and reusable. So, why is it on this list? Well, we decided to include this mask not only because it comes in black, but because of the fact that by buying it you'll be supporting the donation of face masks to health care workers in need.
Casetify has already donated over 35,000 masks to Direct Relief, and since the pandemic is not over yet, they will continue to donate even more, with your help of course.
Now, regarding the mask itself; well, it's fantastic. It looks pretty awesome and even comes with a filter. This means you don't have to go and order a filter additionally. You'll get two masks in a pack, and two filters as well.
So, shop the mask at Casetify for €15 per pack.
PM PERFORMOTOR Black Disposable Face Mask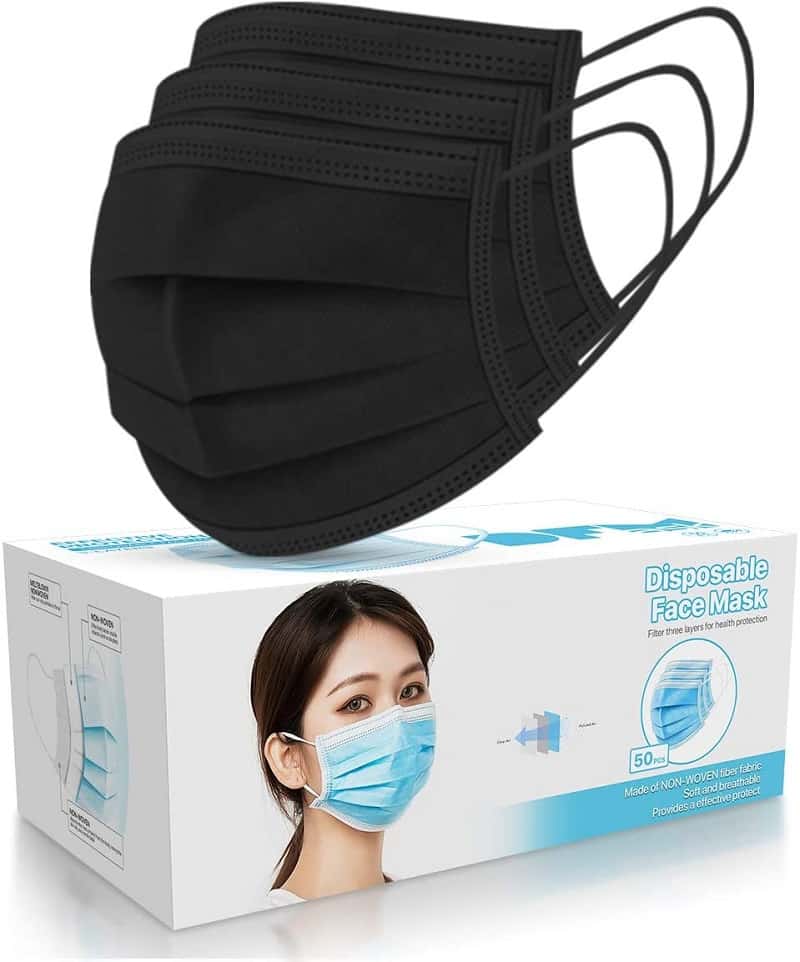 Finding high-quality black masks is hard enough, but it even gets harder when you want to buy bulk. Well, not anymore. With these disposable face masks, you'll be good for months to come, even if you disposed of the mask every single day.
The PM P. masks are class 1 medical-grade masks, which means they will provide efficient protection against airborne particles. Because the masks are black, they'll also look exceptional on you and go well with your clothes and everyday outfits. The masks also provide excellent breathability and are generally comfortable for long-hour wear.
The masks have a 3-tier structure;
The first (outer) layer is made from non-woven fabric
The second layer is made from melt-blown fabric and provides protection against fine particles
The third layer is made from skin-friendly material and ensures maximum breathability
WeCare Disposable Black Face Mask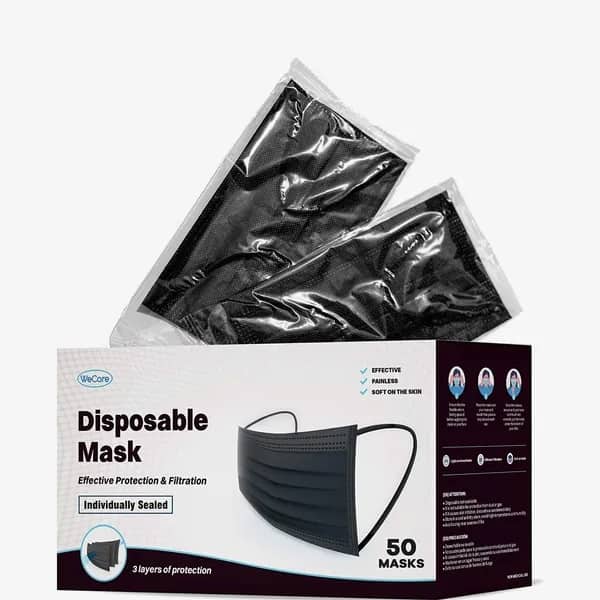 If you're looking to buy black masks not only for yourself but for your friends and family as well, we recommend you go for the WeCare disposable face masks. The reason we recommend these is not just that they're black (but that is the main factor, of course).
These masks are individually wrapped, which means they'll be protected from the second-hand transmission of airborne particles.
Each mask is protected fully until you're ready to use it. The masks are lightweight and bendable, which means you can carry them even in the smallest, tightest pockets.
The masks contain;
An inner soft, skin-friendly layer
A middle, melt-blown layer acts as a filter against fine particle
An outer, leakproof layer made from non-woven material
Black Disposable Surgical Mask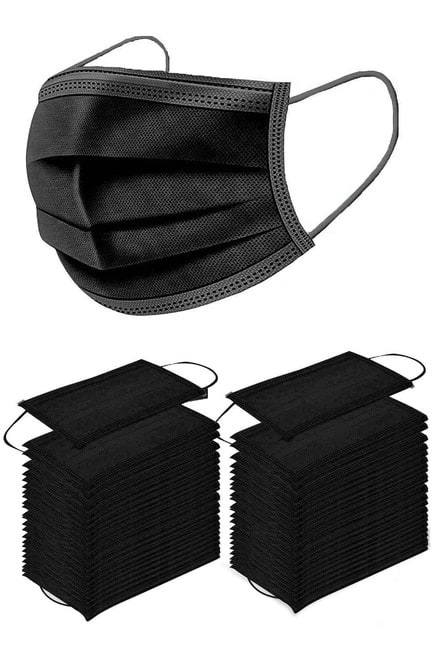 Buying a reliable mask can be hard. You never know where the mask comes from and whether it is reliable and safe to use. But, when you have an American company working with reliable and FDA-approved mask suppliers, things get a bit easier.
At medical Mask Superstore, you can be sure to buy safe and checked medical masks, in the black of course. Now, you won't only be trendy but also properly protected against airborne particles and oral liquids.
The featured black surgical masks are a 3-tier structure PPE mask. These are designed to protect you from contamination and from spreading the contamination too. They are super breathable and comfortable for long-hour wear.