Do your part to protect yourself and others during the COVID-19 pandemic. It's recommended that everyone wears cloth face coverings, especially in enclosed spaces. If you are in a pinch, a bandana is a good alternative to a mask.
All you need is a bandana, some elastic bands, and some basic sewing skills to make your own in an emergency. If you're not up for sewing anything, there are plenty of internet shops where you can buy your own at a reasonable price.
How to Design Your Own Bandana Face Mask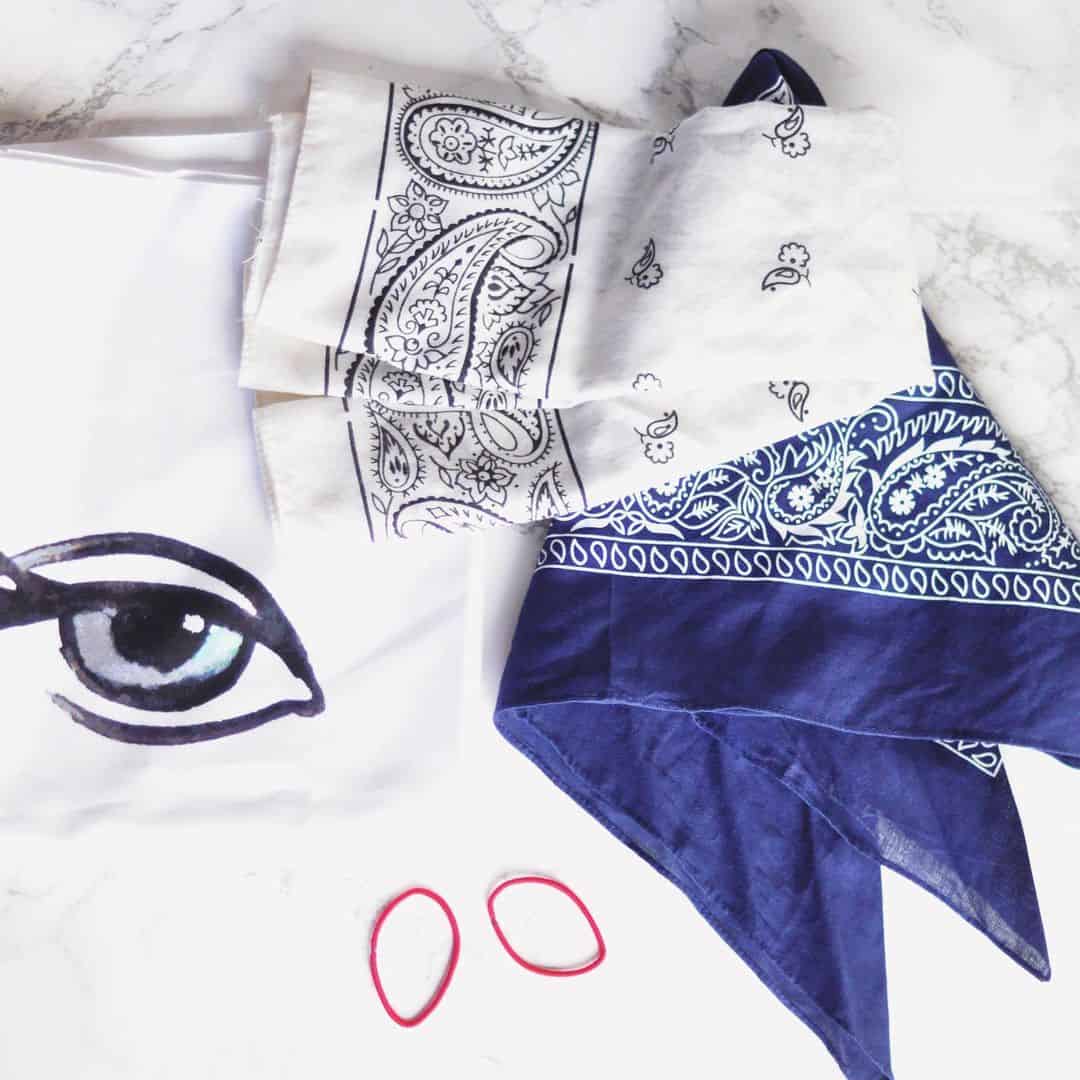 If you don't have any form of face-covering, making a non-medical face mask at home is a good alternative to purchasing one. A bandana is an item many of us have at home and makes an ideal face mask.
There are many ways to make your own bandana face masks. A quick Google will point you towards numerous articles, videos and guides which will help you design and create your own bandana face mask. Here are some options for making your own DIY bandana face mask.
Basic Folding Technique
Lay the bandana down on a flat surface, for example, a table or desk.
Fold both bandana sizes into the center.
Keep on folding the sides to the center, allowing opposite edges to meet in the middle.
Keep folding until the bandana is a thin band, but not so thin it won't cover your nose and mouth.
Place an elastic band over each end of the folded bandana fabric.
Fold both ends into the center.
Fold both ends of the bandana inwards, so that the bands are now on the outer edge.
Give the elastic bands a gentle pull so the material is taught.
To see this technique in action, check out the following videos:
Sew a Bandana Face Mask
Start by folding your bandana in half to make a triangle. Slip one corner about 4.5 inch inside the other. Pin the corners to together to keep it in place.
Stich around the bandana, less than an inch away from the folded edge. Start stitching from the slipped one inside the other corners. Make sure you leave an opening.
Cut a piece of elastic that is around 16 inches long. Push it through the casing with a safety pin.
Make a knot with both ends of the elastic and push the knot through the casing. You can stitch it closed, but it's not obligatory.
Create four or five half an inch pleats on the sides of the bandana. Pin them and then stitch close the edges.
Tip:

YouTube and Instagram has more different technique and skills to help you create your own bandana face mask with ease.
Fold a Bandana Mask
If you are in really in a pinch and need a face mask quickly, this is an effective method. We recommend avoiding relying on this for everyday protection, but it can work in an emergency.
Take your bandana and lay it out on a flat surface in a diamond shape.
Place a piece of wire, for example, a metal twist tie.
Fold it over with the wire in the middle.
Now place a filter and fold again.
Turn the bandana over and roll the top over to hold it all in place.
See this technique in action here:
Where to Buy a Bandana Face Mask
If you have no basic sewing skills but like the look of the bandana mask, there are plenty of places to buy them online. Etsy also sell a range of different materials, bandanas and scarves so you can make your own.
Here are our favorite places to purchase an effective yet stylish bandana face mask.
Etsy
Simply type 'bandana face mask' into the search box to find a plethora of stores selling chic and unique masks. some of our favorite Etsy shops for bandana face masks include:
LunaNQ who makes trendy face masks from bandanas as well as pins and stickers based on pop culture icons.
AAA2020Store make bestselling face masks in a range of styles, including bandana and scarf inspired styles, as a reasonable price.
Defranco Boutique are a Scottish brand who make a range of face masks that cater to every fashion need and personal style.
Amazon
Amazon is full of sellers who sell bandana face masks. If you need one in a hurry and are an Amazon Prime member, you could get one delivered to your door within 24-hours. Amazon also sell plenty of bandanas, so you can make your own in the perfect print.
Here are our favorites:
Joom
Joom is a popular internet marketplace. They have a huge collection of items from clothing to homeware and technology. Amongst the large product range are bandana face masks.
Here are some of our favorites:
These anti UV bandana masks are popular with motorbike riders but are perfect for our current times. They come in a wide range of unique and fun patterns.
This classic bandana face mask has the classic print and comes in a range of flattering colors. The shape is flattering and suits both men and women.
This snood inspired bandana face mask comes in a range of flattering prints and shades which includes galaxies, Versace inspired prints and florals.
AliExpress
For those on a budget, take a look at the AliExpress website. They have a huge range of bandana face masks that feature everything from skulls to florals and paisleys.
Here are some of our favorites:
This fashionable bandana face mask that comes in lots of trendy prints. The shape fits most people and is soft and comfortable.
If you like the look of a bandana mask but prefer a traditional mask shape, check this one out. Available in a range of colors, they resemble a DIY mask, without the hassle of having to do it yourself!
If you want a bandana face mask in a big and bold print, check out this polyester mask. Designed to be quick drying, they have been made to be breathable during sporting activities.
Joe Browns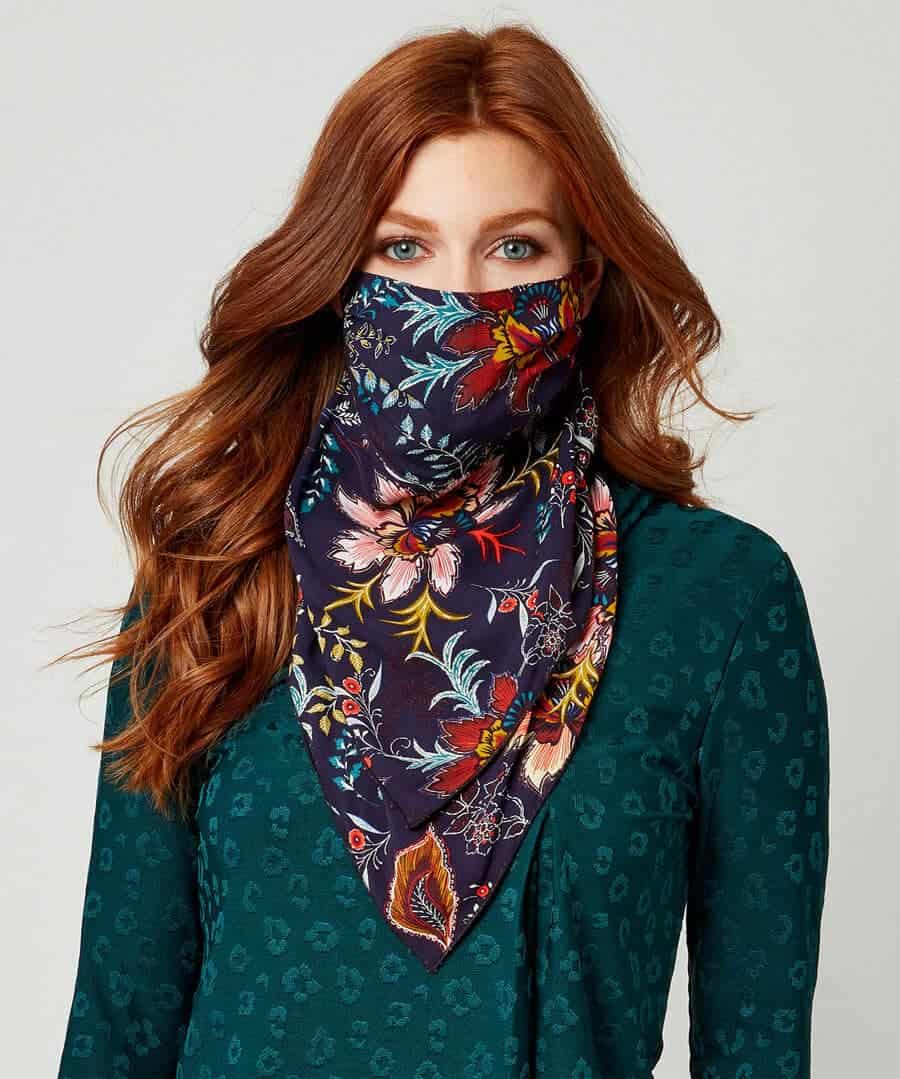 Although not made as a replacement for PPE, Joe Brown has a range of chic bandana face masks. These covers are super soft, comfortable and feature press stud fastenings. From bold colors, to chic patterns, these will suit any outfit and occasion.
The Bandana Blanket Company
Fans of Americana styles will enjoy the classic range from the Bandana Blanket Company. Their double-layered masks have an interior pocket for a filter, and the pleated design and ear loops ensure a comfortable fit. A portion of the benefits go towards COVID-19 relief efforts.
Urban Outfitters
Urban Outfitters have a range of paisley reusable masks. Although they are made like authentic hospital masks, they have the look of a bandana face mask. It's washable and made from 100% cotton making it the ideal option if you have to wear a facemask for a long period.
Inex
Inex are famed for their alternative to the bandana. It looks like a standard neckerchief, but it features two layers of breathable antimicrobial cotton fabric. The interior lining is made from a unique nanofiber filtration material that blocks airborne contaminants. This washable bandana face mask has an adjustable nose bridge to ensure the fit is right.
ASOS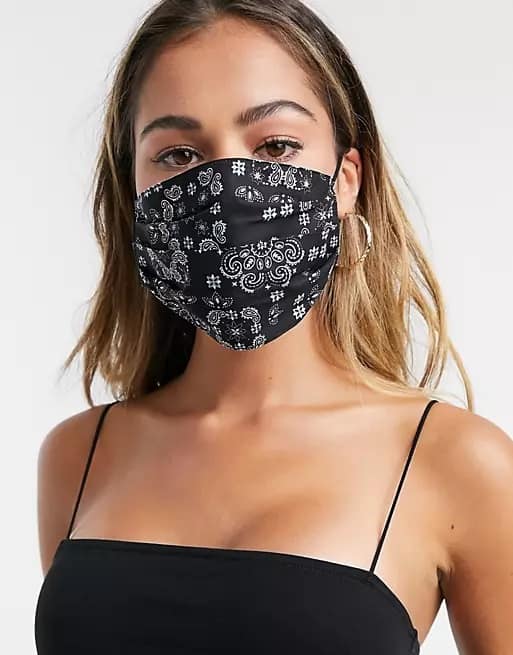 ASOS sell classic face masks with the iconic paisley print on it. Made from high-quality cotton, their multi-layered pleating makes them comfortable and breathable. When you're on the ASOS website, check out all their other fashionable face masks.
Hoorag
Hoorag started by selling revolutionary headwear to outdoor enthusiasts and athletes around the world. They've taken this iconic design and created both bandana face masks and ear loop masks. Unlike many other bandana face masks on the market, theirs have a has a slot designed to place a filter inside.
Profound
Streetwear brand Profound have a whole section of their website dedicated to face masks. Amongst their chic selection of masks are classic paisley bandana masks. Beloved by fashion editors, their masks can be adjusted to perfectly your face.
Ki Collection
Their bandana face masks comes with the option of double or triple layers. The triple layer cotton mask has a filter system and can even be worn on a N-95 mask for extra protection. If you're looking for more masks, their website has a huge collection of trendy fashion masks.
Scarfshack
Available in the classic paisley print and other bold designs like leopard print, this unisex bandana face mask is comfortable and long wearing. The brand also sells a wide selection of scarves and bandana, so you can make your own if you prefer.
Uncommon Goods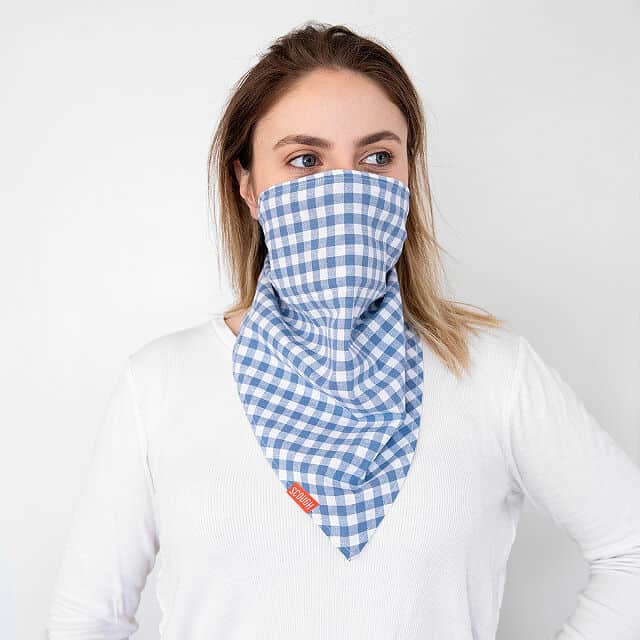 Uncommon Goods aren't just a gift shop, they also sell high-quality bandana face masks. With a slot for the included activated carbon filter, these long cotton face coverings help reduce the risk of exposure to germs and pollution.
Bandana Face Mask: More Things You Should Know
Do Bandana Face Masks Work?
Yes, bandana face masks offer protection. Healthcare professions do not recommend bandanas, this is why we recommend creating or purchasing a bandana face mask. These masks, where the tie goes around your ears, will help filter out potential harmful particles. They may look like a bandana and have a similar print to a classic bandana, but they will protect you and others around you.
Wearing a bandana as face coverings to protect against COVID-19 may actually do more harm than not wearing a mask at all, a study published in Science Advances found.
Guidelines for effective face masks.
As a reminder, the CDC's guidelines for effective face masks are:
Fit snug but comfortably over the nose and the mouth
Be secured to the ears with loops or ties.
Have at least two layers of fabric for protection.
Not restrict your breathing.
Be able to be washed and reused without effecting the usefulness.
Please remember:

The cloth coverings recommended by the CDC should never be used to replace medical personal protective equipment. Medical personal should always wear surgical masks or N-95 respirators.
Best Materials for Face Masks
Quilting cotton, with two layers stitched together are the best protection for wearers and their loved ones. When making or purchasing a bandana face mask, choose a tightly woven fabric. 100% cotton outperforms most other synthetic materials. This is because synthetic fibers are relatively smooth at the microscopic level, whilst cotton fibers are three-dimensional structures. This structure creates additional barriers to both outgoing and incoming particles.
You can increase the effectiveness of the mask even further by making or choosing a multi layered mask that combines cotton and a different material. Hybrid masks were proven to outperform all other two or three-layer masks made of a single material. By choosing a non-cotton with a cotton, you can get good electrostatic filtering, a process where particles are trapped and cling because of static electricity.
At least one study suggests that a filter made from polypropylene material, can improve the effectiveness of your face mask. Avoid face masks that come with valves at the front. It might make it easier to breath out, it also releases unfiltered air which will leave those around you vulnerable.
Please remember:

Don't use a coffee filter, this could do damage to your lungs.
Choose the Best Fit
More important than the look or material of the bandana face mask, is the fit. The goal is to choose a bandana face mask that has a good seal along with edges but isn't uncomfortable. The mask should comfortably cover both mouth and nasal openings. The mask should be large enough to sit flush over the surrounding skin surface. This will prevent droplets or aerosols from contaminating surfaces or people.
Please remember:

Experts say that masks pose no risk to healthy people.