It's been a little more than a year since the pandemic started. From the get-go, we were required to start wearing face masks as a form of a protective measure against virus transmission. And, for the most part, that strategy has worked; wearing masks has saved thousands, even millions of lives.
For starters, we were required to wear medical-grade masks, like surgical or N95 masks. Even nowadays these masks are a standard when entering closed areas, like planes or hospitals. However, after a while, the CDC and the WHO issued a document explaining that people can wear cloth masks as well as a form of valid protection.
Since cloth masks as reusable, and washable, their use would have saved piles of surgical masks for the medical staff across the country and the world. Furthermore, their use is also eco-friendly, since people won't be disposing of them every few days.
Now that we've gone over the basic intro every single person knows about by now, let's start with the actual topic of this article; cat face masks. Now, these are not face masks made for cats (pun intended). These are cloth face masks with cute and stylish cat designs.
See, as people started wearing cloth face masks, many creative and artistic people have decided to start making beautifully designed and interesting face masks. The thought would be to bring a little joy and fun to a generally terrible situation, and it has worked, and still is working.
So, in the following paragraphs, we'll share with you some of our top picks for the best cat face masks, talk more about their safety and share with you our general opinion about these masks. So, without further ado, let's get started (as if we didn't already start).
In Case You're Looking for Face Mask Inspiration
Sometimes it can be hard to find the perfect face mask. So, if you're looking for inspiration and ideas to make your own mask, or order one with psecific design, we've got you covered. Here are some of the best cat designs you can use for a face mask;
Coffe Mug Cat Mask
Floral, Cherry Blossom Cat Mask
Cute Cat Face Mask
Black Cat Print Face Mask
Different-Colored Cats Face Mask
Little Black Cats and Paws Face Mask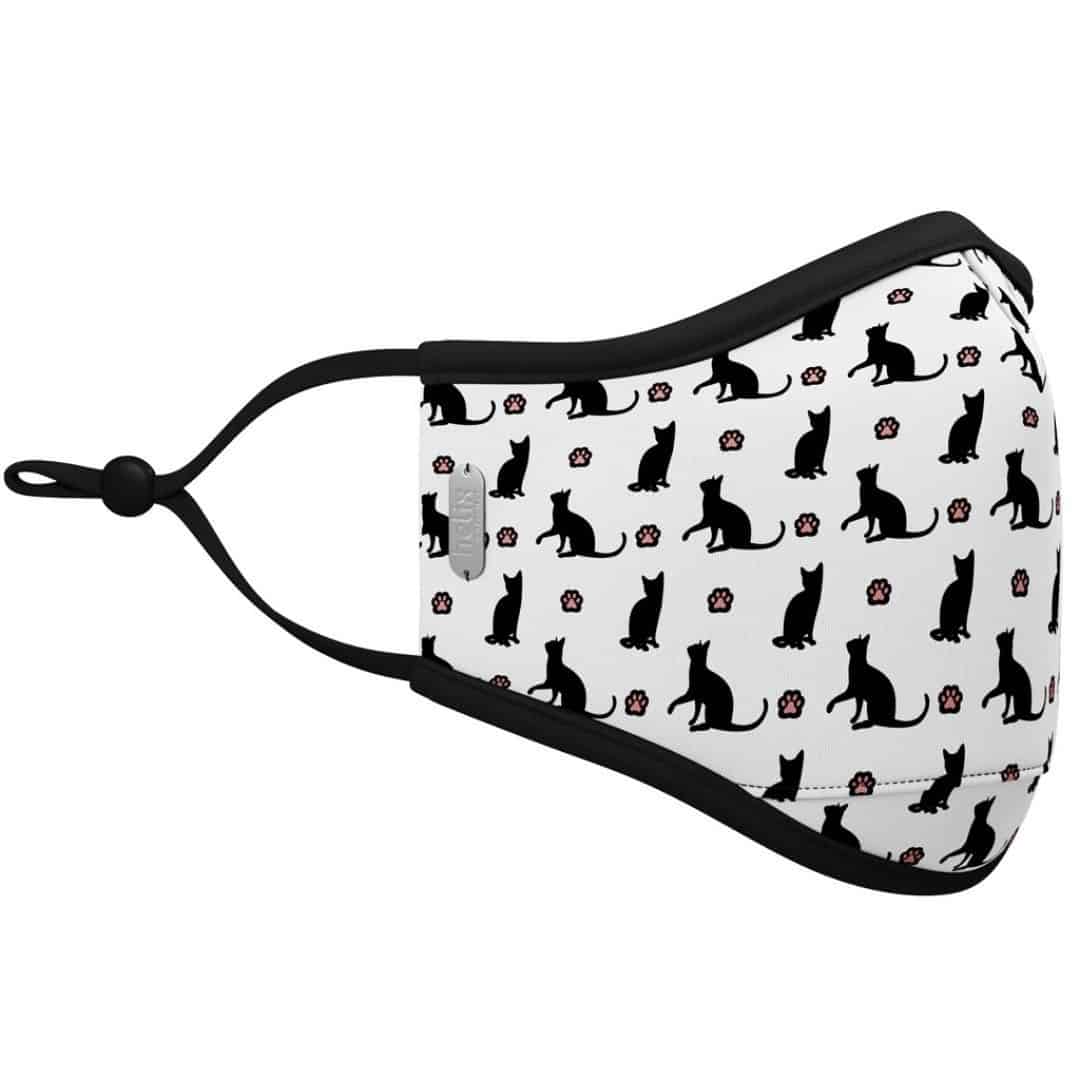 Cat Illustrations Face Mask
Yellow Cat Face Mask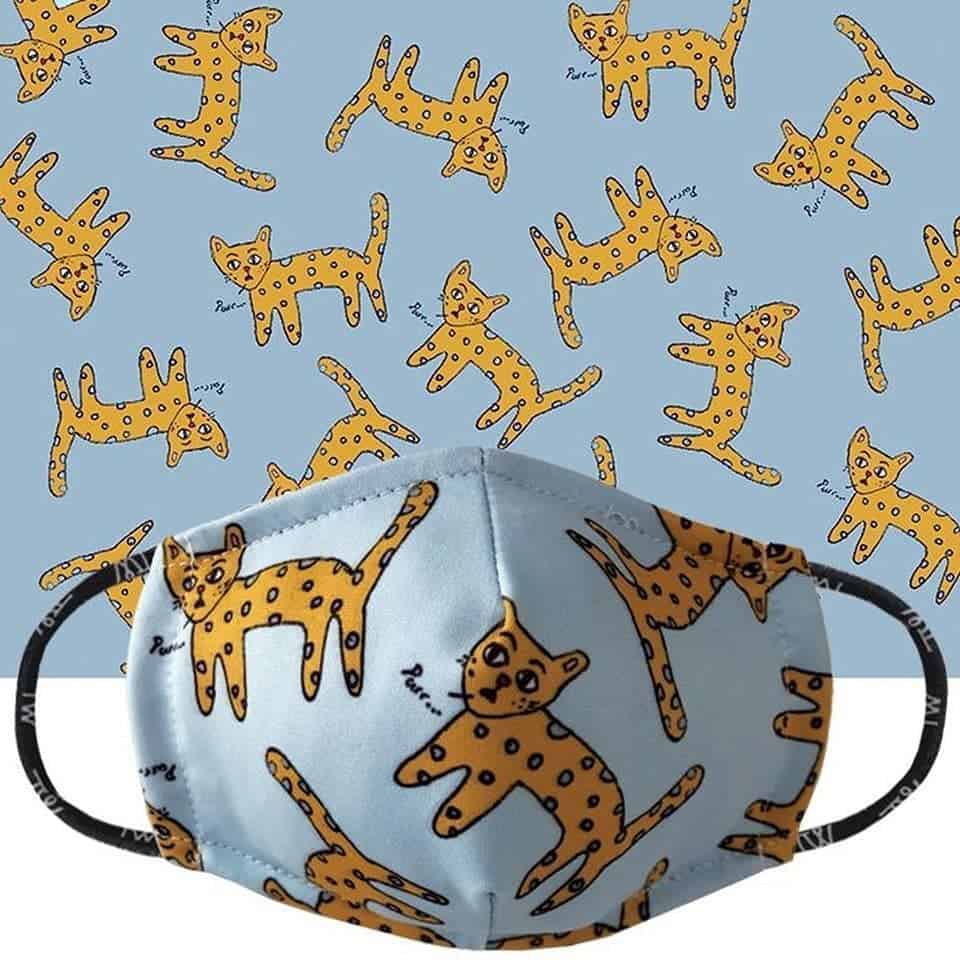 Cat Whiskers Face Mask
Colorful and Sleek Cat Face Mask
Pink Panther-Inspired Cat Face Mask
Banana Pattern Face Mask for Cats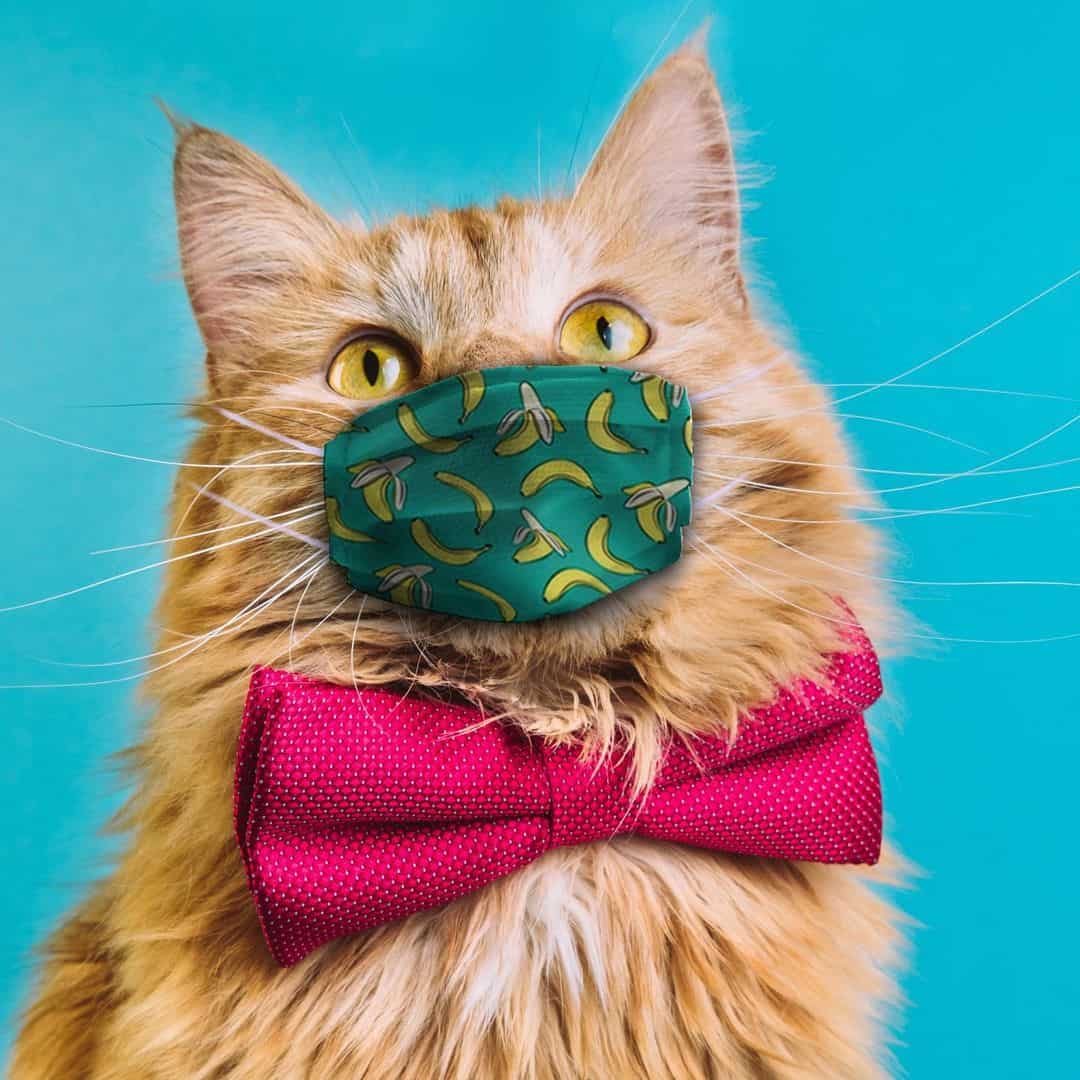 Playful Kittens Face Mask
Cat Face Masks: Our Top Favorites Online
Koneko Neko Face Mask
We're starting with one of the most popular cat face masks in Canada and the USA. The Neko face mask is an incredibly cute mask designed to be used on its own or with a filter (there is a little pouch inside the mask where you can place the filter). The mask is made from 50% cotton and 50% polyester for the best combination of comfort and duration.
Because of the material, it will withstand repeated washing and wearing without any damage. The mask is a double-layer one, which adds more to the safety factor of the masks. There are also adjustable ear straps so the mask can be worn by anyone, even kids.
Tip: This mask gets sold pretty quickly, so make sure to grab it fast, while it's still available!
The Dancing Cat reversible Face Mask
Another cat face mask from our favorite picks comes from The Dancing Cat; a handmade custom face mask made from 100% cotton fabric. The mask features a custom-designed cat fabric, done by the owner of the small business called The Dancing Cat (we urge you to check out their website and Etsy shop since there's a ton of cool artwork, t-shirts, and accessories as well).
The mask is pre-washed but can be washed and the fabric won't shrink. It is also well designed so it will withstand numerous wearing and washing, without any damage. The mask is also double-stitched for durability. When it comes to safety, it is designed in line with the CDC face-covering recommendations.
Overall, the mask is super comfortable, with elastic ear straps and a cool, reversible stripe pattern, featuring cats of course.
Tip: This mask gets sold out in 2 hours upon being released on the shop, so make sure to keep an eye on it. You can pre-order it as well if you want to secure your piece.
EverydayHeadband Nose Wire Cat Face Mask
Another excellent (and very cute) cate face mask comes from one of our favorite Etsy shops, EverydayHeadband. The mask is completely handmade and is so cute that it has become a bestseller on Etsy, and remained so to this day. The mask is obviously high-quality; it is made from polyester and muslin and features a nose wire for a better fit of the mask around the essential area on the face.
The mask also features 3 layers, but unfortunately doesn't have a filter pocket. That is generally because it could be worn on its own and provide suitable protection against the virus and other airborne particles. It is surely also made in line with CDC facial coverings recommendations. The mask can be hand-washed, of course, and reused numerous times.
The design of the mask is super cute and appealing to everyone. It comes in different colors; all you have to do is choose your favorite one; there's a red, green, yellow, black, and blue mask with cute little cat designs.
ALLSRO Breathable Cat Face Masks 2pcs
If you're looking to order a face mask off Amazon, then this is a face mask for you. One of the highest-quality cat face masks comes from the brand ALLSRO. Their face mask (in this case 2 face masks) is a high-quality, breathable and comfortable one. It features incredibly cute cat designs that will have you melt from the sheer cuteness.
The mask itself is made from polyester fiber, which makes it not only comfortable for long-hour wear but also durable and washable. There are also the adjustable ear straps and the M-shaped nose clip so you too start looking like a cute cat with a pointy M nose.
The mask is so breathable that it can be worn even during strenuous activities, like running, hiking, biking, skiing, and much more.
With this order, you will get 2 pieces of cat face masks with different, equally cute cat designs.
UndercoverOrange Cat Face Mask
Another all-time favorite cat face mask comes from yet another Etsy shop, the UndercoverOrange. Their mask too is a bestseller, and for a very good reason.
The mask is high-quality, of course. It is handmade, comfortable, breathable, and everything you could ever want from a mask. But, there is a catch; this mask doesn't simply feature a cute cat design.
This one is made for all the fellow 'ew people' people out there. The cat on the mask wears a mask itself; right next to the cat is the phrase 'ew, people' which clearly shows the purpose of the mask in an incredibly funny manner.
Now, back to the mask itself; we have to mention that it is made in line with the CDC face-covering recommendations. It is safe to wash and reuse. It is recommended for the mask to be washed by hand in cool water and line dry; this is to avoid potential shrinkage of the mask.
StarloveDesignsShop Cat Face Mask
If you're looking for a fun and colorful face mask, with a cute cat design, look no further. The face masks from this excellent Etsy shop will make you squeak from excitement. The masks are super cute and of a very unique design.
The masks are handmade from 100% cotton, for ultimate comfort and breathability during long-hour wear. They feature 3 layers and are made following the CDC face coverings recommendation. There is also a large filter pocket inside the mask, and an optional aluminum nose strip/wire.
You can order one mask, or a pack of 2 or 3 masks as well. There are sizes available for children and teenagers too, so everyone can enjoy the fun cat designs.
The masks are washable and reusable and are suitable for sensitive skin as well.
Cloth Masks: Everything You Need To Know
The featured cat face masks fall under the category of cloth masks. Now, before you order any of them, you must know some things in regards to their safety, protection efficiency, and care.
Cloth Mask Approval
Cloth face masks are not FDA approved. However, they can be worn as an alternative for surgical or N95/KN95 masks according to the CDC and the WHO. For cloth masks to be proper protection from the virus and airborne particles, they should have 2 or 3 layers (preferably 3) and could have a pouch for a filter, but it is not necessary.
Cloth Mask Protection Efficiency
It is better to wear any kind of mask than no mask at all in these testing times, especially if you're living in a still high-risk area. Cloth masks are efficient against virus transmission only in terms of the materials they are made of. For example, cloth masks made from cotton have a 50% efficiency of blocking virus particles coughed in the air.
Cloth Mask Use and Reuse
According to the CDC, cloth masks can be washed and reused. It is recommended for the masks to be either machine washed or hand washed. Either way, they should be washed with regular laundry detergent or a bleach solution to disinfect them properly. The masks can be air-dried (preferable in direct sunlight) or dried in a dryer.
Cloth Mask Downsides
Just like any product, cloth masks also have some downsides you should be aware of. For example, they need to be washed and disinfected every day. No cloth mask is FDA regulated, so there can always be some issues with mask quality (there are no regulatory standards for cloth masks yet). They also cannot be worn by people who are infected with COVID and have serious sickness symptoms. These masks should not be touched without prior hand washing and sanitizing as well.
Final Thoughts
We hope you like our top picks and favorite brands of cat face masks. Bu shopping for these face masks, you're not only getting a high-quality, safe and reusable product, but you're also supporting small businesses and independent artists and craftsmen and women who work extremely hard during these testing times. Make sure to check the masks we recommended, as well as each brand's designated shop or website. We're sure you'll find something else you may like too.