Although COVID-19 rates are dropping, health officials still recommend wearing face masks whilst others still prefer to wear one in crowded places. Finding high quality and chic face masks online is easy but finding a funny mask can sometimes be a bit more difficult.
From pop culture images to naughty quotes, COVID-19 puns, and beards, we have selected the funniest masks from the best brands for you. In these dark days, a funny mask could brighten up someone's day. Here is where you can buy the best funny masks to protect you from illness and put a smile on the face of your friends (even if no one can see it!).
Types of Funny Mask
Everyone have different types of humor, but there is a funny mask to every occasion and for everyone's sense of humor.
The quote face mask is bold and usually features big writing with a quirky sentence. This quote could be a well known pop culture catch phrase, a quip about drinking or a rude joke.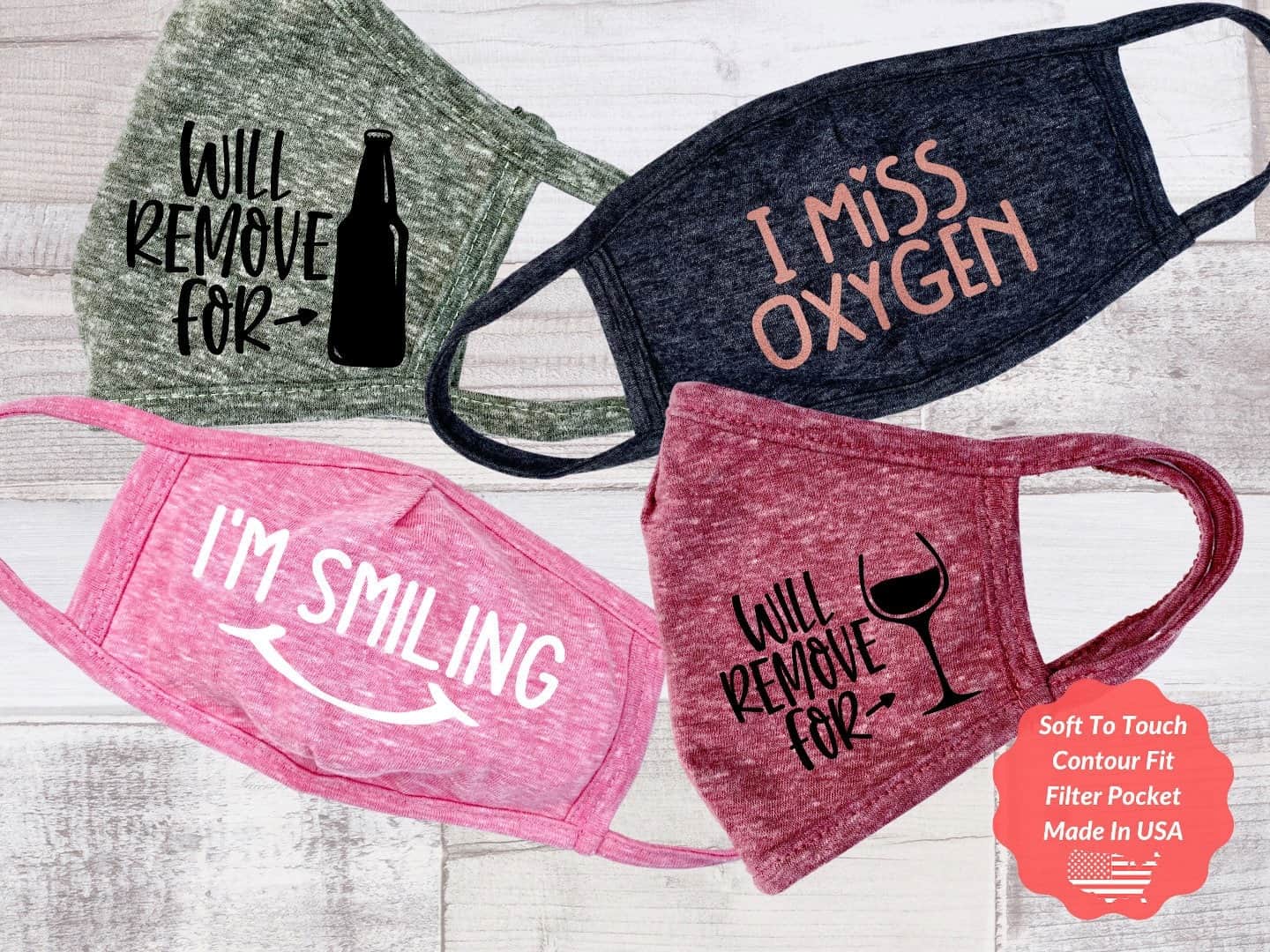 Pop culture masks are probably the most popular design of cloth face mask. They are a great way to showcase a passion, whether that be for a movie, a band, a book, or a videogame. Sometimes they are obvious with logos and well known images, other times they feature obscure quotes and lesser known characters.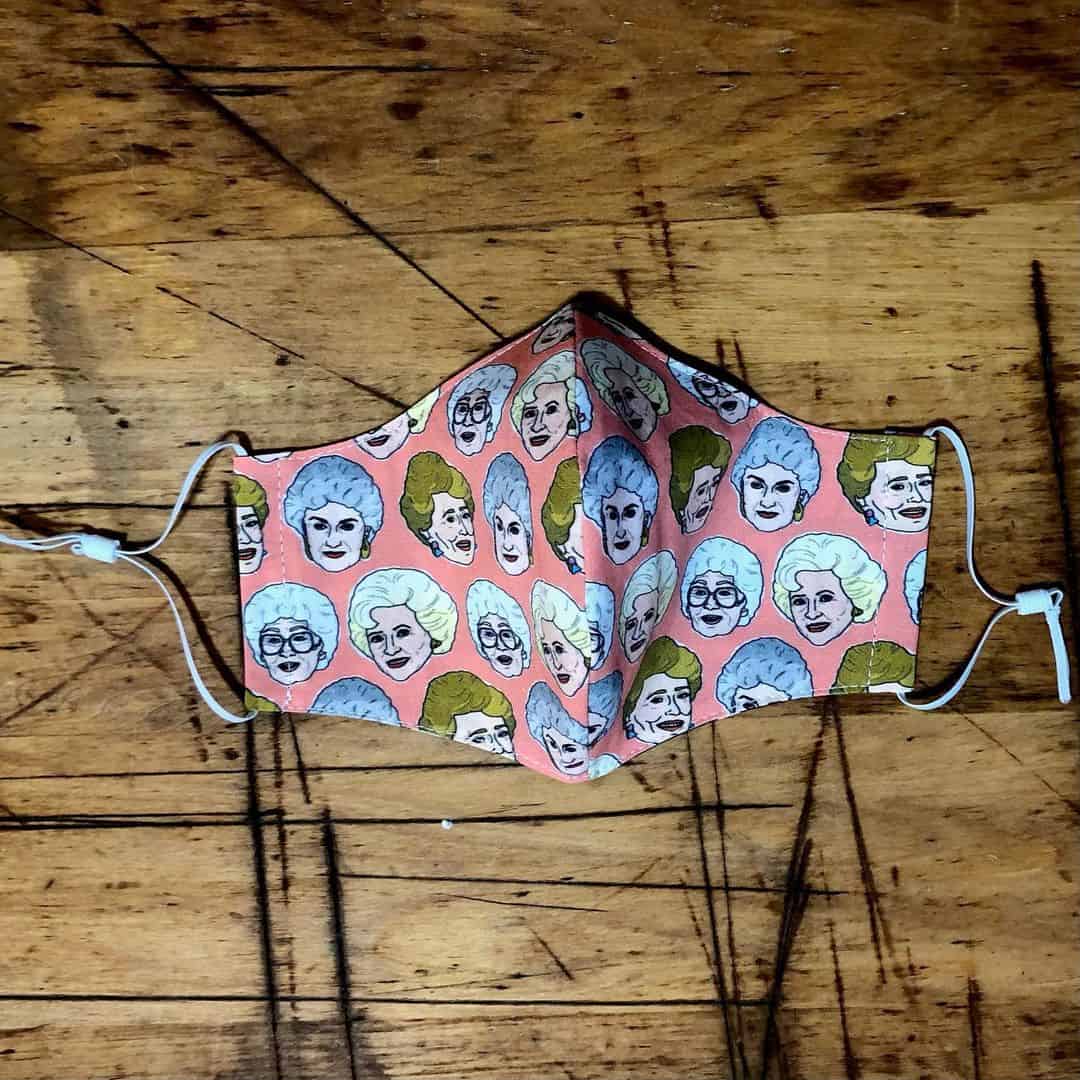 The fake mask trend is one of the quirkiest and one of the funniest. These masks make it appear like your covered face is an animal, a bearded man, or an emoji. These are the most common designs found on comedy or novelty face mask websites.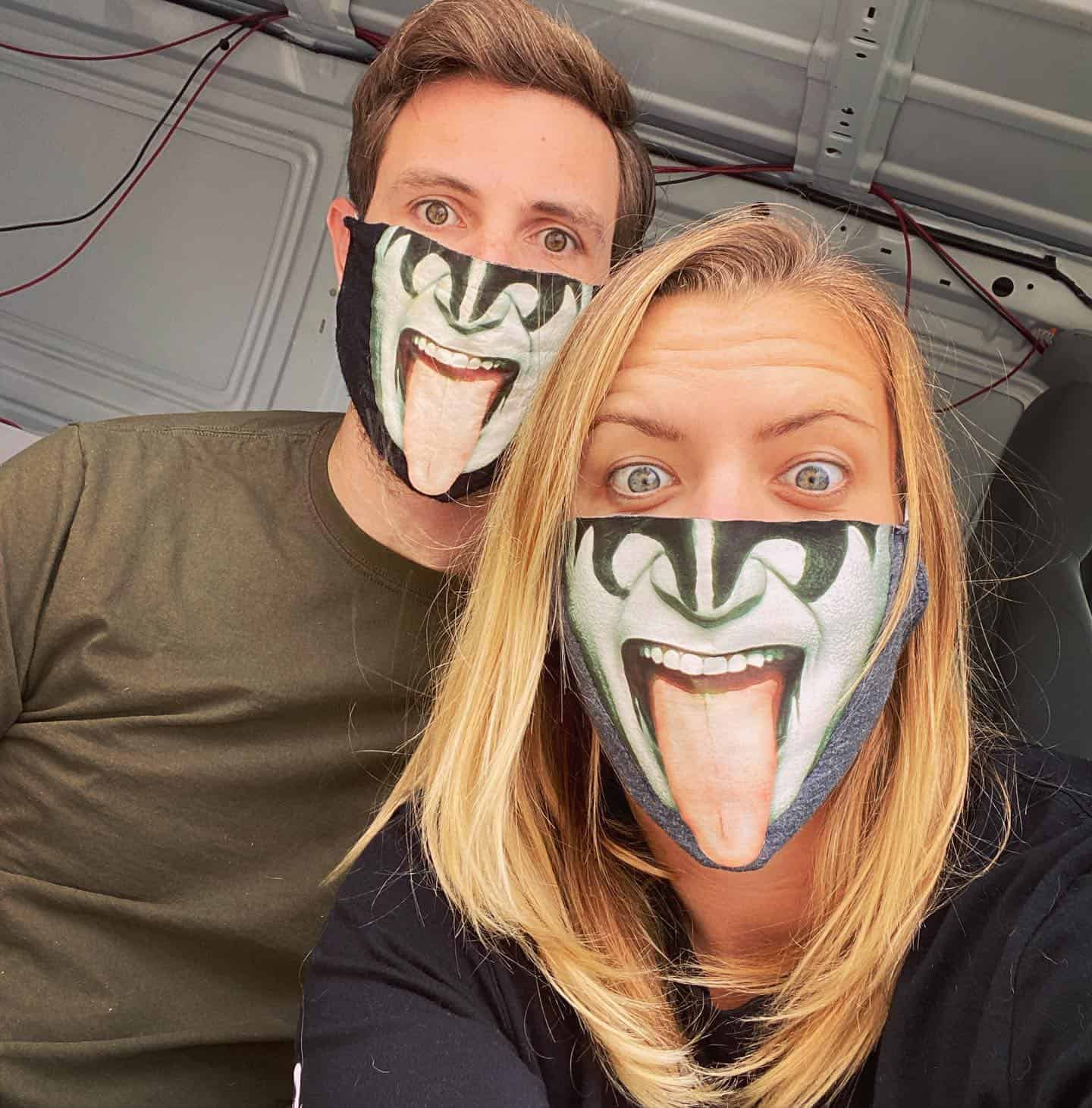 If you are a dedicated meme poster, you can get you favorite meme printed on a face mask. If you prefer to express yourself through famous memes, wear it on your face as you shop or commute.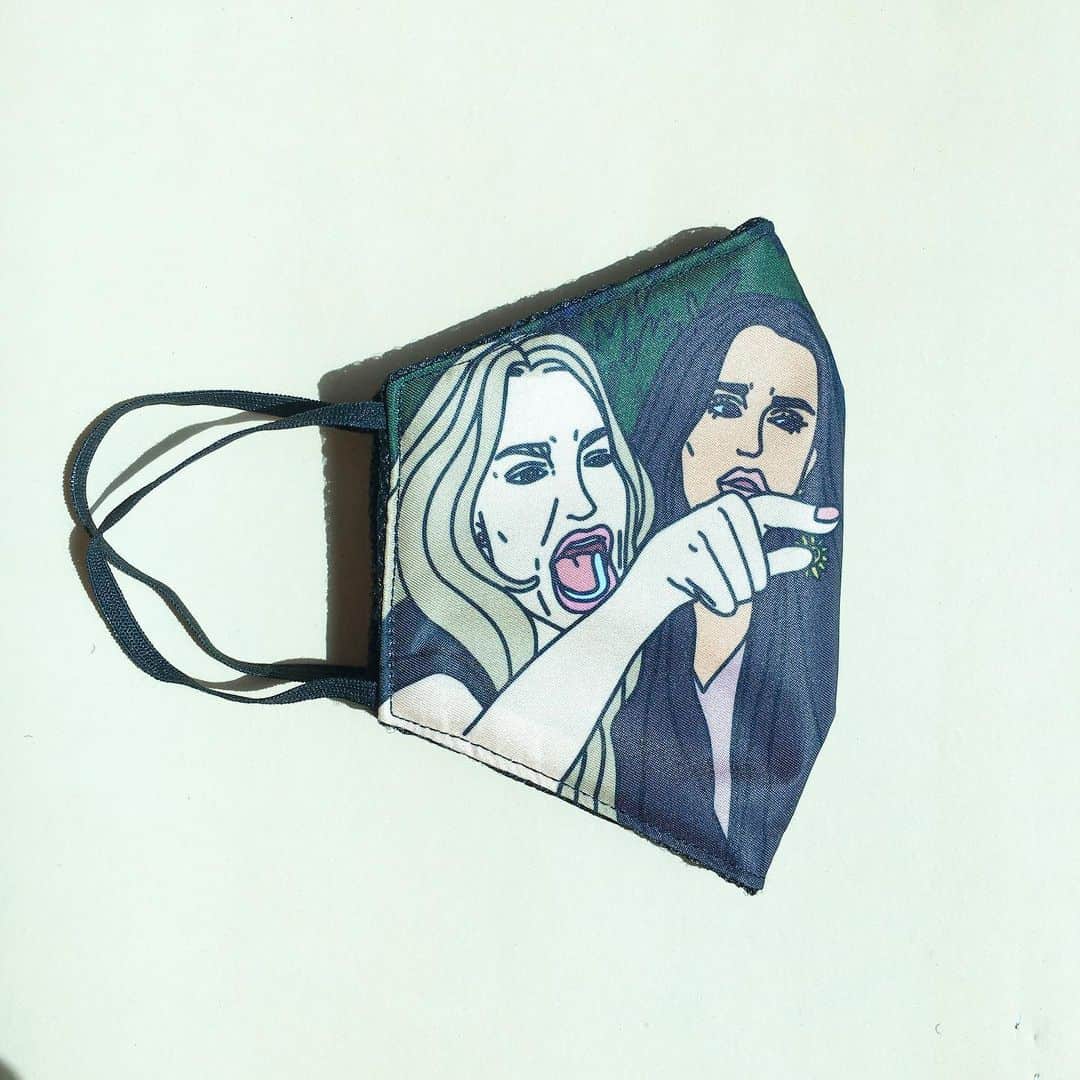 Where to Buy Funny Masks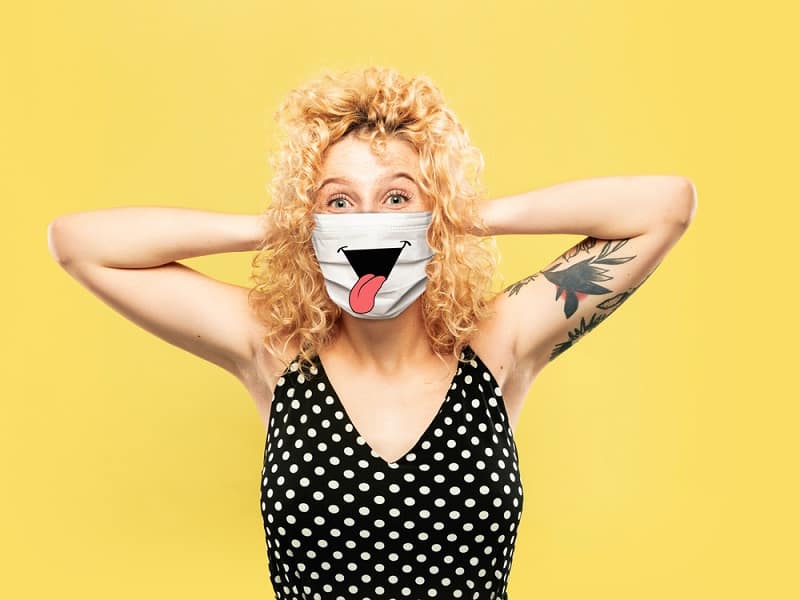 Most shops and e-commerce platforms now have a range of face masks. Funny masks are commonly found section as everyone loves a pun, a naughty cartoon, or a cheeky pop culture character. Here is where to find the best funny masks and some of our favorites.
Amazon
Amazon have a broad range of face masks available, including funny ones. At a reasonable price, they can be delivered to Prime customers within 24 hours. Their comedy masks cover food and drink puns to imitating goofy faces and animals. Always check the reviews first, as the quality does differ with the seller.
Redbubble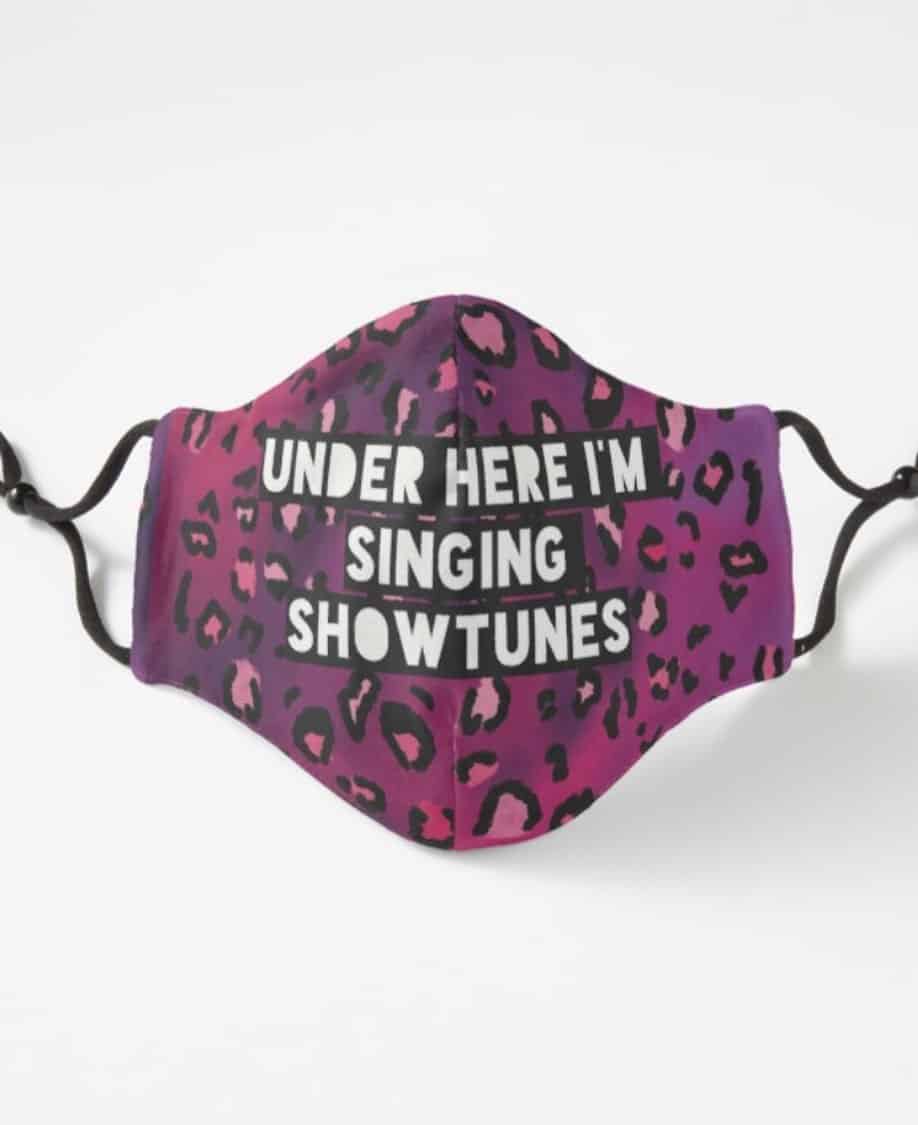 Redbubble has a whole section of their page dedicated to funny masks. From masks that reference pop culture, funny quotes and dancing unicorns, Redbubble will have a mask that puts a smile on your face (even if no one can see it!). When you find your ideal design, you can choose the adult or kid version, or the son.
Etsy
Etsy have a range of bespoke funny masks that have been handcrafted by small independent businesses. Their comedy face covering range includes masks dedicated to pop culture, video games and quotes. Some of our favorite Etsy stores for funny face masks include FuntoCover, TringleDreamz and Gobbleman.
Zazzle
Zazzle specialize in gifts, wedding and baby shower items and back to school. They also have a range of funny masks. Their masks can transform your face into a dog, cat or llama. We love their range of quirky face coverings. If none of these styles makes you smile, you can design your own!
Joom
You can get pretty much everything on Joom. This includes face masks. Joom carries a wide range of funny masks. Always wear a smile with these masks, that recreate filters or lets you enjoy lipstick. Joom's website lets you easily filter their masks, helping you quickly find the right material, brand and country.
Banter Cards
Banter Cards sell a variety of funny cards. From funny quotes to rude words and seasonal themed masks. You can even customise your own, adding your own images. All their masks are triple layered, have adjustable ear loops and are made using natural anti-microbial cotton liner.
Masksumo
Masksumo carries a huge selection of masks. You can shop on their site and get masks that please everyone in your family. Their funny face masks are inspired by alcohol, animals and human anatomy. If you don't like this, they have sports masks, country masks and floral prints.
Look Human
Look Human has a fun selection of face masks for you to choose from, many of them bold, quirky, and comedic. From political to pop culture, mythology to cats, Look Human have double layered face masks that'll make you smile.
Geek Outlet
Embrace your inner geek with a face mask from the Geek Outlet. From Pickle Rick, to Pac Man, their selection will have something in line with your pop culture interests. They sell multipacks of masks, so you can always have a clean one on hand. When you're there, enjoy other apparel themed on your favorite films, tv shows and books.
Maskclub
The MaskClub is the world's largest mask destination. The online platform is neatly categorized by movies, superheroes and cartoons, meaning you can easily find a fun face mask. There are very few franchises that don't appear on a MaskClub website, including Disney, Marvel and Jurassic Park.
Pixels
Pixels has thousands and thousands of funny masks. You have any idea for a comedic mask? They will have it. Made by a community of independent artists, they range from the rude to the absurd, the retro to the modern. Whatever you choose they are all made from 100% polyester.
Spreadshirt
Spreadshirt have a range of hilarious face masks. If none of them makes you laugh, you can create your own in different shapes with your own images. You can also edit existing mask prints, just click on the 'personalize' button on the product page.
Teepublic
Teepublic works to empower independent artists, selling their funny masks, apparel and stationery. From quotes to cartoons and memes. They also sell the retro illustrations of Steven Rhodes, whose warped take on classic cartoons have become internationally renowned.
Cafe Press
Enjoy one of Cafe Press' many funny masks, all of which are made from high-quality 100% cotton inside, with an outer layer of 100% polyester. From the crude to the creepy, the silly to the kitsch, Cafe Press have a fun selection for all the family.
Threadless
Threadless carry a range of art-forward masks, created by the fantastic designers within the Threadless community. A portion of proceeds from the sale of these masks goes to MedShare, a non-profit organization that recovers surplus medical supplies and equipment and redistributes them to needy hospitals in developing countries.
Disney
Embrace your inner child with a facemask from Disney. Available for adults and kids, they feature all your favorite Disney characters. From Baby Yoda to mermaids and superheroes, their range is sure to put a smile on your face. Disney have also worked with Medshare to give over a million families in vulnerable American communities have received cloth masks.
Fine Art America
Fine Art America is one of the biggest international marketplaces. They help independent sellers with a range of apparel and interior décor, including a selection of comedy face masks. Their funny face masks lean more towards pop culture, including characters from Monty Python, Parks and Recreation and The Big Lebowski.
Vistaprint
Vistaprint's masks are made to ensure proper filtration, breathability, and comfort, as well as making you smile. For every Vista Print fashion face mask you buy, the brand will give 10% to support local small businesses affected by the coronavirus. They offer a wide selection of masks including emoji prints, food and dogs. Their family friendly designs are bold, cartoony and make a big impact.
Depop
Depop is a community of independent sellers. The app is renowned for its range of quirky fashions and vintage clothing. They carry loads of handcrafted face masks that range from the cute to the quirky. Sellers like byjessp seller cute masks, but also the material to make your own. You can even buy matching scrunchie and face mask in funny prints.
Target
Whilst you are doing your weekly grocery shopping, you can pick up some adorably funny masks for your whole family. They stock items for all family members, from plain and floral to family friendly. Their packs of kid-friendly masks include characters from Paw Patrol, Trolls and Scooby Doo. Not to leave adults out, they stock Star Wars masks and face coverings inspired by your favorite sporting teams.
Funny Masks: Other Things You Should Know
How do I wear a single or double mask?
The key to correctly wearing a funny face mask is fit. It should fit closely to your face, completely shielding your mouth and nose. If you are struggling to find the right fit for you, invest in a mask with adjustable nose wires and war loops.
There should be no large gaps around your nose, your cheeks or under our chin. Some people may choose to wear two masks, as this helps to improve fit and filtration. Correctly layered masks can effectively replicate the N95 respirator. The two ways of wearing it are:
Wear a tightly fitted multiple-layer cloth mask over a surgical mask. The non-woven polypropylene material of a surgical mask protects from the virus. The cloth mask forms the physical barrier. Wear a triple layered mask with tightly woven fabric outer layers sandwiching a middle layer made from a nonwoven filter material (a filter).
Did you know:

The CDC does not recommend layering another mask over a N95, as they are intended to perform on their own. Not only will they decrease effectiveness, but they will also increase the effort needed to breathe through them.
You must wear your face mask over your nose, otherwise they are pointless. The nose is a prime entry point for coronavirus. A key protein, called the ACE2 receptor, which the coronavirus uses to enter and infect cells, is found in high densities in the nasal membrane.
If you are struggling to find a mask that correctly fits your face, tie the ear loops into a knot as close to the edge of the mask as possible. Then tuck the side pleats in to prevent gaps from appearing along the edges. Another hack is to use a hair clip to hold together the loops at the back of the head.
Did you know:

You shouldn't wear a cloth face mask if you have breathing difficulties. Children under 2 are also advised to not wear a cloth mask.
What types of face masks are available?
No matter if you want something chic, there is a mask available. There is a variety of different face masks available on the market, all with unique benefits and features that suit different people.
Pleated masks are some of the simplest designs available. This rectangular piece of fabric, usually cottons, with pleats that ensure it fits correctly to the face. Many pleated masks have a slot between layers for a disposable filter.
Another common mask is a molded mask. They provide a closer fit as they are molded to the wearer's face. They often have a vertical seam, which has been criticized for being a potential source of leakage. If you choose a molded mask, ideally get one with a built-in cloth layer rather than a disposable filter.
Valved masks aren't the safest face covering out there as they only filter the air coming in. It will not filter the air you exhale, almost negating the point of them. As technology has evolved, high tech masks have begun to filter both ways, but this is not a generalized upgrade.
For those who rely on lip-reading to communicate, face masks can have clear panels on it. The issue is the clear panel can fog up, but it makes communicating much easier for the hard of hearing.
N99 masks are the most protective option on the market. They are thought to reduce the risk of catching COVID-19 by up to 94%. They are difficult to come by because they are reserved by medical professionals.
Tip:

Adding a filter made out of two layers of polypropylene could boost a cotton mask's efficiency by as much as 35%.
What materials are the best for funny face masks?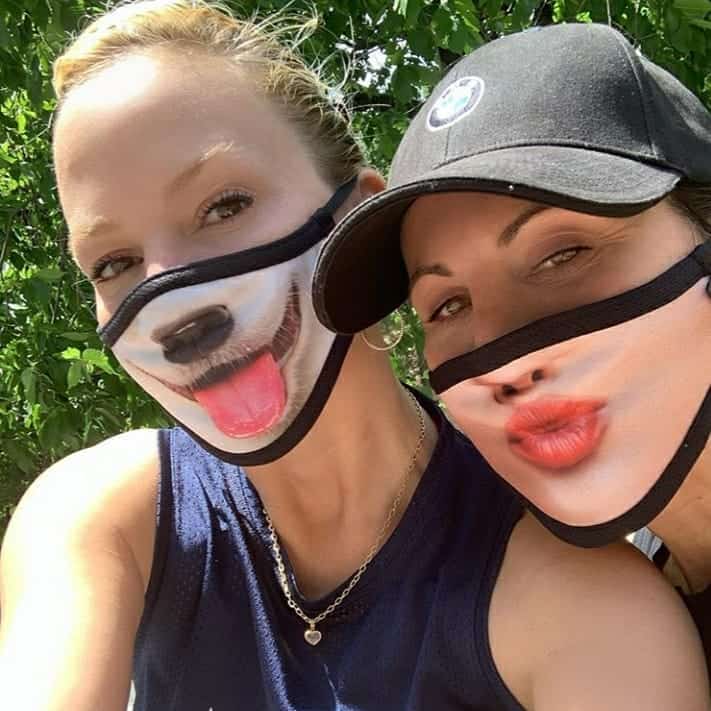 Tightly woven cotton is good at filtering particles. Because of this, it's one of the most popular fabrics to use for face masks. Even though cotton is effective, it's still recommended you use multiple layers.
Polypropylene is a synthetic non-woven material that offers superior levels of filtration and has moisture-wicking properties. This material is often used for higher grade medical face masks.
Polyester offers good levels of filtration and moisture-wicking but also needs to be used in multiple layers. Some commuter-style masks use polyester or spandex on the outside and a more breathable/comfortable cotton layer internally for added comfort.
Silk is good at filtering particles because it's so tightly woven. It is good at repelling water droplets, which makes it less susceptible to virus laden droplets. They are less comfortable than other materials on the market, so are better when layered with cottons or polypropylene.
Did you know:

We recommend choosing a funny mask that combines a few different types of fabric.
Can I make my own funny face mask?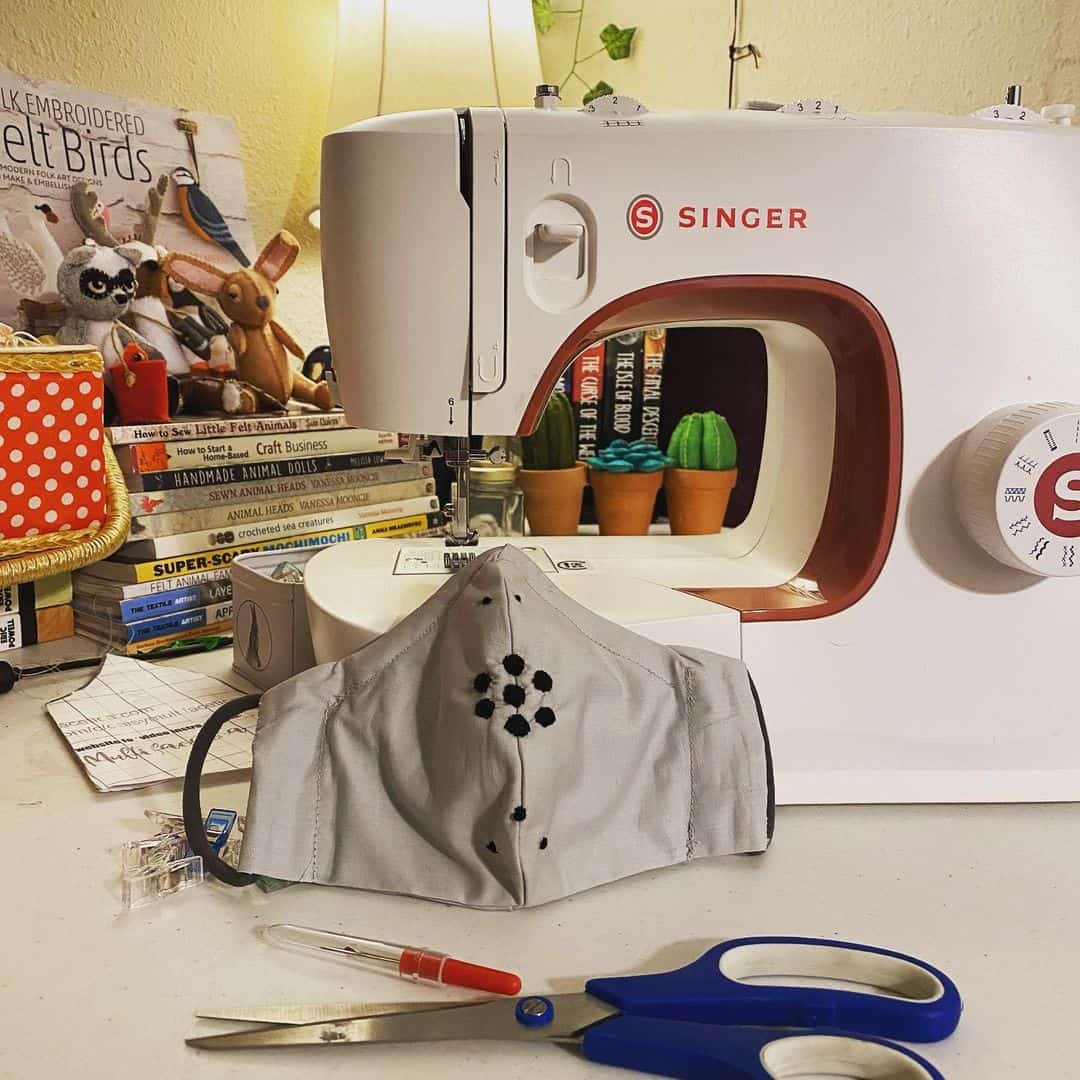 Yes. Many people have decided to make their own face masks. This ensures it perfectly fits your face, plus you can choose any print, pattern or material you like. A quick search online will lead you to lots of helpful websites that teach you how to make your own. Some techniques require a sewing machine and some skill, other a basic needle and thread, whilst some are sewing-free. Here are some of our favorite tutorials to help you construct a face mask.
There are some companies that make hilarious fabrics specially designed for those who want to create their own face masks. Some of our favorites include:
Spoonflower with materials that feature Dr Fauci, Ruth Bader Ginsburg and funny animals like llamas and pigs.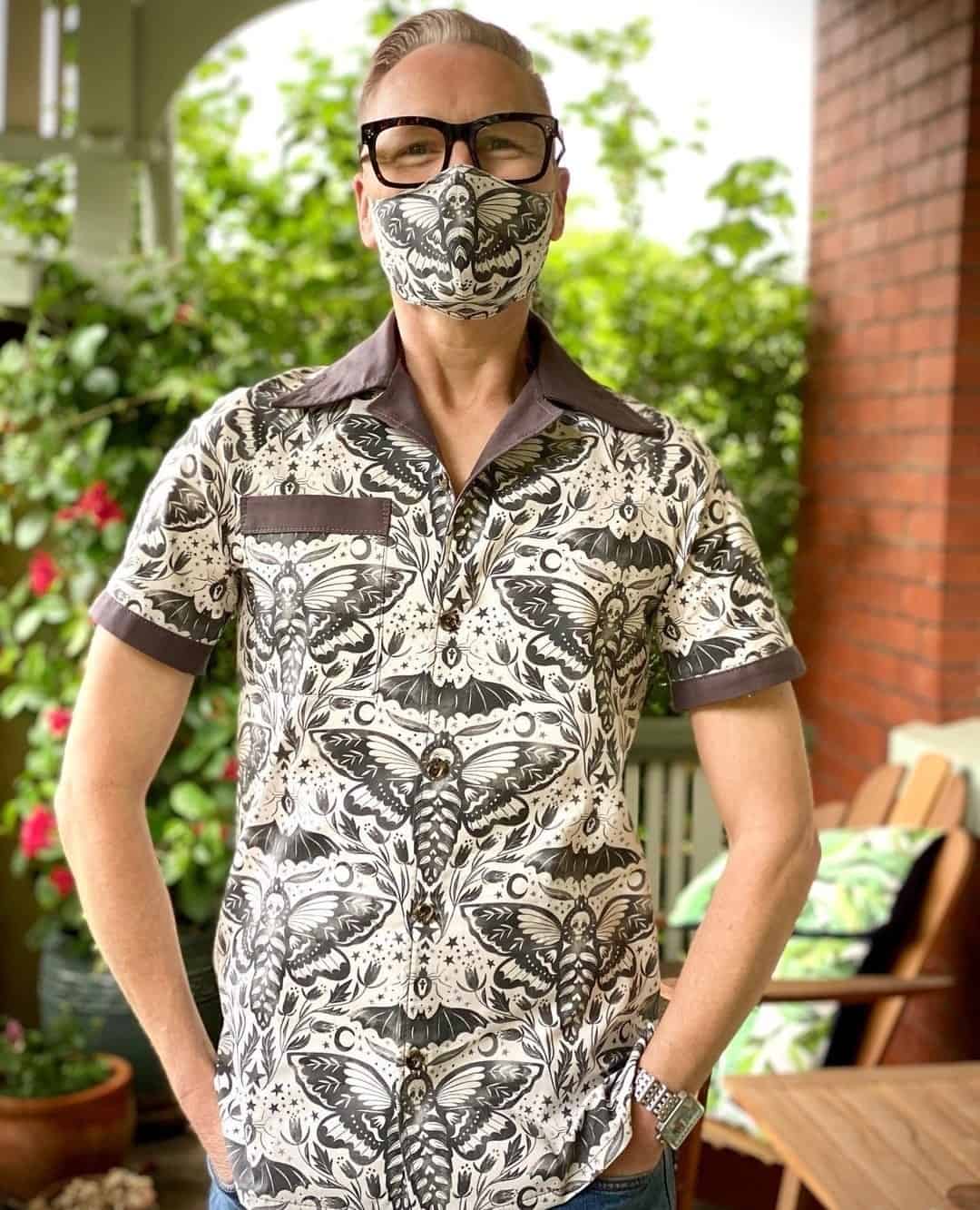 Myfabrics have a section of their website dedicated to face mask fabric. Whilst some prints of chic, others are quirky and cheeky, sure to put a smile on your face.
Michaels sells all the sewing supplies you need to make your own mask. From fun materials to elastics and threads, they have everything you need to follow any of the tutorials on this page.
How do I look after my face mask?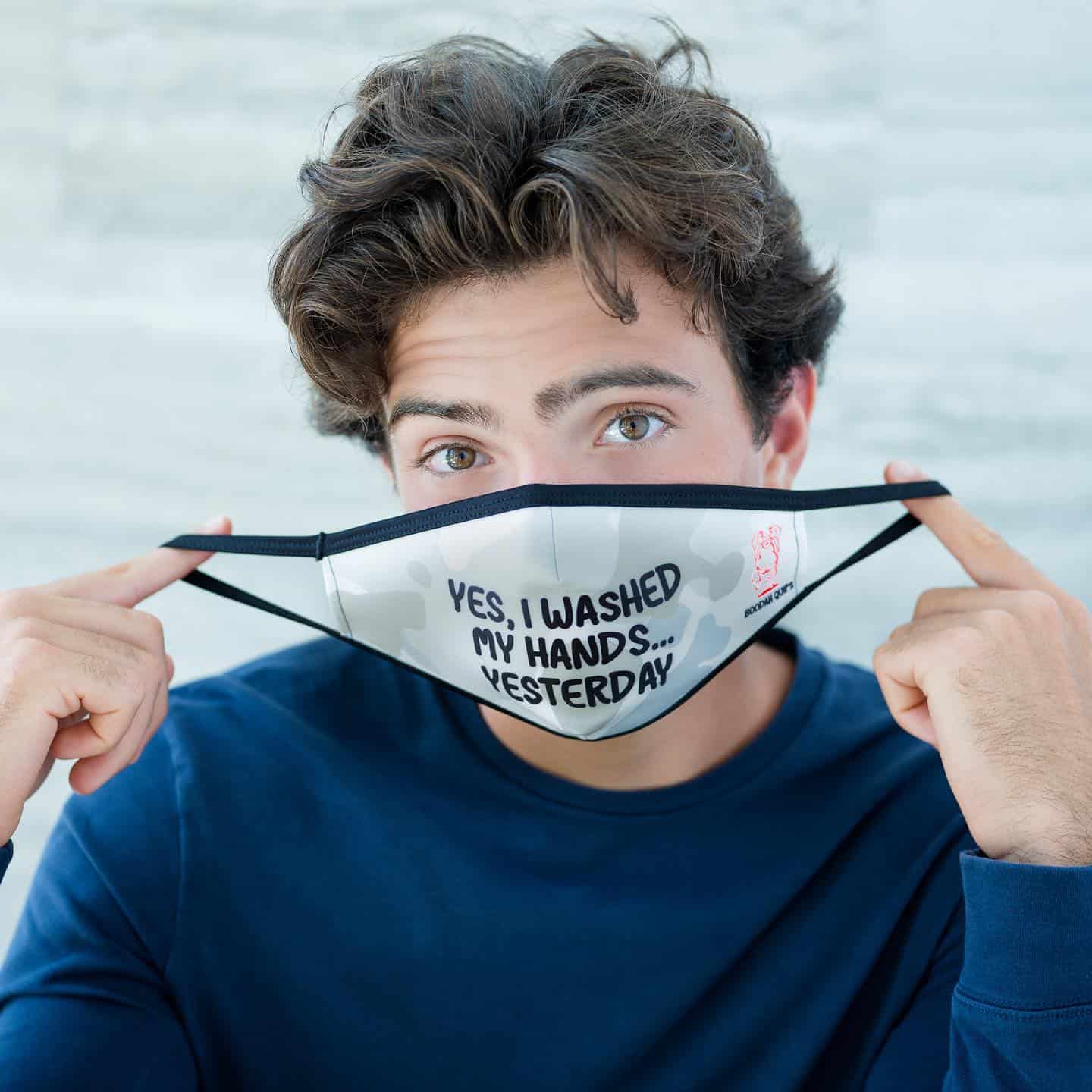 It's important you correctly store your funny face mask and wash it regularly to keep it clean. Most masks can be included in a wash with your regular laundry, always use the appropriate wash according to the fabric label. You should always dry it, either in a dryer or hung in direct sunlight, before putting it on.
A wet cloth is a welcoming environment for mold and other nasty germs. If you're washing your funny mask by hand, soak the cloth in bleach for five minutes and then rinse thoroughly with water. Diseases like COVID-19 is thought to live on unwashed cloth masks for 2 days.
Try to remove your face mask by using the ear loops. Only take it off on the face section if you have washed and dried hands. Avoid touching your eyes or face when removing it.
Tip:

Consider having more than one mask on hand. This way you can easily replace a dirty mask with a clean one.
When storing your funny face mask, you should:
Keep it a dry place where mildew and mold can't grow.
Fold your mask to ensure that the inner cloth (the bit in contact with your mouth) is protected by contaminated surfaces.