So far, we've encountered every single type of face mask out there; the pandemic has made us do so, and hopefully, we'll stop covering our faces soon. Until then, why not check out what else the world of face masks has in store for us. For example, what about a customizable face mask? Can we wear them, and if so, where can we get them?
According to the CDC, WHO, and other global health organizations and agencies, it is better to wear any kind of mask than no mask at this point in the pandemic. So, do not worry about getting a customized mask and not being able to wear it.
Now that that's out of the way, let's have some fun and look at all the places you can get a high-quality, customized mask, for a rather affordable price. Let's get started!
Best Custom Face Mask: Places Where You Can Make Your Own Mask
Vistaprint
Vistaprint is a place where you can customize your new face mask however you want it. You can get a face mask with any design you want, and get a breathable, comfortable cloth mask that is unique and one-of-a-kind.  So, how do you customize the face mask at Vistaprint? At their website, you'll be guided through the whole process.
First, you will add the image of the wanted design.
Then, you will choose the color of the mask itself, so that it fits the design perfectly.
After 24 hours from the upload, the Vistaprint team will send you a selection of the best options for the mask.
Then, you choose your favorite option and order the mask.
Vistaprint even offers their customers to download face mask templates, so that they can create a print-ready file using Photoshop or Illustrator.
You can order anywhere between one and 1000+ masks. The more you order, the lower the price gets. The masks are available for both adults and kids. The masks themselves are designed with a Replaceable Filter System, and there is a wide range of sizing options for the best fit.
CustomInk
Another place where you can turn a boring mask into a unique face covering is CustomInk. At CustomInk, you can choose from hundreds of different templates created by artists around the world. At their DesignLab, you can choose the template and customize the mask to your liking, in no time.
At the CustomInk website, you can choose from a number of specific design template categories. Let's say you decided to go for the Trending Designs. How does the process of customization work from there?
You choose your favorite design option from the Trending Designs, for example
Let's say you choose the Most Popular Section
In this section, you'll be presented with a variety of different designs; you click on your favorite
Now, you'll be presented with the design and the way it looks on a T-shirt; in a lower-left corner there's a shirt-shaped button named Product
Click the Product button and select Change Product; choose Face Masks
From a variety of different available types of masks; you choose your favorite one
Then, you'll be presented with a window where you get to select the color of the mask (black, white, grey).
Once you've selected the color, click the blue button named Order Option
After you're done adjusting the design on the mask, click the blue dollar-sign button to continue the order
From this point on, you can choose to only see the price of the newly-designed, custom face mask. You can also continue the order and select Buy Now. CustomInk offers group buying options, where you order several of the masks with a group, and you split payments.
Maskalike
Sometimes, you don't need to be creative and come up with an amazing, unique design, when you can use your face for inspiration. With Maskalike, you can simply put your face on a mask and enjoy the reactions of friends and family. This is a fun way to wear a mask and still stay safe and comfortable.cHere's how the process of ordering this mask works;
First, take a picture of your face, front-facing without any filters and edits. There is a video instruction on the Masalike website you can easily follow.
Upload the image on the site.
Select mask color and size.
Wait for the mask to arrive.
The process is extremely simple. Every mask features an advanced design, with special nose darts and a contoured chin to prevent slipping and gapping. These masks are comfortable, breathable, and machine-washable. Each mask is made, printed, and stitched in California, so you know you're getting a high-quality product.
Maskalike masks are so good that they were featured on Vice, Wall Street Journal, Abc, Designboom, Good Morning America, and The Late Show. The masks are realistic, entertaining, and a good way to bring some fun in a boring routine of mask-wearing.
Snapfish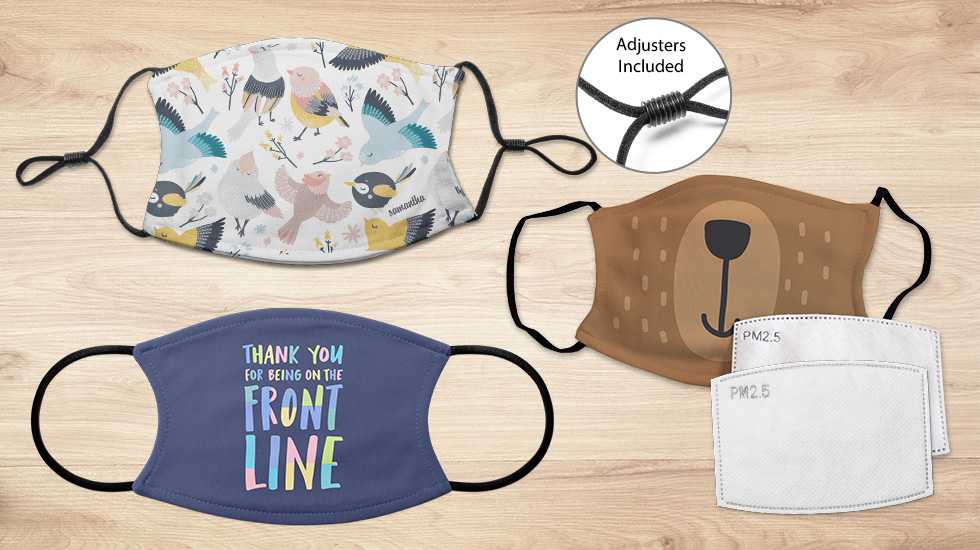 Snapfish offers customizable face masks for both adults and kids. Their masks are breathable, comfortable, and feature elastic, adjustable ear loops to provide the perfect fit. You can order fun and unique face masks for yourself, family or friends and make the face mask-wearing more enjoyable.
To make a custom face mask, you can use inspiration design from Snapfish, or upload your design ideas and artwork onto the site. All you have to do is choose the size and color of the mask. The rest is up to Snapfish.
All of the Snapfish masks feature a 2-pack of carbon filter inserts and a pair of silicone adjusters so you can adjust the length of the custom mask's ear loops.
If you don't have an inspiration for a custom face mask, you can always visit the Snapfish Blog for great ideas that will surely fit your preferences and style.
Zazzle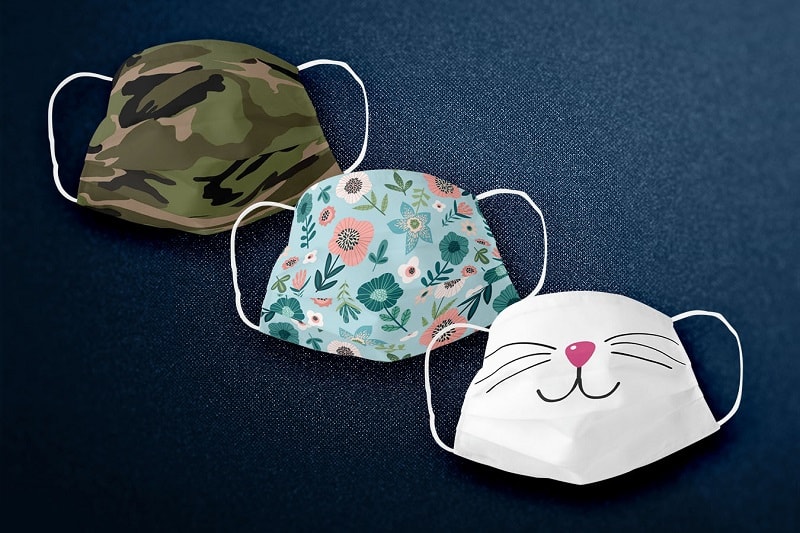 Zazzle offers one of the easiest custom face masks ordering and making. They offer a wide selection of different face masks that come in blank design and act as a clear canvas. All you have to do is choose the mask that fits your preferences and style the best, and add the wanted design. You will do that as follows;
At the Zazzle site, you will choose which type of mask you want. Let's say you clicked on the section For Her (masks made for a female face shape).
Then, you will be presented with a variety of different mask designs. However, to create your own, you'll click on the Create button, placed at the lower left side of the website.
Upon clicking, you'll be presented with a number of design recommendations and helpful design elements.
By clicking on a design element, you'll be presented with a new window where you'll be able to upload your design and artwork.
From there, you can adjust the design, choose face mask size and continue the order.
On the website, you'll also be able to choose the preferred mask fabric, as well as a slot for the filter, in case you want to wear one. You can also choose some of the trending designs on the Zazzle website if you're feeling uninspired. The masks are machine washable and reusable, following the CDC guidelines.
Etsy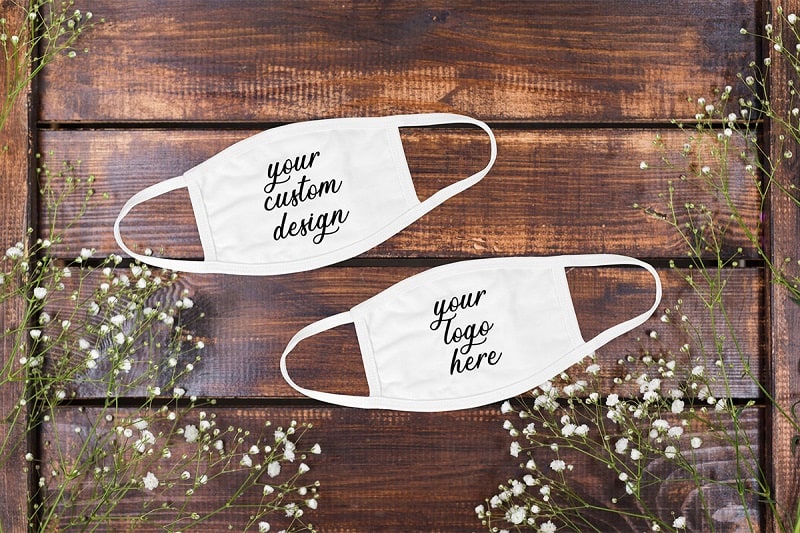 Etsy is known to be a source of incredibly talented and creative people doing all sorts of arts and crafts. The same applies to custom mask masking, which is currently thriving on Etsy. We recommend you check the small brands and independent artists who provide incredible mask customizing service for a really affordable price.
One such brand we'd like to recommend is DDandDesigns. They use disposable face masks to create custom designs for different events, like birthdays, weddings, and similar settings where people gather but are required to wear a proper face covering.
The mask can be customized in a way to have specific writing, date, or logo printed onto the outer layer. The print is high-quality, but since the mask used for the print is disposable, the print itself isn't made to last long.
Costume Agent Store
At the Costume Agent Store, you can get a personalized face mask in no time. First of all, the brand uses high-quality face masks as a base for customization. The outer layer of the masks is made from 100% polyester, while the inner layer is made from 100%, skin-friendly cotton. The masks can be stretched in 4 ways to fit every face shape and size. That is why their masks are so comfortable and breathable.
When it comes to customization, all you have to do is choose a design, and that is it. The rest is up to Costume Agent; the design will be printed onto the mask in line with the proper interface and appearance on the 3D mask. The print itself is high-quality and is able to withstand repeated machine washing.
The mask can be used by adults and kids and can be used in place of a medical-grade mask. The Costume Agent masks are categorized as cloth masks, but they do provide a certain level of protection again virus and particle transmission.
In Case You Need More Options
We recommend you get a hold of a Customask from Canvas Discount. Their customized face masks are of exceptional quality, and also the most affordable ones in the country. All you have to do is upload a photo or logo, and place the order. Their masks are One Size, but the elastic earloops can make them fit even better, in line with your preferences. The masks are machine washable and reusable, so you're getting more than your money's worth with this one.
We genuinely recommend everyone to check out this brand. Moo creates custom face masks made from paper. Their paper masks are an excellent alternative to single-use plastic masks which are a hazard to the environment. The front of the masks is completely customizable. All you have to do is upload a design, brand name, graphics, etc. Moo will do the rest and send you the mask in no time. If you worry about safety; well, research shows that Moo paper masks are just as effective as single-use plastic ones.
For more information about this groundbreaking paper mask, make sure to visit the Moo website and read all about their masks. We believe that paper masks are revolutionary and will actually help us take care of our environment.
One of the major issues in the world is the pollution caused by excessive amounts of disposed face masks which are made from plastic and cannot disintegrate. Paper masks could surely prevent this problem from escalating.
Things To Consider When Using a Custom Face Mask
Safety
If you're worried about whether custom face masks are safe for use, rest assured. These masks are just as safe as any other cloth or homemade face mask. Sure, they don't provide high safety levels like surgical or N95 masks. Nevertheless, they will provide an approximately 50% protection rate against airborne or liquid particles. To be more effective, the masks can be worn with filters and should be properly placed on the nose and under the chin.
Material
The best material choice for a custom face mask would be whether 100% cotton, polyester, or a combination of the two materials. Cotton masks are excellent because they provide excellent comfort levels as well as breathability.
Masks made from polyester are good because of the moisture-wicking effect. Regardless of which material you choose, you won't go wrong. Just make sure to avoid skin-irritating materials, as well as breathing-obstructing materials (like leather, for example).
Design and Mask Quality
When customizing a face mask, make sure to check the exemplary face masks on the brand's website. See how the masks look on the face and whether there are any pictures of real people wearing their custom face masks. Also, check the mask quality, material, and size options.
Go through the customer reviews and look at the things that people find disadvantageous regarding their custom masks. And, of course, check the price. Some custom face masks tend to be overpriced when they shouldn't be.
Final Thoughts
We hope you liked our recommendations of places to get a personalized face mask. Hopefully, you'll have fun designing your masks, and of course, we also hope you'll like the finished product. For more information about each of the brands, make sure to visit their respective websites and check the important info in detail for yourself. We wish you have fun and enjoy your new and unique face mask.