Bejeweled and rhinestone-covered face masks have become all the buzz in the fashion community in the past few months. The bling masks are all over Instagram and other social media platforms, mostly due to the incredibly stylish appearance.
These masks were popularized by celebrities, such as Lana del Rey and Billie Eilish, who have started wearing them at some public events during the pandemic, and the music videos.
However, one thing needs to be tackled before we continue with the article. Crystal face masks are NOT adequate protection against coronavirus and airborne particles. These masks do not feature any protective properties, since they're generally made from mash material and crystals.
Celebrities are often bashed by the media and the general public for wearing such masks and promoting inadequate protection against Covid-19.
Standard face masks (cloth masks often) which have been covered in rhinestones additionally can be worn as a part of protective equipment. However, bear in mind that in order to cover a mask with rhinestones, one needs to glue them to the mask. The glue could affect your breathing, and make you even breathe in the glue smell.
As we can see, crustal face masks are surrounded by a bit of controversy. But, they are fun and stylish, and if you want to wear them, there are ways to stay protected. Many have discovered that putting a crystal mash face mask over a standard protective mask does the job.
So, if you're looking to purchase a good-quality crystal face mask, you're at the right place. Keep scrolling for our top picks and finds!
Best Crystal Face Masks – Our Top Picks
TrendyMasks Crystal Face Mask
This mask is made from a soft, cotton fabric, so it is a cloth mask rather than a mash, crystal one. As a cloth mask, it provides significant protection against airborne particles, which is essential in these times of the pandemic.
The mask features space for a filter, which you will also receive with the mask. There are 3 breathable layers, as well as round and elastic earloops for a perfect and comfortable fit.
The face-covering part of the mask, apart from the earloops, is covered in beautiful rhinestones, which make the mask extra stylish and unique. The rhinestones are placed tightly onto the mask, so they won't fall off during repeated machine washing.
WeixiDesigns Rhinestone Face Mask
This is another fabulous, rhinestone-covered face mask you can go for. It is currently one of the best-selling crystal face masks on Etsy, so you know you're getting a high-quality product. The mask appears rather luxurious and is definitely shiny.
Even though the mask is washable and features adjustable earloops, it is not considered a part of the protective equipment. The material of the mask is just rhinestones; there is no cotton or polyester base for the rhinestones, not even a mash material. So, this mask cannot be used for protective purposes.
But, in case you're only looking for a stylish piece, you can wear it on its own and elevate your style and outfit. If you want to be protected and still remain stylish, we recommend you wear this mask over a black surgical mask. That way, the rhinestone will become even more visible and outstanding.
Wendolin Zenteno Rhinestone Face Mask
For those looking for a mask that will protect, but also make them stylish and unique, look no further. This face mask will make you stand out for sure. It is made from a 100% cotton fabric and features elastic earloops for a perfect, most comfortable fit.
The mask is covered in rhinestone crystals, which have a beautiful shine, depending on the type of light they're exposed to. Not to mention that the mask features filter pockets and a skin-friendly inner layer, which makes it perfect for durable protection and long-period wearing.
With this super luminous and shiny mask, you'll be hard to go unnoticed. You'll stay safe, protected, and super stylish, without compromising your health. The mask is also super affordable, so make sure to grab one before it this Etsy store runs out of this amazing mask.
Swarowski Blue Crystal Mask
Now, buying a crystal mask can be an excellent opportunity to spend some extra money on a high-quality product. One such product is this Swarowski face mask embellished with an assortment of Swarowski crystals.
This Swarowski mask is a cloth mask, but it is not intended to act as medical equipment or PPE. It is specifically designed for non-medical purposes, and should not be used by children. So, this mask is generally intended for fashion and stylistic purposes.
Since the mask is covered in Swarowski crystals, it needs to be handled with special care. The mask should be stored properly and only washed up to 20 times at 60°C using a gentle cycle. Of course, since the mask is covered in luxury crystals, the price of the masks is surely much higher than that of the other masks, so bear that in mind.
Leg Avenue Rhinestone Face Mask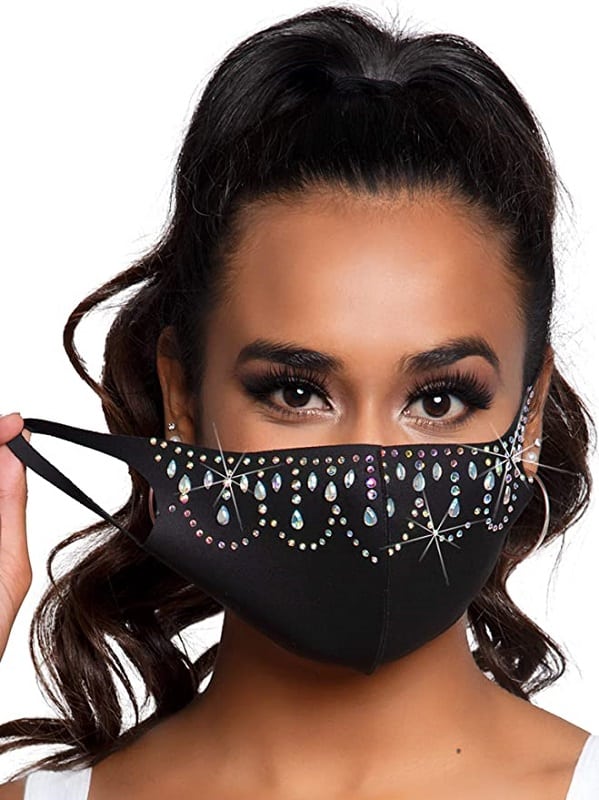 If you're looking for a crystal mask that is not as flashy as crystal masks tend to be, you're in the right place. This mask contains a rhinestone design, but not all over the face-covering part.
The rhinestones are rather placed to create a 3D pattern, rather than just covering the material from ear to ear. This makes the mask elegant and chic, without going overboard with the bedazzlement.
The mask is ultra-comfortable. It is made from polyester and spandex, which makes it stretch and contour according to your face size and shape. The stretchable earloops make the job even easier. Because the mask is made from fabric, it can be used as a piece of protective equipment against certain particles, but we're not sure it would do good against coronavirus and aerosol particles.
Either way, the mask looks gorgeous, and it will surely make you stand out in the crowd. Not to mention that the mask is also quite affordable, washable, and reusable.
Karen Clare Design Rhinestone Face Mask
We've found the perfect crystal face mask for those with sensitive skin, looking for a skin-friendly and stylish face covering. This particular bedazzled face mask is actually made from 100% cotton.
Therefore, the inner layer of the mask is perfectly fine for sensitive and easily irritable skin. The outer layer is covered in shiny rhinestone and crystal mesh to make the mask luxurious and fancy.
Because the mask is made primarily from cotton, it is breathable and comfortable for long wear. However, despite the cotton fabric and technically being a cloth mask, it is only recommended as an accessory; the mask does not filter airborne particles, germs, and dust.
Other Crystal Masks To Check Out
Natalie Mills Destiny Galaxy Crystal Face Mask – one of our favorite 'dark horse' brands that create face masks is the Natalie Mills brand. This particular mask is breathtaking and it will make sure you stand out everywhere you go. The mask is covered in high-quality Austrian crystals. There are also 2 cotton layers and an open filer pocket. The mask comes with a free included filter as well.

Know More Details on nataliemills.com

Made By Little Gems Crystal Face Mask – to finish off the list, we've decided to include another small brand that makes beautiful crystal face masks. Made By Little Gems has high-quality face masks, each made from more than 600 rhinestone crystals. The masks are handmade, so they may need some special care. They arrive in one size and should be washed by hand only (to take care of the crystals).
Rhinestone Gliterry Face Mask – one of the best-selling crystal face masks on eBay. It is not a medical-grade mask, and it is supposed to be worn over a protective mask for anti-transmission properties. The mask is considered one of the must-have accessories for the summer of 2021.
Natalie Mills Rhinestone Crystal Face Mask – currently on sale, so grab it while it's still available. The mask is handmade and designed with two layers of skin-friendly cotton. The outer layer of the mask is embellished with High-quality Austrian rhinestones. The mask comes with a filter, so it can act as a medical-grade mask as well.
Sequin Face Mask Starry Nights Face Mask – if you want to support a small brand, then check out their wonderful rhinestone mask. The mask is handmade, high-quality, and generally one of the best masks of this kind. It features wonderful rhinestones in the shapes of gems and stars. The mask is contoured for a better fit and doesn't appear bulky.
Final Thoughts
We hope you like our selection of glamorous and luxurious crystal face masks. For more information about each featured brand and face mask, make sure to visit their respective websites. The majority of the face masks in this article are created by small brand owners, so by purchasing their work, you're ensuring they stay in business during these harsh times.
Before you decide to wear crystal masks, make sure to remember that (unless stated otherwise) these masks are not medical grade and should not be worn as such. Unless the brand specifies the masks are made for protective purposes, the crystal masks should be worn over a medical-grade (surgical) mask.