On May 25, George Floyd was killed by Minneapolis police officer Derek Chauvin in the latest in a long line of senseless killings of black people in America. This tragic event sparked a new wave of protest and pleas for what should be an obvious and universal truth: Black lives matter.
Black Lives Matter is a human rights movement that brings awareness to civil rights issues around the world. Just some of the struggles people of color face every day include racial injustice, police brutality and unlawful killings. The movement rose to prominence in 2013 following the murder of 17-year-old Trayvon Martin and has grown around the globe as a means of speaking out against injustice and battling with equality.
Although they are many fantastic ways to support this important movement. From donating to charities, attending marches and making statements on social media. In the current COVID-19 pandemic, wearing a Black Lives Matter mask is a fantastic way to show solidarity for the cause.
Types of Black Lives Matter Mask
A Black Lives Matter mask can come in a range of styles. Here are some of the best designs that make a big impact.
Fists up. This face mask features fists rising in the name of justice, representing all the people who participated in the movement.
The classic Black Lives Matter quote mask is a quick way to make your point. Normally in black, white or yellow, they can be seen from a distance and there is no way of misunderstanding the meaning of it.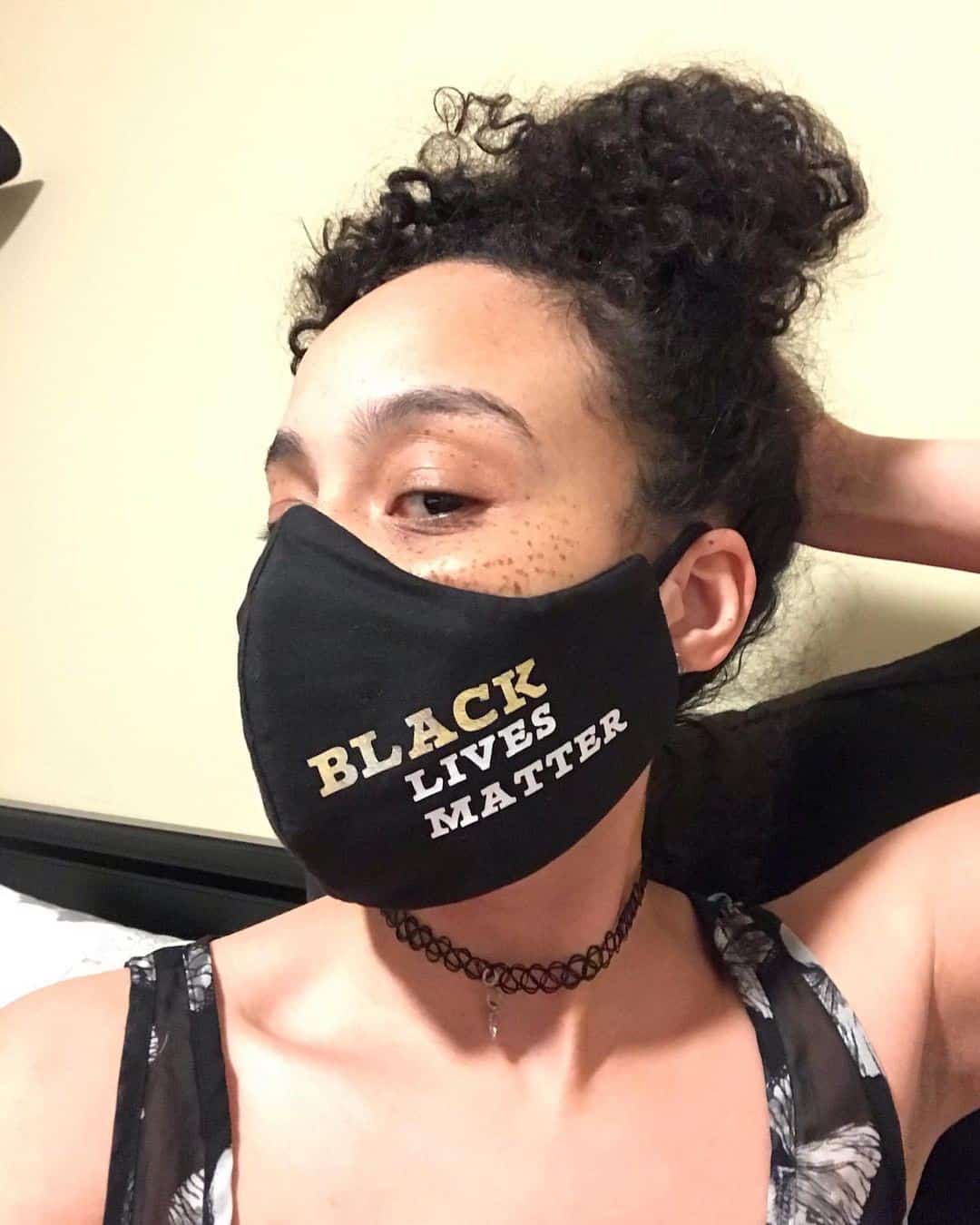 Remembering those we lost. Although thousands of black people senselessly die, a few have hit the deadlines and brought the fight to the forefront of the media. Just some of those we lost include Breonna Taylor, George Floyd and Trayvon Martin. Celebrate their life and keep them in your thoughts by choosing a face mask inspired by their legacy.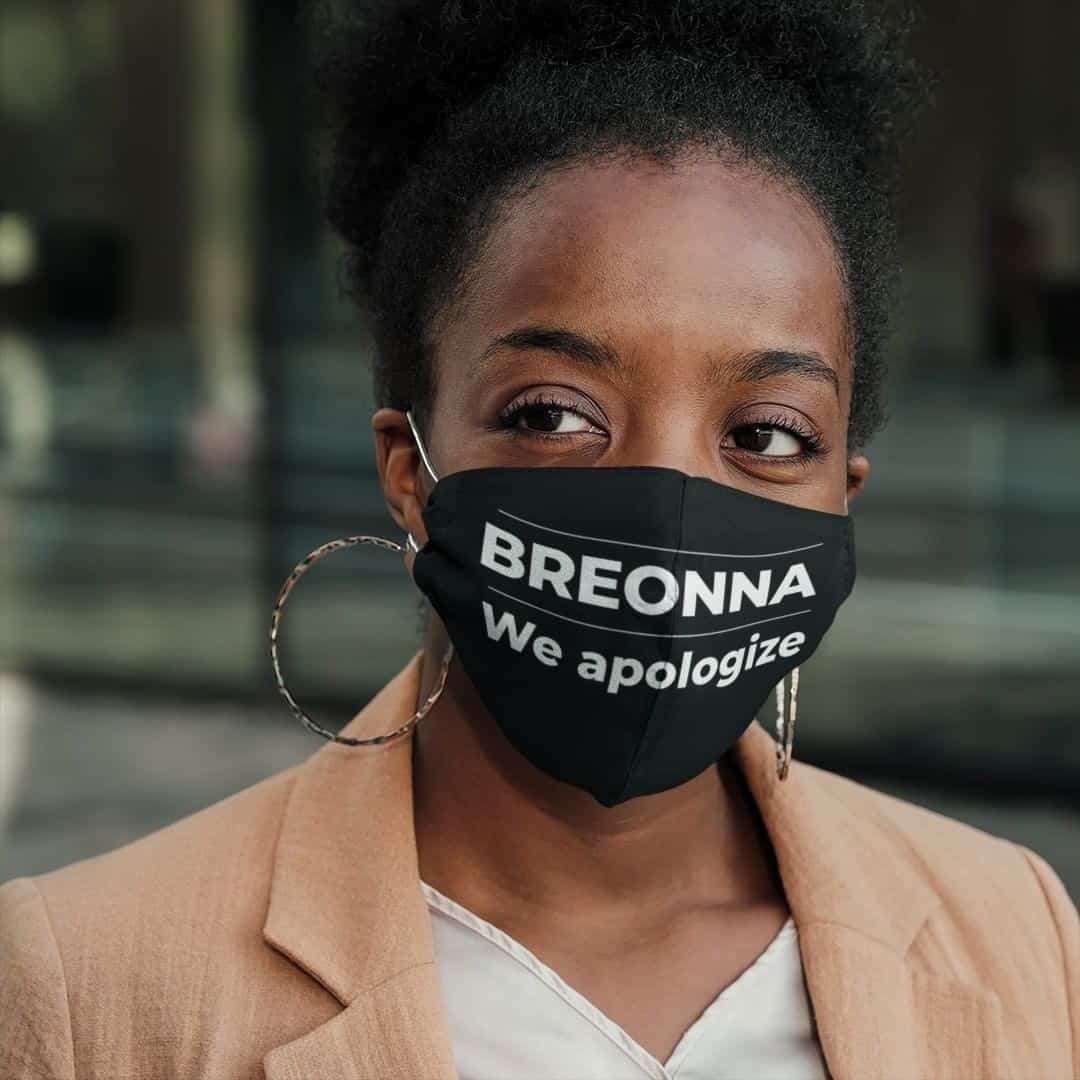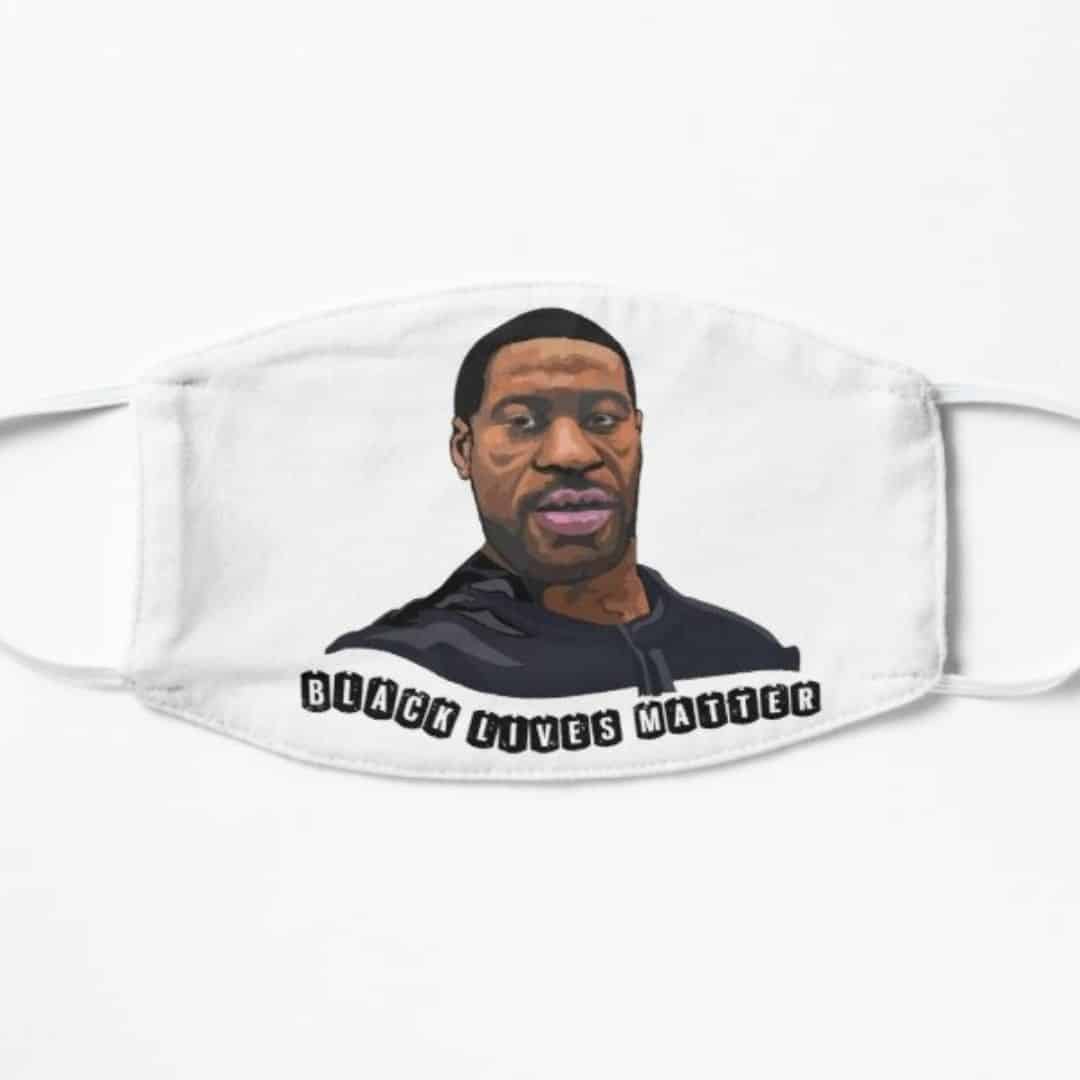 I can't breathe. This sentence has become associated with the Black Lives Matter movement since it was uttered by Eric Garner as he was killed in 2014. A number of black people in custody have also used it, making it a widespread protest against police brutality.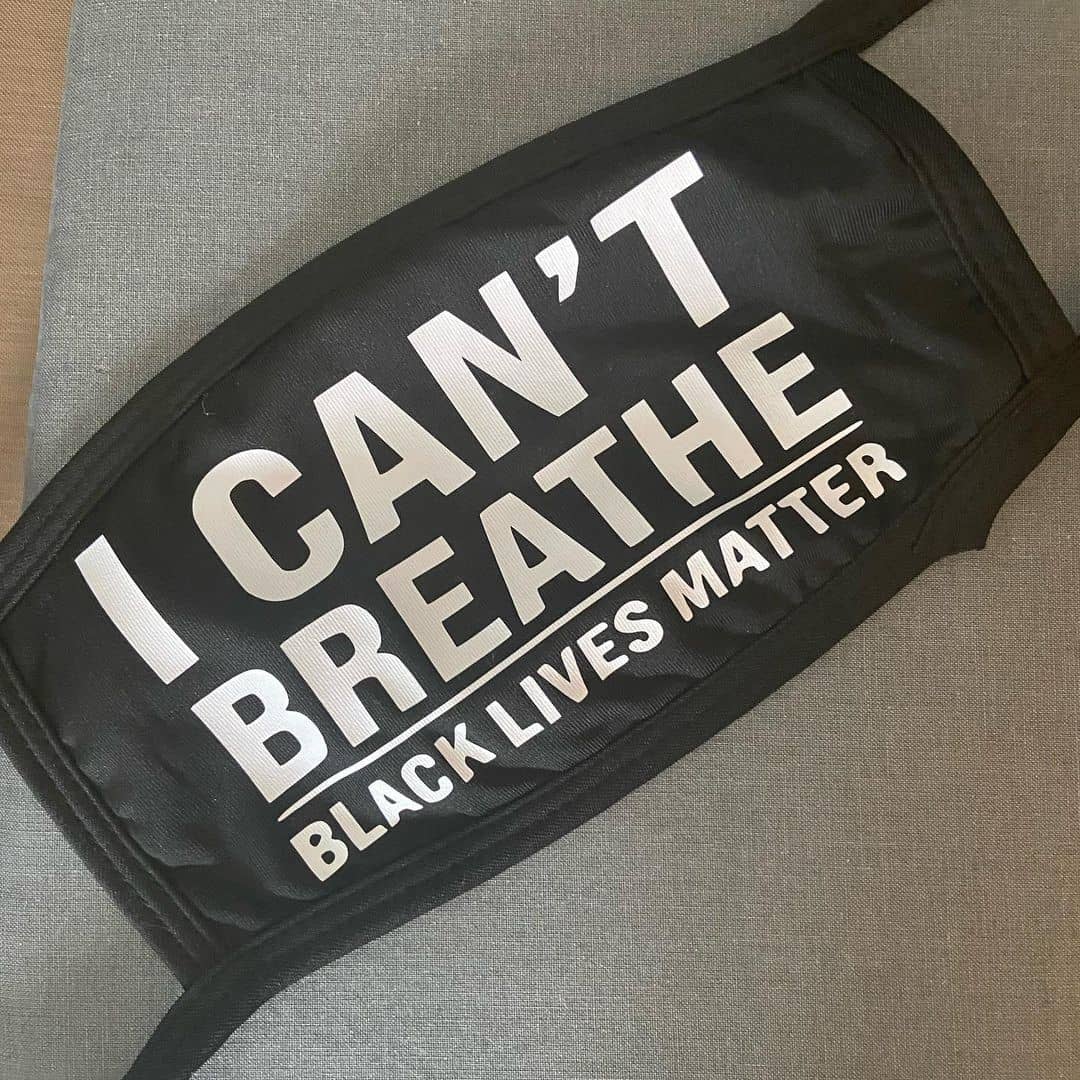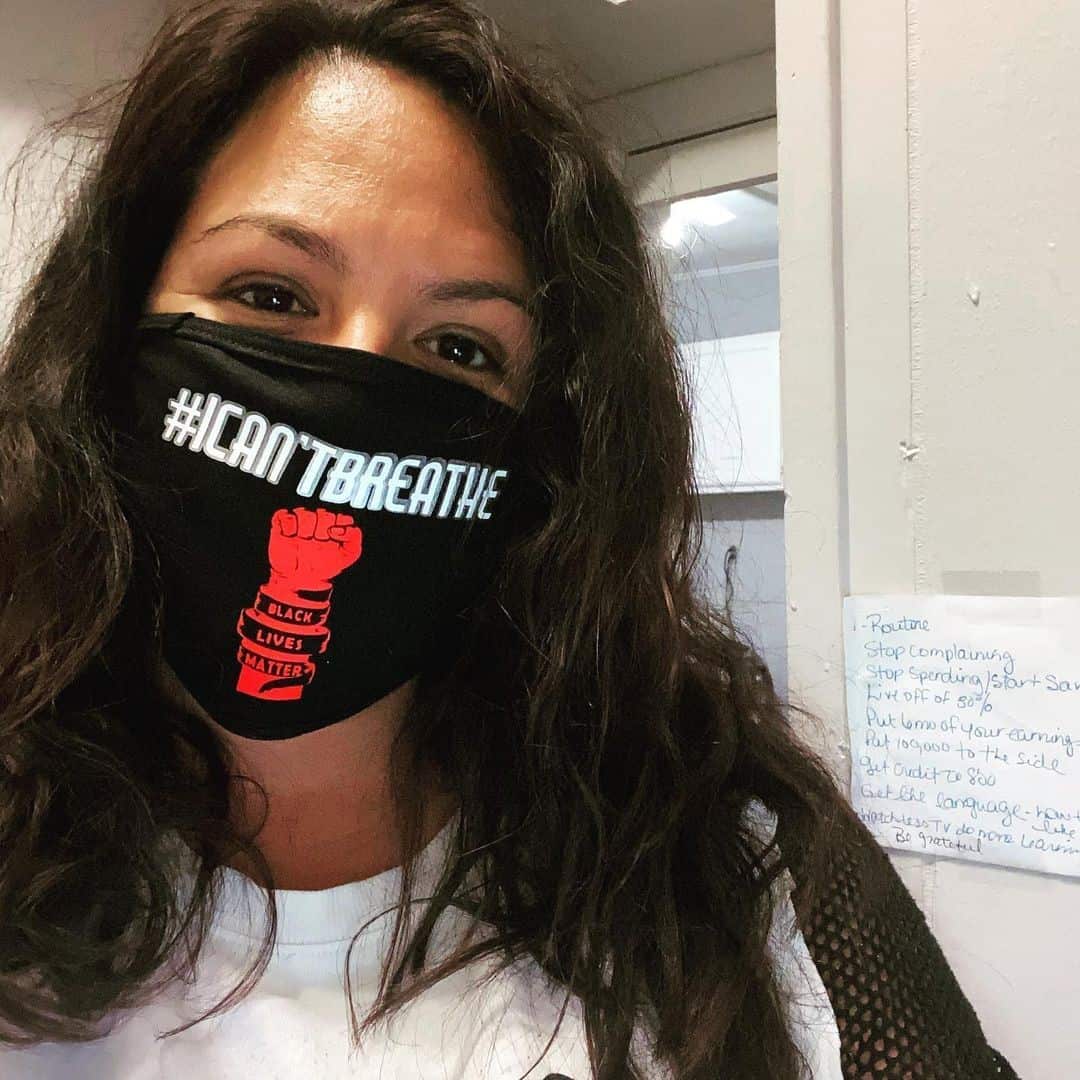 Messages of hope and justice can be a powerful, even when worn on a face mask. You can let everyone know your feelings on the movement without having to open your mouth.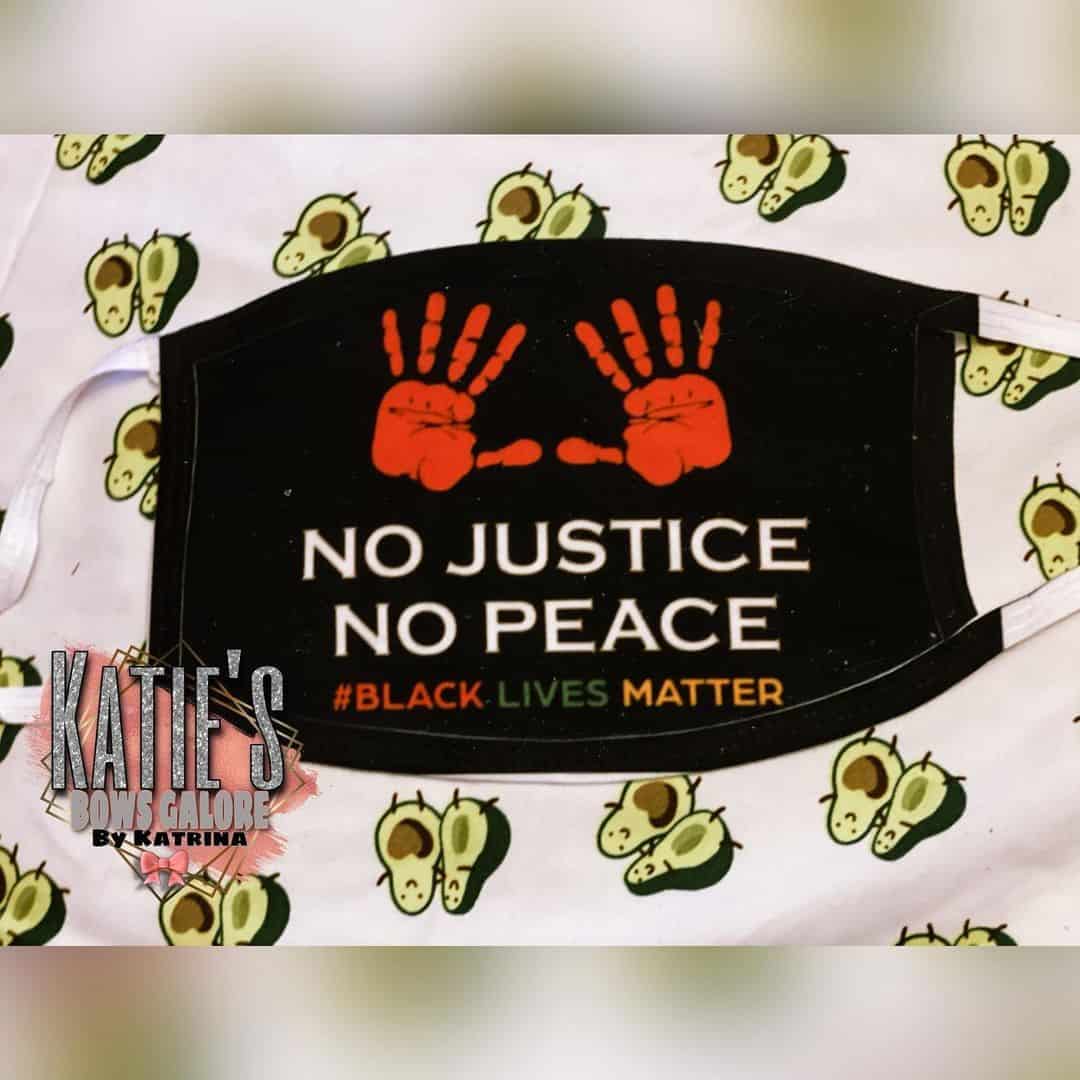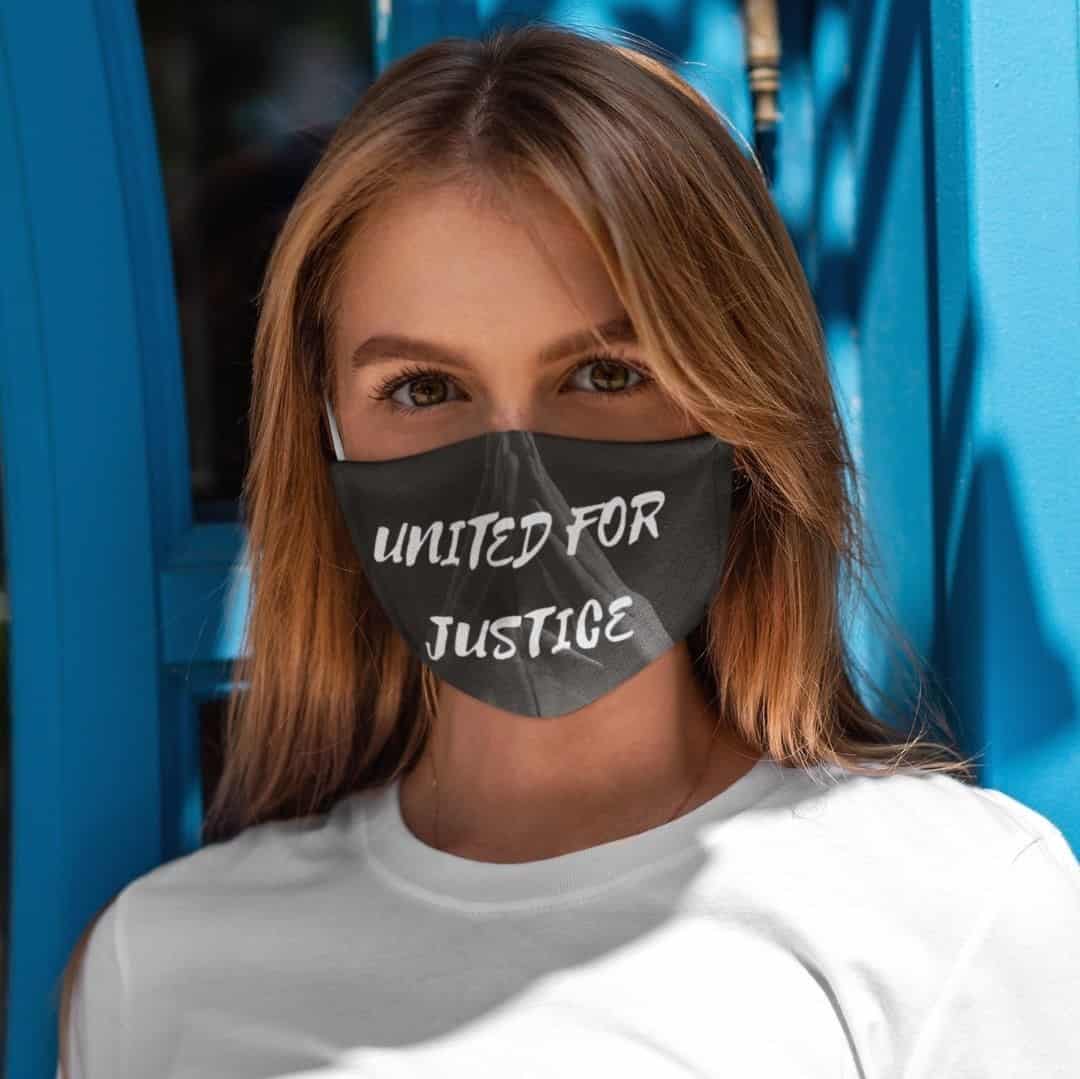 Quotes from the iconic civil rights activist will remind everyone how far we've come and how far we have to go. Rosa Parks, Martin Luther King and Malcolm X are just some of the fearless leaders you can celebrate on your face mask.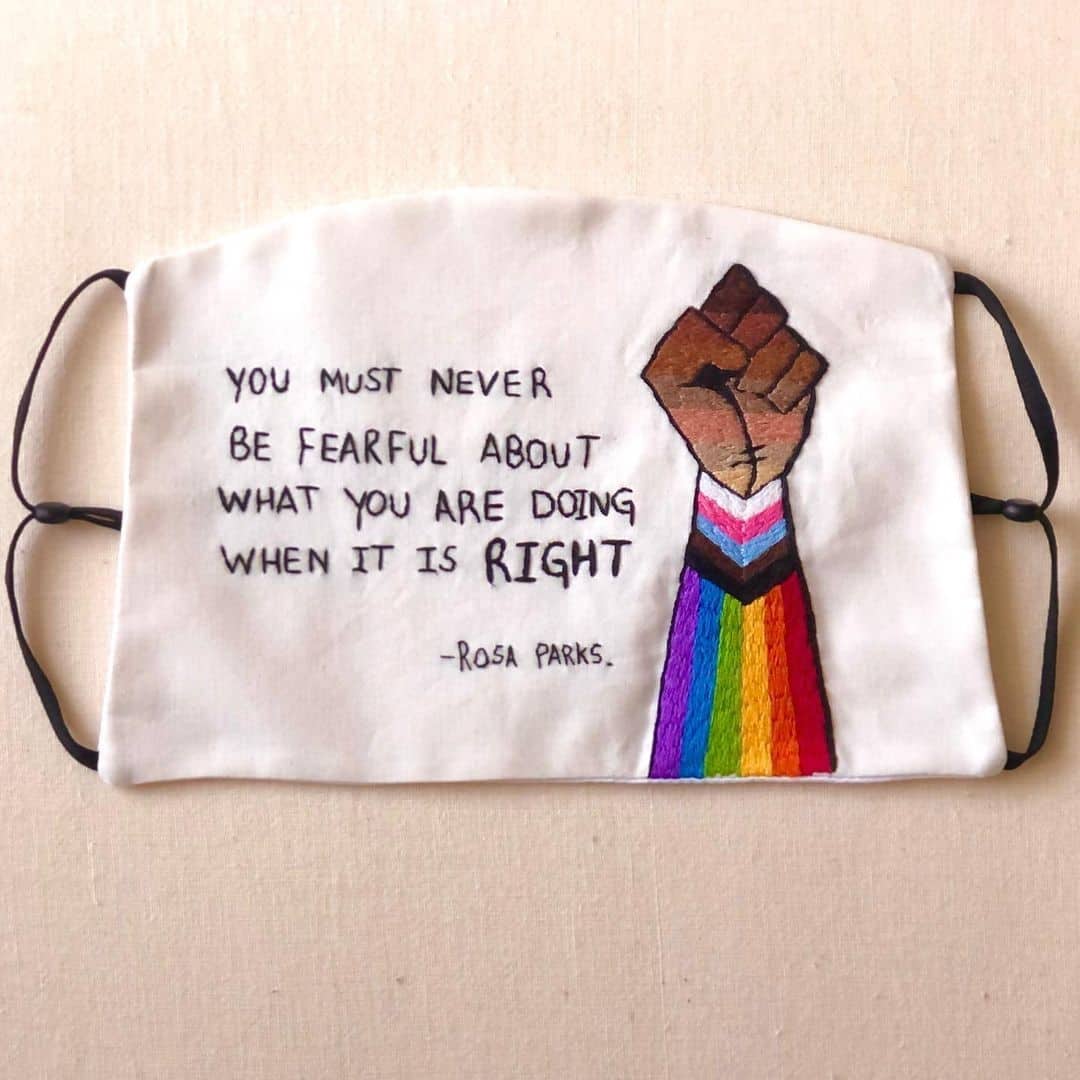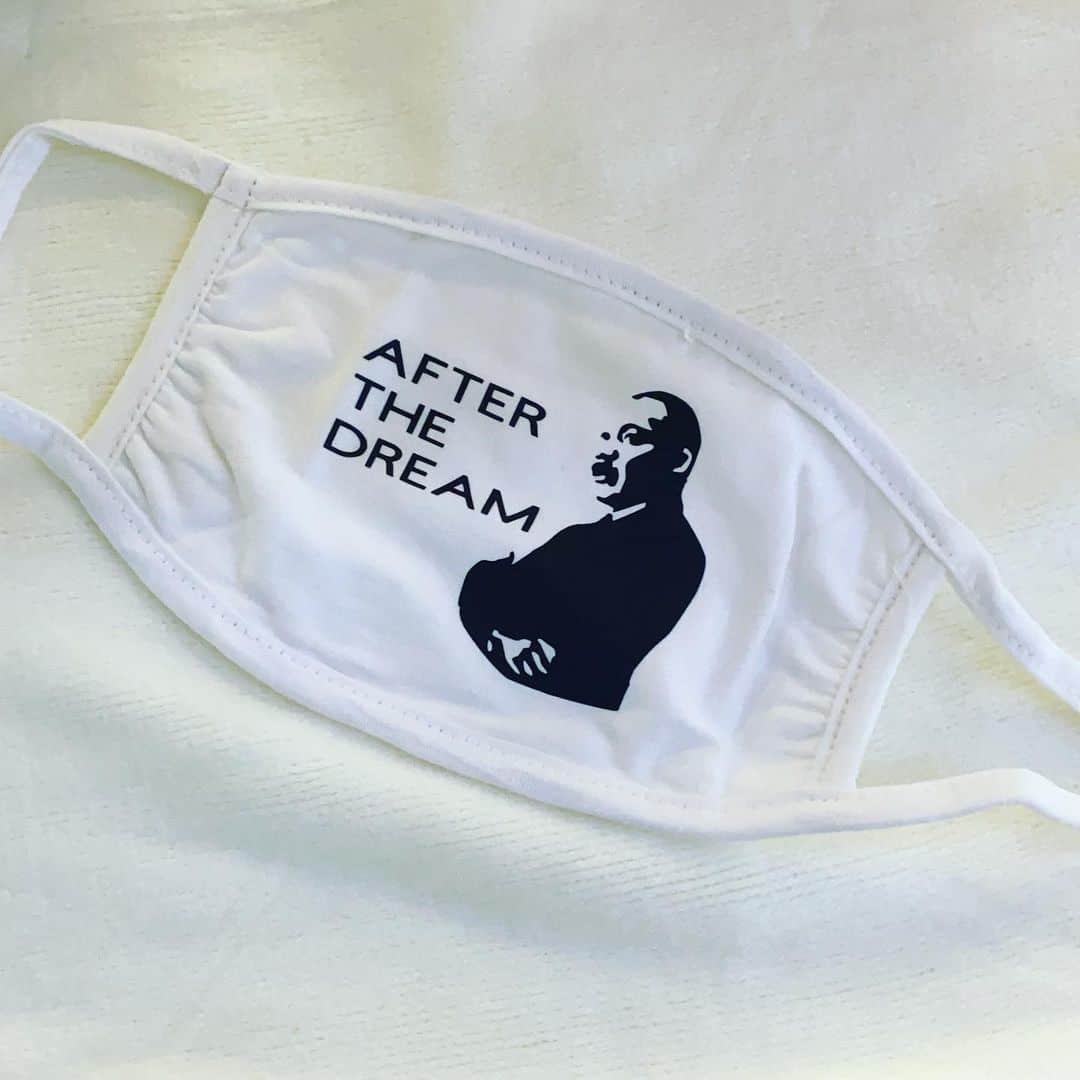 Pride BLM mask. Celebrate both LBGTQ pride and the BLM movement with a rainbow Black Lives Matter mask. The two movements are not separate.
Where to Buy Black Lives Matter Masks
Staying safe during the COVID-19 pandemic is important. Wearing a mask can help stop the spread of the virus and reduce the amount of Coronavirus cases. Black Lives Matter face masks will cover your nose and mouth as you attend masks, go to work or go shipping, yet still represent the cause.
We've compiled a list of where you can purchase Black Lives Matter masks. The proceeds of many of these purchases will go to fighting for human rights and against racial injustice.
Black Lives Matter Official Store
The official Black Lives Matter shop sells 100% cotton 3 ply masks with the logo, the more subtle flag logo or masks with freedom and justice printed on them. These masks are high quality with imagery that makes a big impact. They also sell clothing, magnets and accessories with Black Lives Matter messaging on it. The proceeds from the sale of products on this store will fund the Black Lives Matter movement, which works to eliminate white supremacy and intervene in violence inflicted on black communities.
Teepublic
Teepublic have a whole section dedicated to the Black Lives Matter movement. From the classic black and white logo, to superheroes and quotes from important civil rights activists Teepublic will have one at a fantastic price. Their masks are made from sublimated polyester exterior with a soft microfiber lining for added comfort and improved fit.
Redbubble
Redbubble also have a section dedicated to Black Lives Matter movement. Their designs cover all angles on the civil rights movement from black power fists to Desmond Tutu quotes and masks that celebrate the beauty of being black. All their adult masks are also available for kids and in a range of sizes.
Marcella New York
Marcella New York sell a classic black lives matter mask, although the motto is small, it still shows that you care. This mask was ranked #2 Best Fitting Mask by the Wall Street Journal! When you buy a mask from Marcella New York, they will donate one mask to Know Your Rights Camp (KYRC). KYRC's mission is to advance the liberation and well-being of Black and Brown communities through education, and self-empowerment.
Shinesty
Shinesty sell a Black Lives Matter mask where 100% of the sales will be donated directly to ACLU in honor of George Floyd, Ahmaud Arbery, Breonna Taylor and the many other black individuals who've been victims of racism.
Masksumo
Masksumo carry a wide selection of Black Lives Matter masks, as well as Stop Asian Hate masks and pride related Black Lives Matter masks. Fight for what matters to you by shopping at the biggest retailer for masks.
Walmart
Made by Awkward Styles, Walmart sell Black Lives Matter masks at a fantastic price. Available in a pack of 3 or 5, you will never be without a clean mask. They also sell Black Lives Matter clothing in a range of sizes, all for a reasonable price.
Nadia Lloyd
Nadia Lloyd sells an exclusive Black Lives Matter mask. $5 of every sale will go to Black Lives Matter Toronto. Available in 3 sizes, they are made of two layers of 50/50 poly-cotton and comes with elastic ties.
Hype Park MKE
Hyde Park MKE sell unique hand sewn and embroidered Black Lives Matter masks. $10 from each mask is donated to Leaders Igniting Transformation (LIT AF MKE). Their goal is to encourage young people to build independent political power for social, racial, and economic justice.
Etsy
Etsy is home to handmade sellers, some of whom make beautiful Black Lives Matter masks. Available in a range of prices, sizes and shapes, you are sure to find one that suits you. From black cartoons to powerful quotes and the classic logo. Many of these sellers will donate profits from the sale to a charity. Check out the information on each product page to learn about where the proceeds of your purchase will go.
House of Swank
House of Swank have a Black Lives Matter Heartbeat mask. Designed by Michah Gaugh in collaboration with House of Swank, 100% of the profits from the Black Lives Matter Heartbeat shirt will be donated to the downtown Raleigh's own Helping Hands Mission.
Bonfire
Bonfire have an I can't breathe mask. Buying this mask directly supports National Police Accountability Project (NPAP). Their mission is to promote the accountability of law enforcement officers and their employees.
Loopy Gypsy
Loopy Gypsy sell 100% cotton Black Lives Matter mask. Available in three powerful designs, they are stretchy and fit most with ease. Machine washable, then can be worn again and again. Loopy Gypsy are dedicated to offer unique products with bold and attractive graphic design features.
Kore Limited
This exclusive Black Lives Matter face mask has been released in collaboration with actress Sandra Oh. This black satin-cotton piece showcases an embroidery of "Black Lives are Precious" in Korean on one side and the mugunghwa, South Korea's national flower, on the other side.
Jewel Street
Say no to fast fashion with a hand embroidered Black Lives Matter mask from Jewel Street. Support ethical and sustainable creative businesses by choosing this BLM mask. When you're on the Jewel Street page, you can choose from their huge range of face masks for women and men.
Show the Support
When you purchase a reusable Black Lives Matter mask from Show the Support, you are helping make college a reality for someone. 64% of black students drop out of college due to financial constraints, this is why 20% of each sale goes to a scholarship fund.
Bird + Stone
Express your support for the Black Lives Matter movement with USA made this mask. For every mask purchased, Bird + Stone will donate 100% profits to The Loveland Foundation and Higher Heights to support Black women and girls. Ethically made, this three-ply mask will protect you, as well as express a powerful message.
Melanin Goods
Melanin Goods sell a 100% cotton Black Lives Matter Mask. 100% of the proceeds will be donated to various bail mutual funds. The brand also sells lots of other clothing with powerful statements about racial equality and civil rights.
Stuzo Clothing
Support a woman owned Black owned brand by choosing Stuzo for your Black Lives Matter mask. Their high quality mask selection has models that celebrate gay rights and feminism, as well as BLM.
Fine Art America
Fine Art America support independent artists and their Black Lives Matter mask designs. Their designs range from inclusive art, inspiration carts and remembering George Floyd.
Amazon
Amazon sell any mask design you could think of, including Black Lives Matter masks. Available at fantastic prices, their mask selection includes designs that pay tribute to those we have lost,  bundles of BLM themed masks or the classic logo.
Public Statement Apparel
Public Statement Apparel is a black owned and operated business who use their clothing to empower, educate and encourage action. The Say Their Names mask will help families who have lost loved ones to LA law enforcers. The WP4BL Mask supports a collective of white people organizing racial justice.
Black Lives Matter Mask: More FAQs
Which celebrities have worn Black Lives Matter Masks?
F1 racing driver Lewis Hamilton is a big advocate for Black Lives Matter, frequently wearing t-shirts and mask with Black Lives Matter logos on the podium. Tennis champion Naomi Osaka wore 7 different face masks at the US champion to honor police brutality victims. Lilly Singh at the 2020 Billboard Music Awards wore a Breonna Taylor mask on the red carpet.
Can I legally wear a Black Lives Matter mask?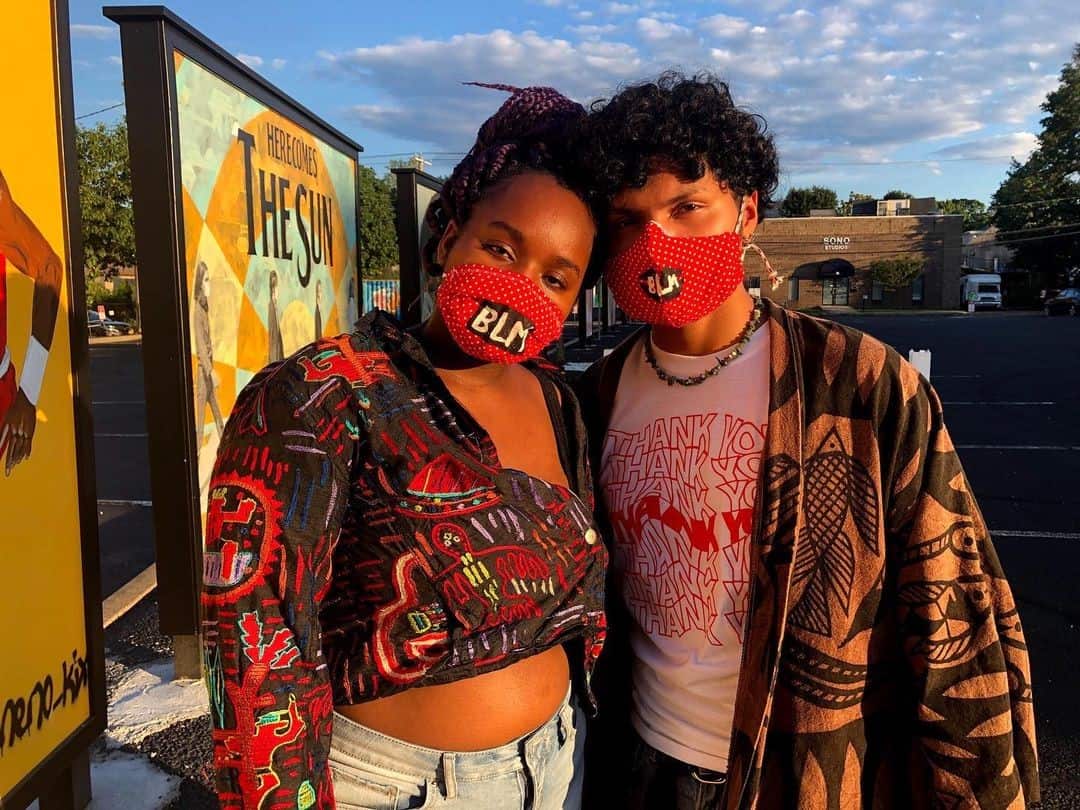 Employees of Whole Foods, Starbucks and other companies have complained about being banned from wearing Black Lives Matter masks at work. Whilst the First Amendment does protect their right to express political opinions at work, there are limitations.
Speech restrictions by private employers is perfectly legal, as long as these restrictions are not discriminatory and not violate employment laws. Business fear that masks with political slogans could upset their employees and create bad feelings amongst employees.
Many companies are totally okay with Black Lives Matter masks and clothing, as the BLM movement aligns with their company values and reinforces their commitment to diversity. Starbucks, for example, reversed the ban and printed 250,000 company-branded BLM shirts.
The best way to know if your boss is okay with wearing a Black Lives Matter mask, they answer may be a good judgement on whether they are the right employers for you.
Should I use a cloth face mask?
The CDC has advised wearing a cloth face mask in public spaces, where socially distancing can be difficult. Some stores, venues and public transport have made mask-wearing mandatory. Legal requirements aren't just the only reason to wear one, cloth masks will work to present the spread of droplets that the wearer is emitting.
Did you know:
Wearing a mask does not replace the heed to social distance and wash your hands, alongside following any current CDC guidelines.
How do I buy the right Black Lives Matter mask for me?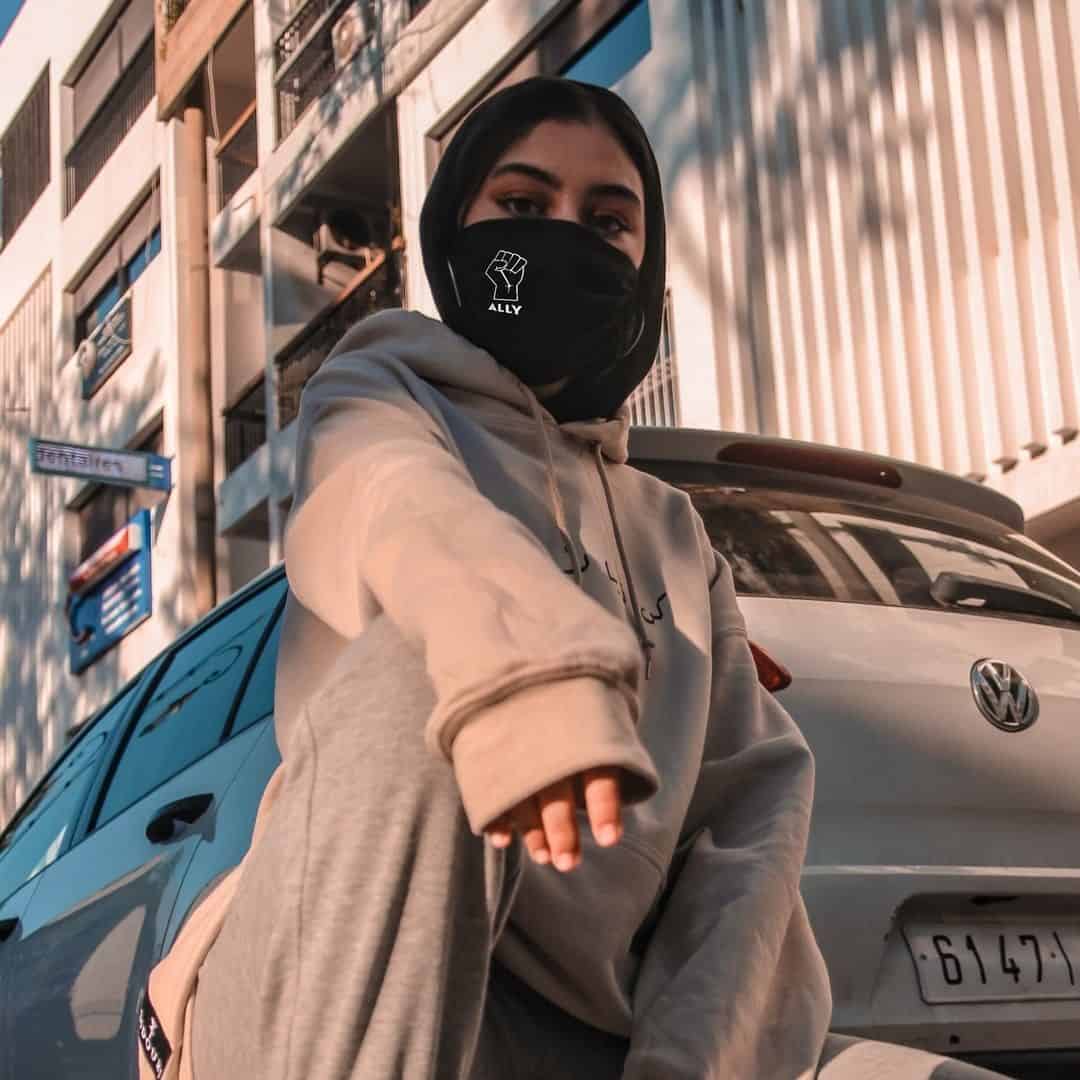 Although the look and design of your mask is important, there are other features which ensure the mask keeps you and your loved ones safe.
Some key tips when purchasing your Black Lives Matter mask include:
They must fit snugly, but comfortably, against your face.
They must be secured with ties or ear loops.
They must be made using multiple layers of fabric.
They must allow for breathing without restriction.
They must be washable.
They must maintain their shape after wearing and washing.
Did you know:
When choosing a face mask, avoid models with valves as they will protect the wearer but not those around you.
Studies have found that the most effect mask design was a dual-layer mask, made with both a heavyweight cotton layer and a lighter cotton or silk layer. Tightly bound fabrics, like 600-thread count cotton as performs well. Avoid single-layer masks or double-layer masks constructed from lightweight, low-thread cotton.
Did you know:
Gaps around the edge of the mask can account for a 60% decrease in filtration efficiency.
What else can I do for the Black Lives Matter cause?
Want to more than just wear a Black Lives Matter mask. Here are some other ways you can support this important global movement.
There are lots of worthy organizations that bail our protestors who have been arrested for supporting the movement. There are also funds that help give black students scholarships, gofundsme accounts created for families of people who have been killed and legal funds for those who need it.
Wherever you are in the world, you can support political movements and parties that are actively campaigning against racism. Make sure you register vote and vote when you can!
Show solidarity on social media but try to avoid performative activism. Post links to resources and fundraisers, share useful information and boost black voices.
Educate yourself on what has been going on in the world, especially if you are not black.
Support black creatives and black business owners. Promote black voices by sharing their work and crediting their art.
Think about your own actions. Listen without being defensive and develop how you express your feelings.
Go out and protest if there are marches in your area, and it is safe to do so.