It's been over a year since we started wearing face masks everywhere we go. Unfortunately, the end of this pandemic is nowhere in sight, so it is fair to assume that face masks will be there to protect us for a bit longer.
In the meantime, many have discovered that face masks can be a form of self-expression. For example, as some people used to express themselves with makeup or face jewelry, with a face mask on that is no longer fully possible. So, why not make the face mask the centerpiece of one's self-expression and go for a fun, unique, and urban design.
Just because the times are bleak, doesn't mean your mask has to be such as well.
So, in the following paragraphs, we've decided to share with you some ideas and inspiration for homemade face masks in anime style. If you're a fan of certain animes or anime illustrations, you're going to love these face masks for sure.
So, without further ado, let's bring some fun and joy to your face mask game; say goodbye to the boring surgical masks!!
Anime-Inspired Face Mask Ideas
Naruto Face Mask
One of the most famous anime in the world is Naruto, 100%. Teenagers and even adults all over the world have followed, and still do, the story of Naturo, Sasuke, and the other companions. So, if you're an anime fan, it's fair to assume that you'd enjoy a Naruto-inspired face mask.
Whether you want to make one yourself, or you want to buy one, here are some other Naruto-inspired masks you can choose from. The designs are authentic to the anime and are generally really colorful and attention-grabbing.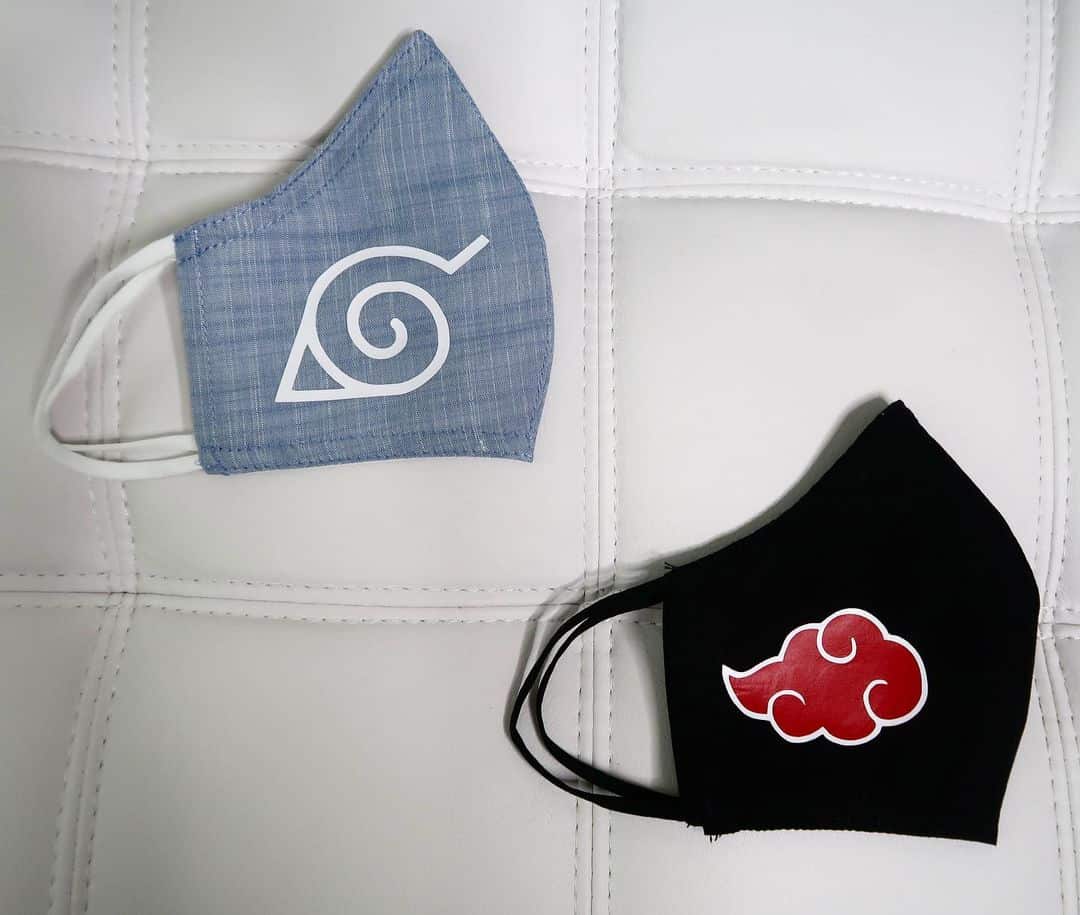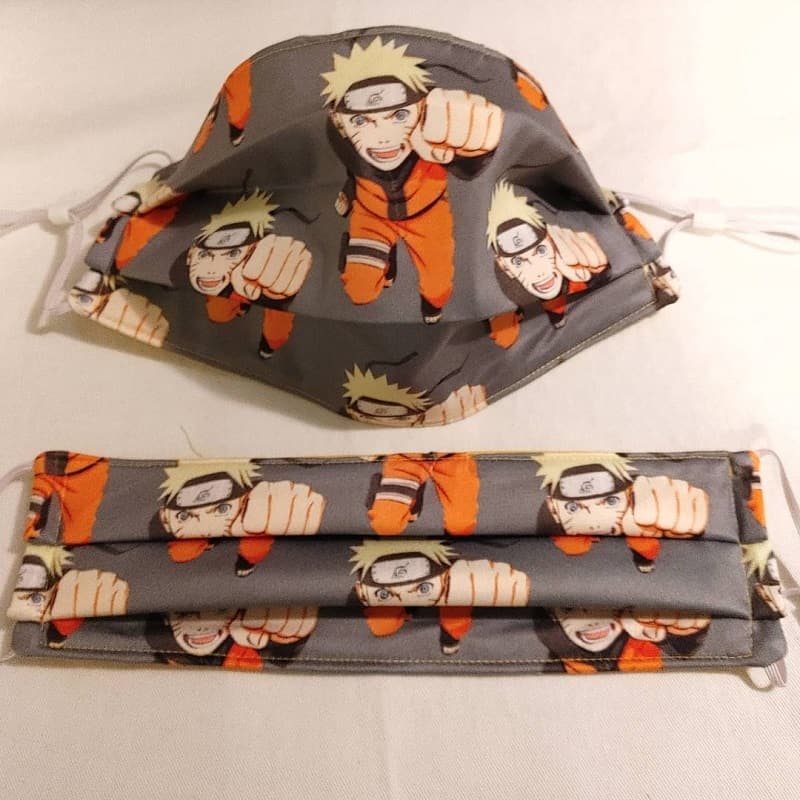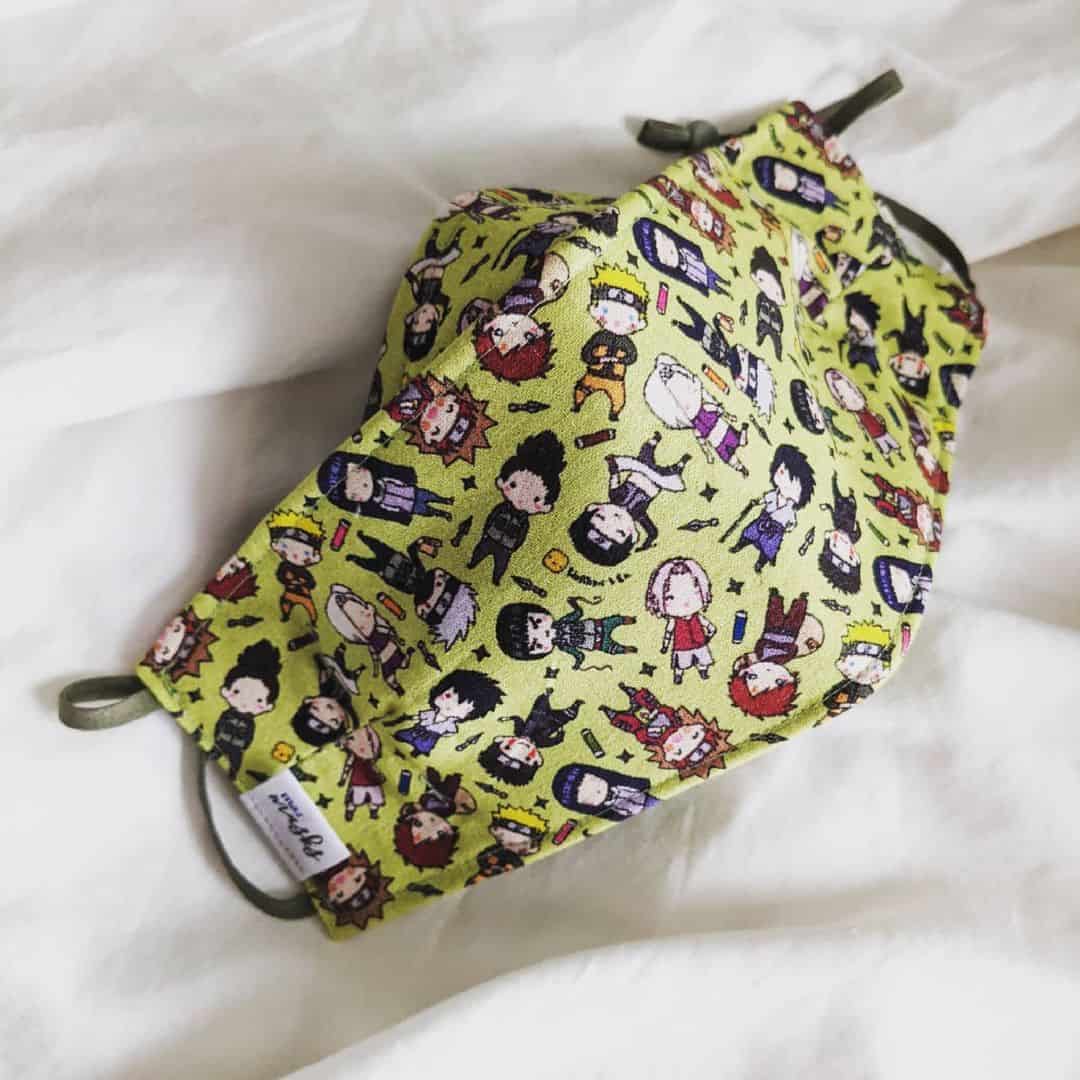 Where to buy? – If you want to buy the exact or similar masks, make sure to check them at Etsy, TeePublic, RedBubble, and Amazon.
My Hero Academia Face Mask
Another super-famous anime and manga series is My Hero Academia. This superhero anime features amazing and ultra-cool heroes, famous for their unique and powerful costumes. Alongside their cool costumes, these heroes have incredible and unique superpowers, or Quirks as they call them, which make them even more appealing to the wide and global audience.
If you're a fan of this anime, or even a fan of just the animation style and how these heroes look, then why not show it on a face mask. My Hero Academia face masks sometimes don't look like a direct reference to this anime, which makes them overall look cool, but to people who recognize the patterns and shapes, they will look amazing.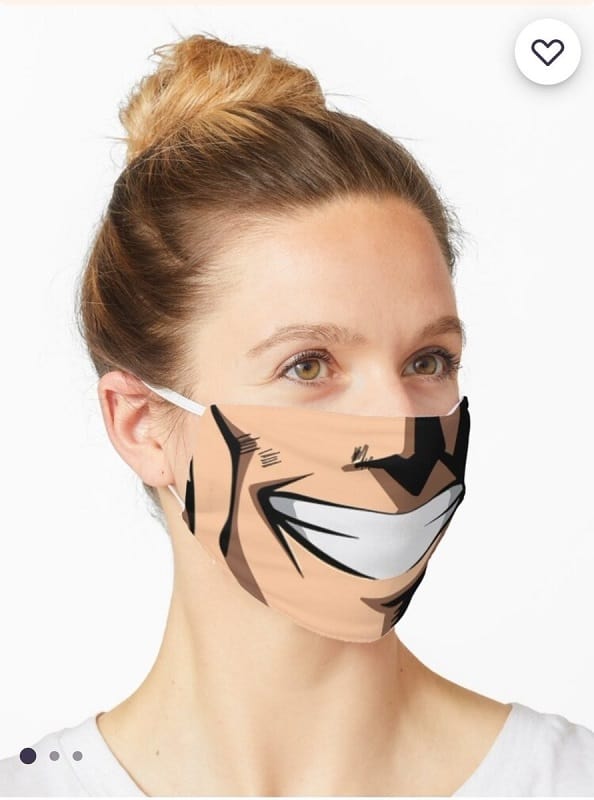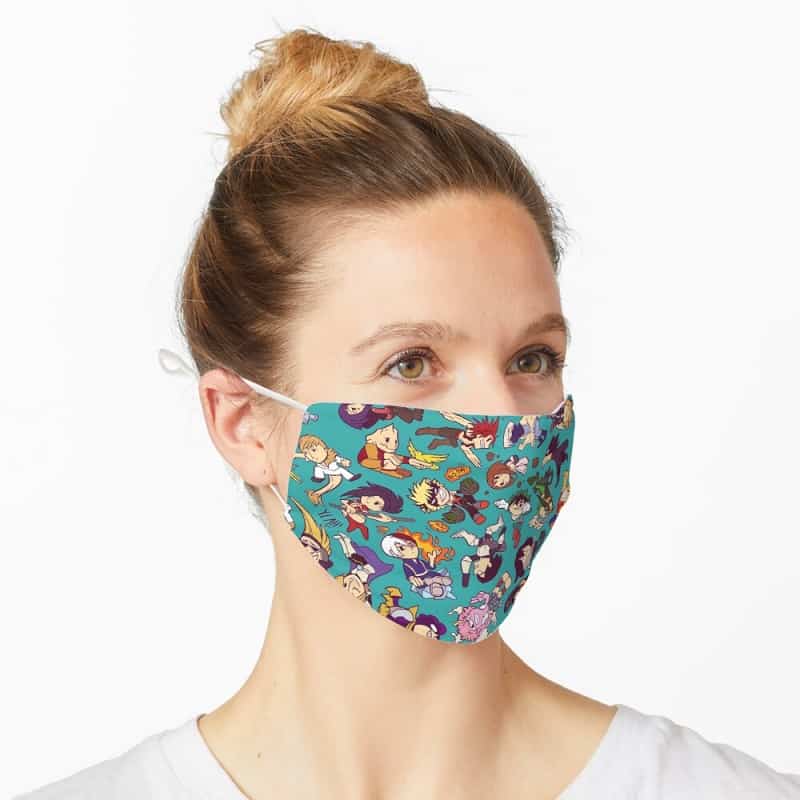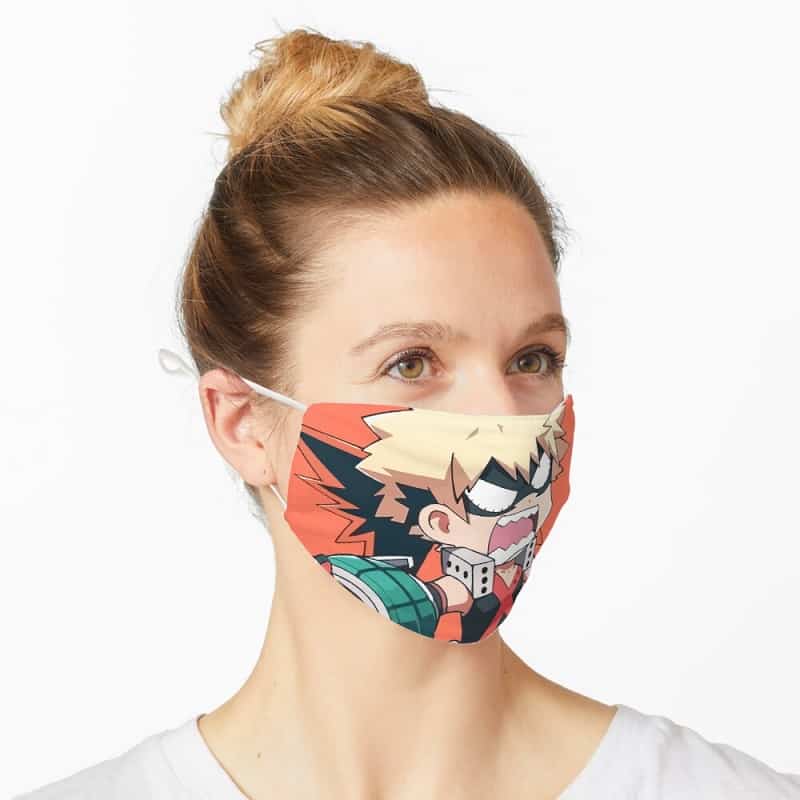 Where to buy? – If you want to buy the exact or similar masks, make sure to check them at RedBubble and Amazon.
Dragon Ball Z Face Mask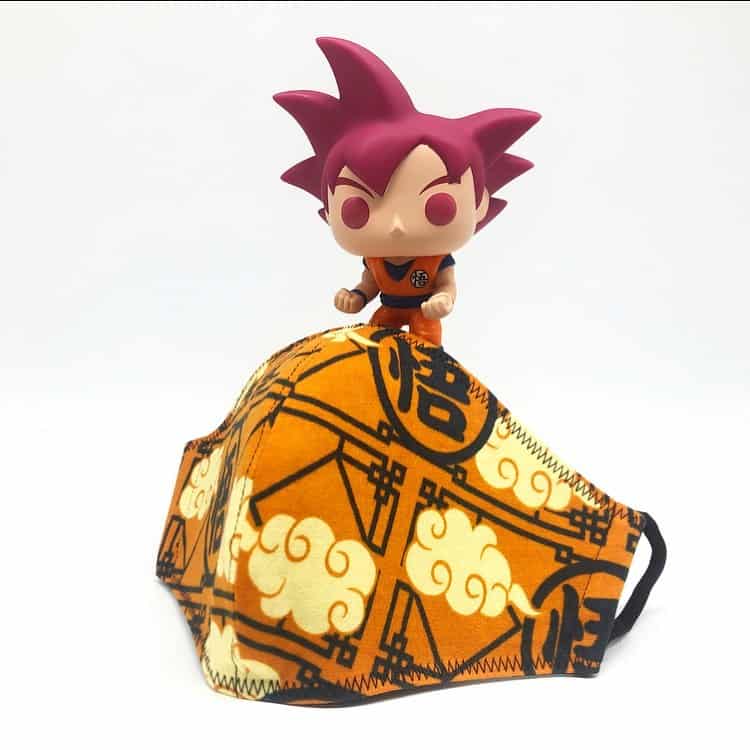 If there is an all-time favorite anime of several generations then it is the Dragon Ball. The adventures of Goku and his friends, fight against evil, and gathering of the dragon balls is a storyline that every single teenager and even adult knows; from Japan to the USA. The Goku's Kamehameha energy attack (and style/hair change when he gains the power) is an evergreen moment in anime history.
There are so many epic moments in the Dragon Ball series that it can be hard not to like at least one of them enough to put it on a mask. Chances are a lot of people will recognize your mask's reference, so get ready for some attention from different people and even kids once you leave the house. Your mask will be the coolest one, for sure.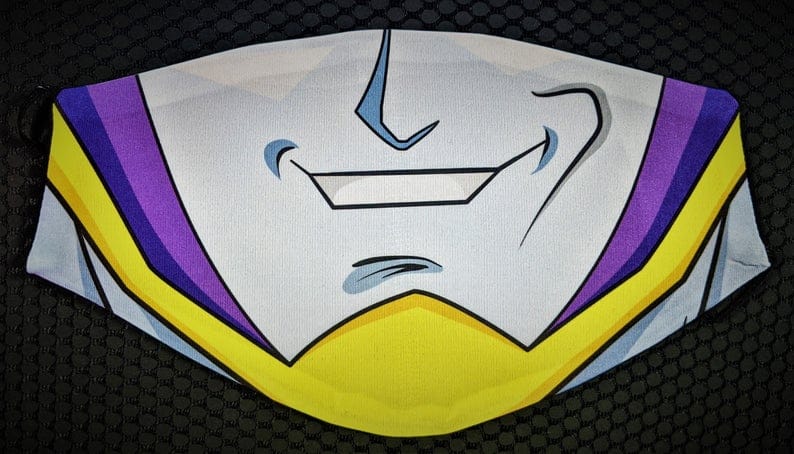 Where to buy? – If you want to buy the exact or similar masks, make sure to check them at Etsy, RedBubble, and Amazon.
Attack On Titan Face Mask
Attack on Titan was an instant hit ever since it aired first in 2009. To this day, it gathers new fans around the world, because it is so good.
The concept of this anime many find incredibly interesting and the civilization storyline gets even more exciting as the humanoid giants start attacking the last people among us. The anime has so many great moments and characters, from the lead Eren to Mikasa and Armin.
Being a fan of this anime is pretty easy because it is so awesome. So, why not show your good taste in anime by getting an Attack On Titan-inspired face mask. These masks can have a subtle anime reference or can feature actual characters. Choose what you like the most, and wear it with pride!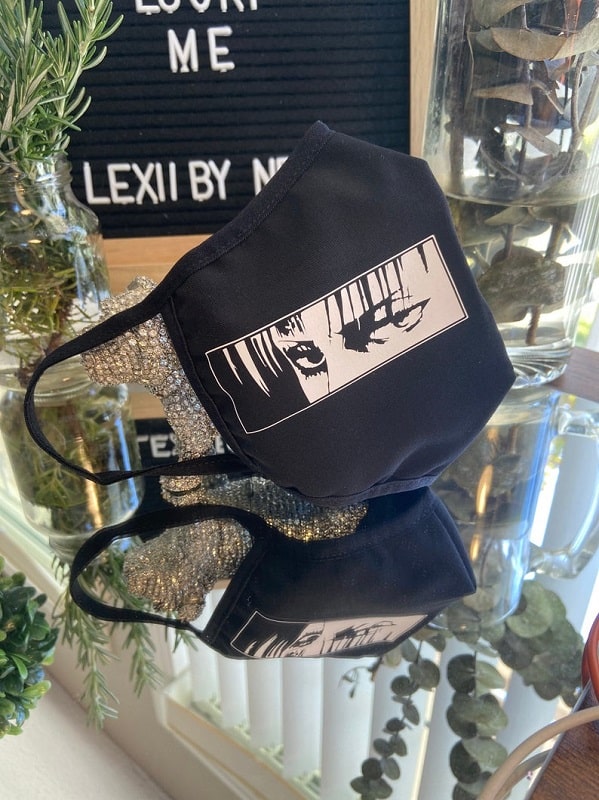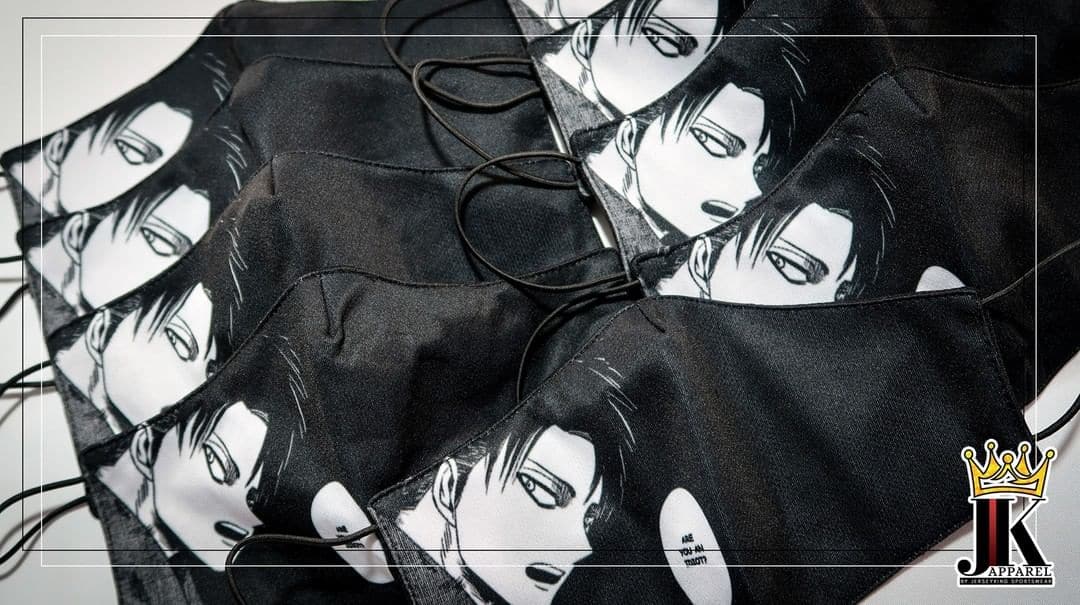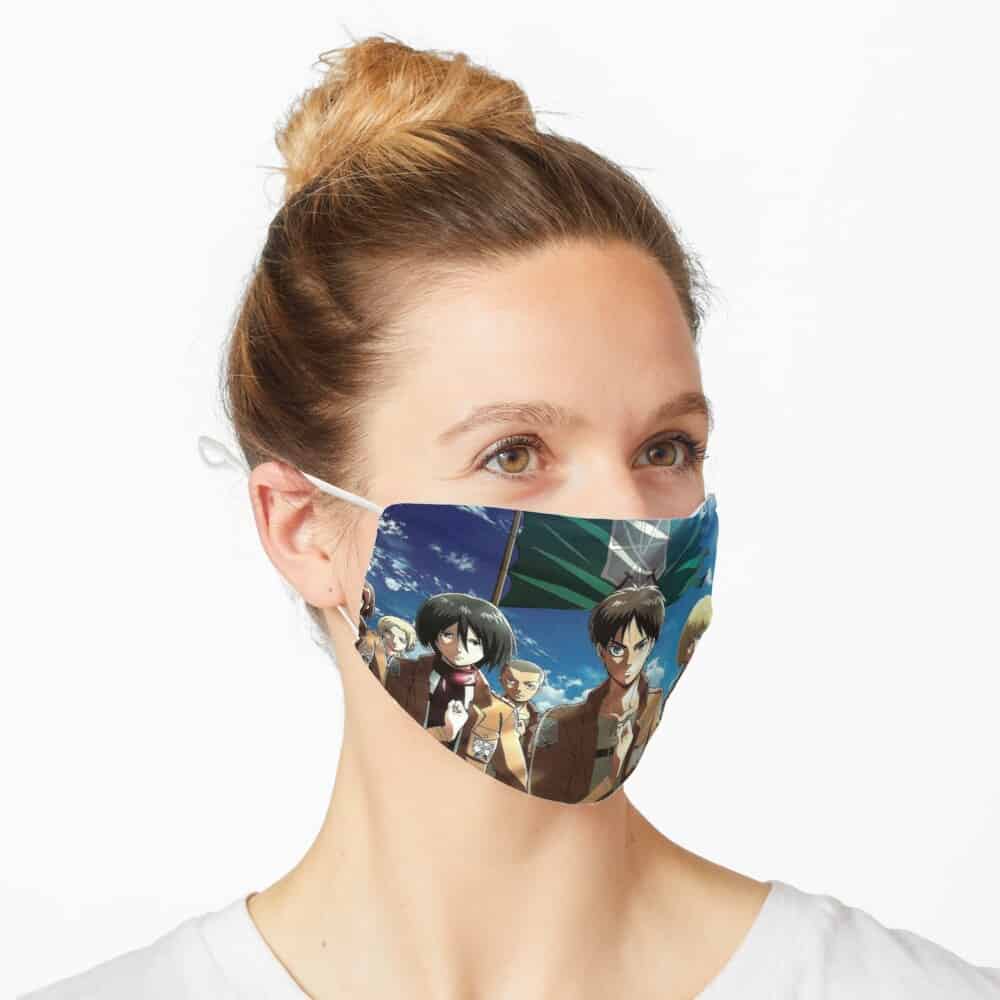 Where to buy? – If you want to buy the exact or similar masks, make sure to check them at Etsy, RedBubble, and TeePublic.
Tokyo Ghoul Face Mask
Now, if you know the Tokyo Ghoul anime, you'll know why it's a perfect choice for a face mask. For those who are less familiar, the main character in this anime, Kaneki, is known for his face mask. Kaneki is surrounded by people-eating ghouls pretending to be regular people.
After a terrible encounter with a ghoul where he was attacked, he becomes a half-ghoul himself. To hide his half-ghoul identity, Kaneki has to wear a face mask. This mask has become the symbol of anime.
The mask itself is iconic, so we think it would be an excellent addition to your mask collection even if you're not a fan of this anime in particular. It will make you not only look cool but feel cool too.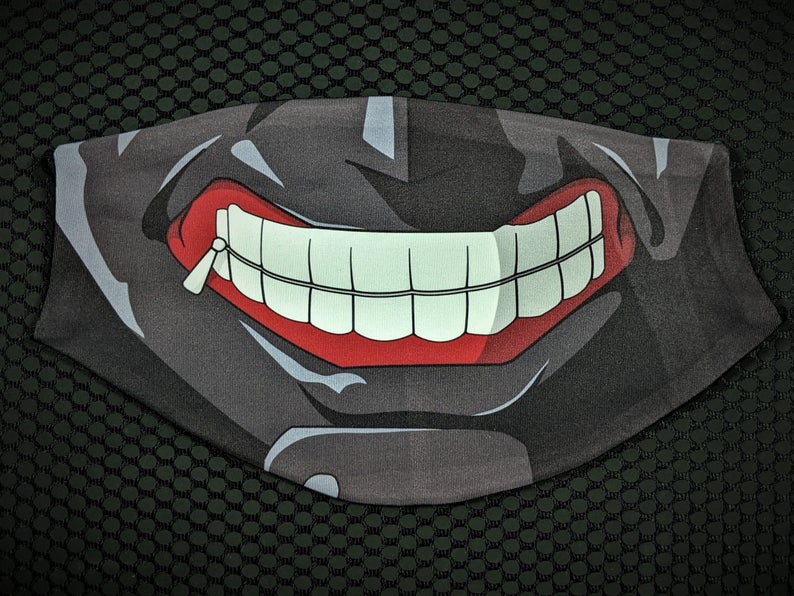 Where to buy? – If you want to buy the exact or similar masks, make sure to check them at Etsy, RedBubble, and Amazon.
Inuyasha Face Mask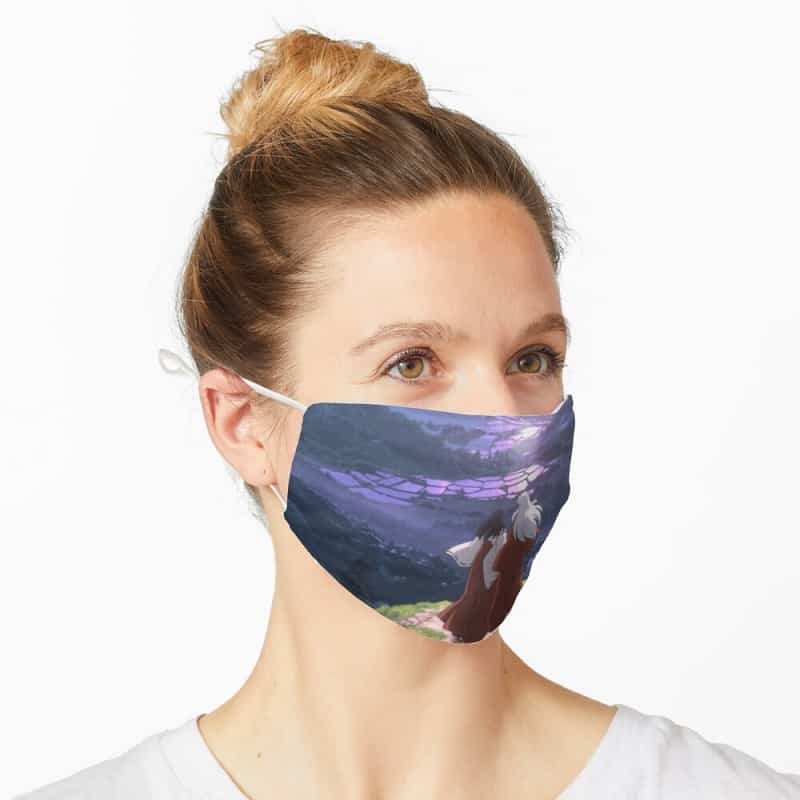 Now, Inuyasha is an old-school anime from the early 2000s. But, this anima is so good that even nowadays it has spin-offs and new episodes coming out. It is simply a must-watch by every anime fan and first-time anime explorer. The anime follows a 15-years old girl Kagome who is taken to the world in the past. There, she meets a half-dog, half-demon named Inuyasha.
The animation and illustration in this anime are exceptional and beautiful. So many moments from this anima are epic, from the way everybody dresses, to the hair and even their facial expressions. Because of this, Inuyasha is an exceptional inspiration for a face mask. Even if you're not familiar with this anime, you will love how the face masks look.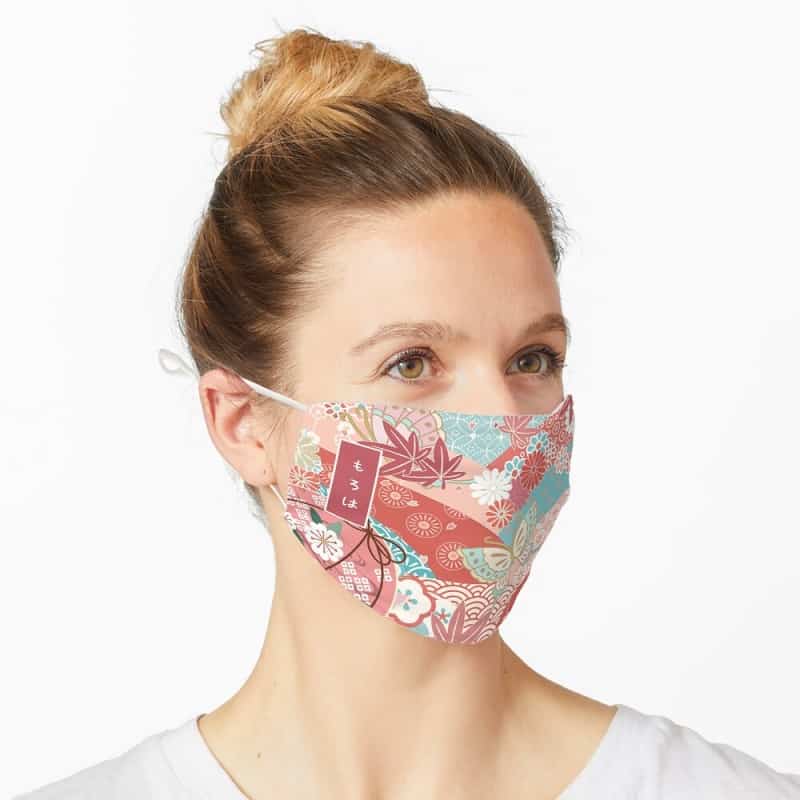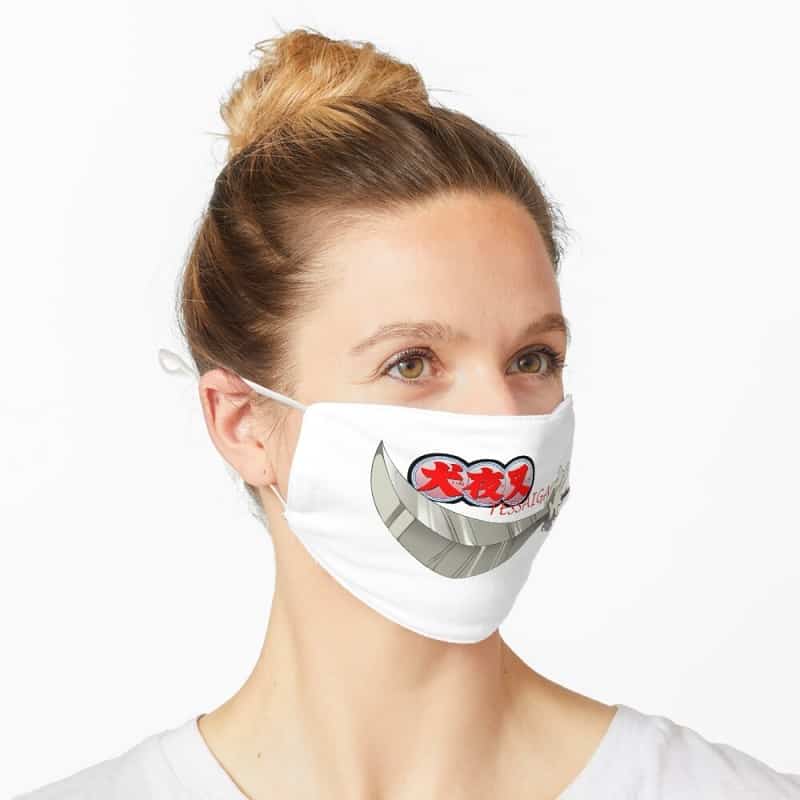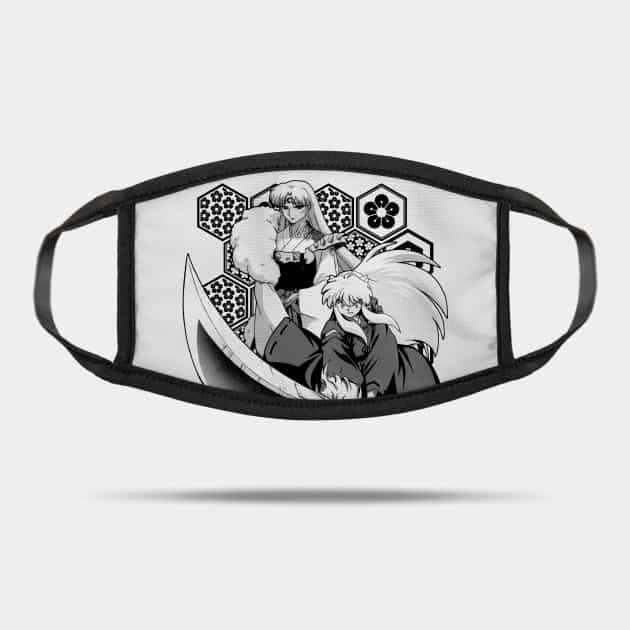 Where to buy? – If you want to buy the exact or similar masks, make sure to check them at Etsy, RedBubble, Amazon, and TeePublic.
Ghost In The Shell Face Mask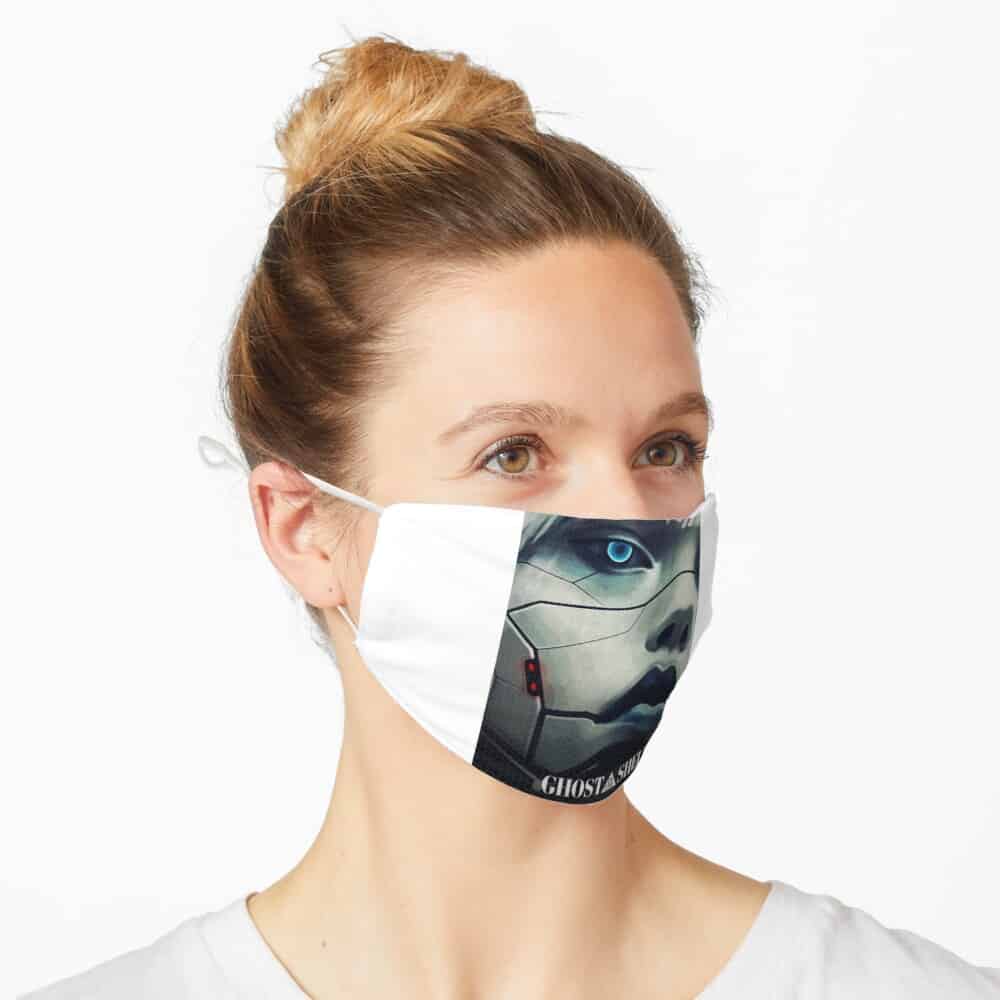 Now, this anime is legendary. One of the best cyberpunk animes yet to be released, Ghost in the Shell was released in 2002 but appears as if it was released in 2030. That is actually when the plot takes place as well.
The anime is filled with science and technology future references as well as science fiction. This anime is surely for anime freaks, but also for those who are just dipping their toes in the anime world.
Regardless of whether you like it or not, you cannot deny that the following masks look awesome. They feature illustrations from the anime, which are in futuristic fashion, appropriate to the 2021 vibes. You're going to love a Ghost in the Shell face mask, even if you've never watched the actual anime.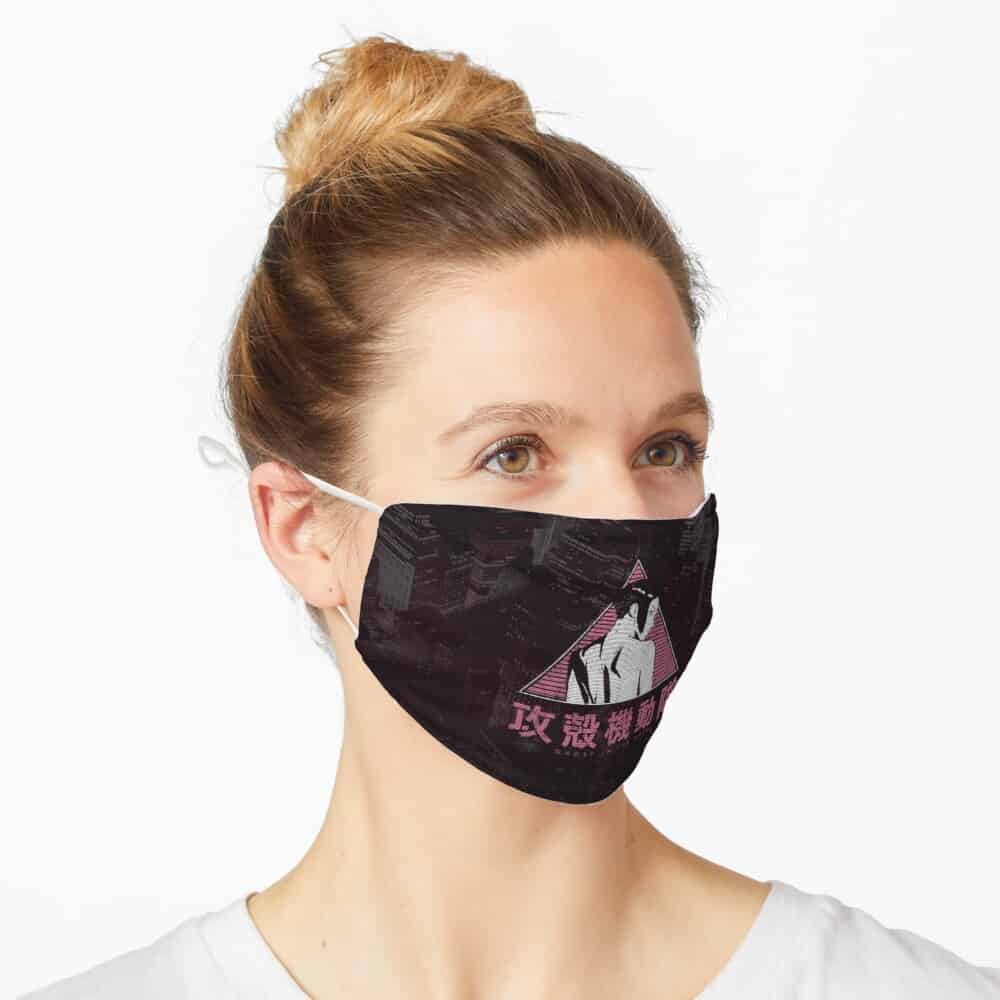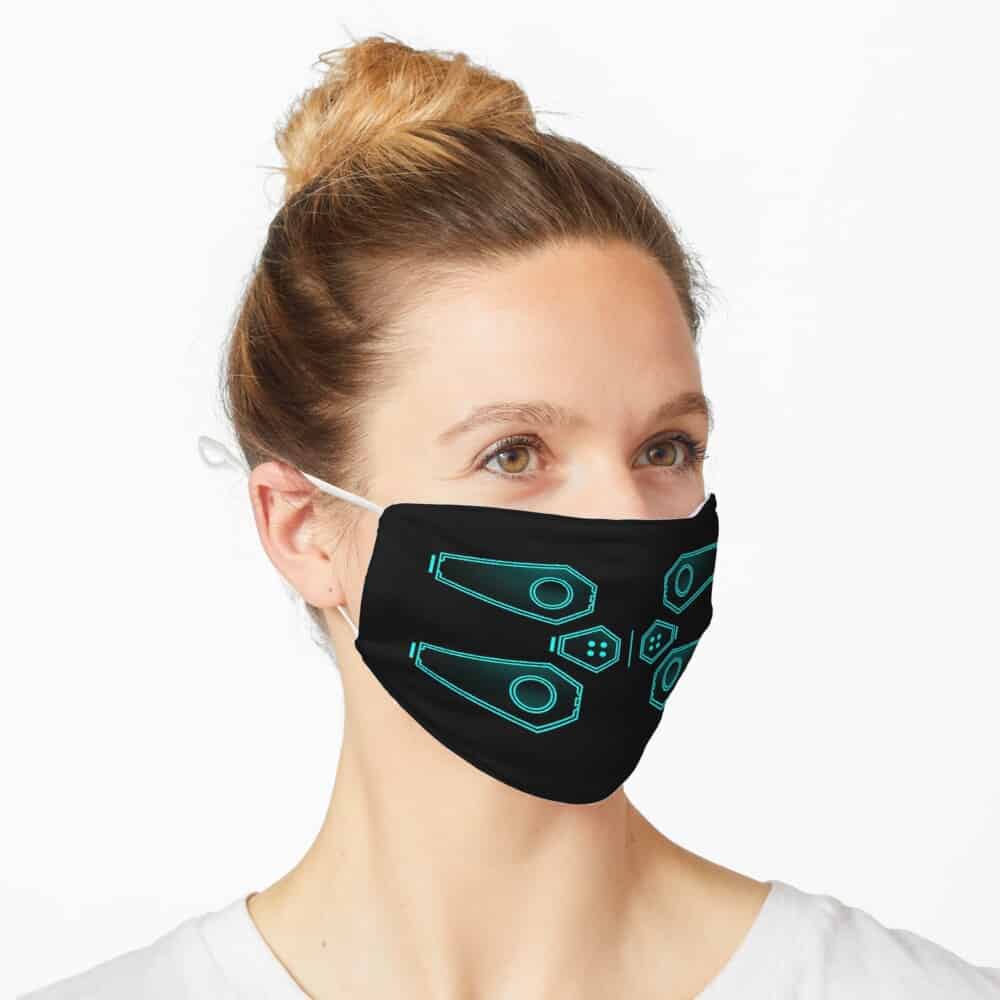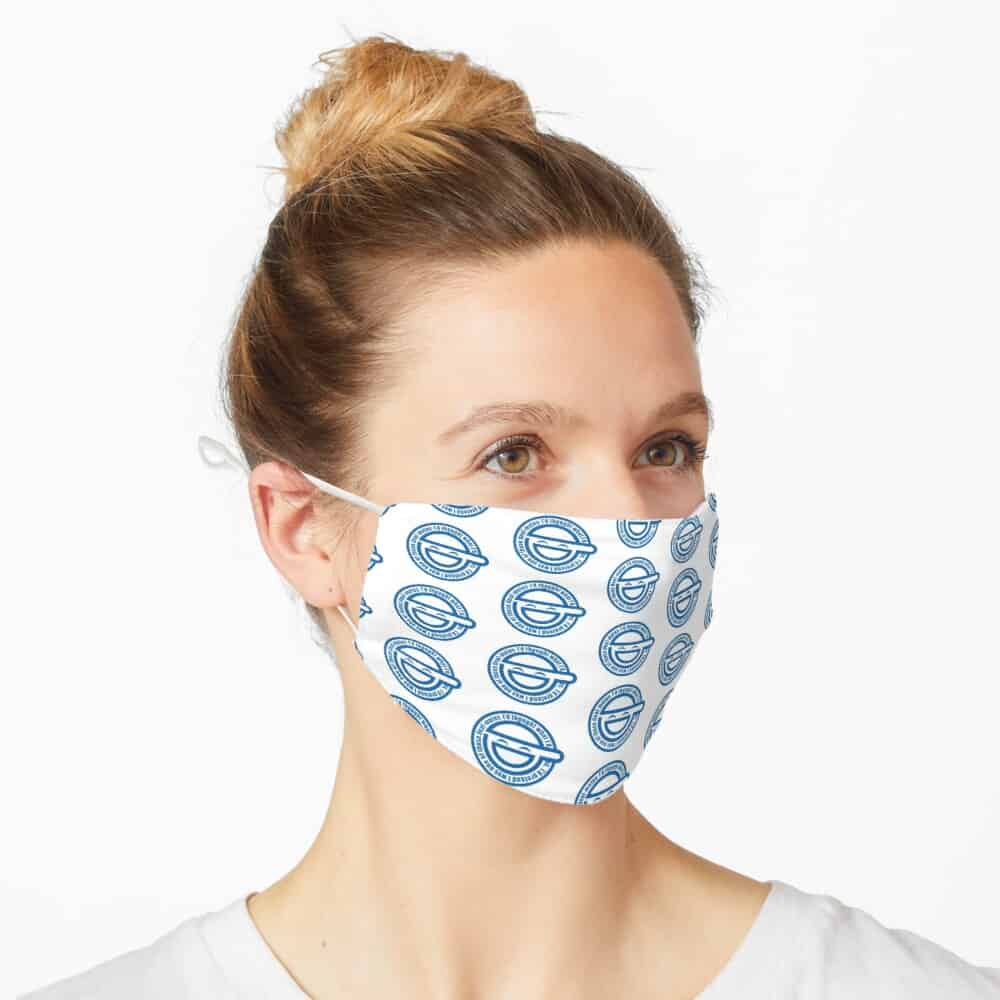 Where to buy? – If you want to buy the exact or similar masks, make sure to check them at RedBubble, TeePublic, and Amazon.
One Piece Face Mask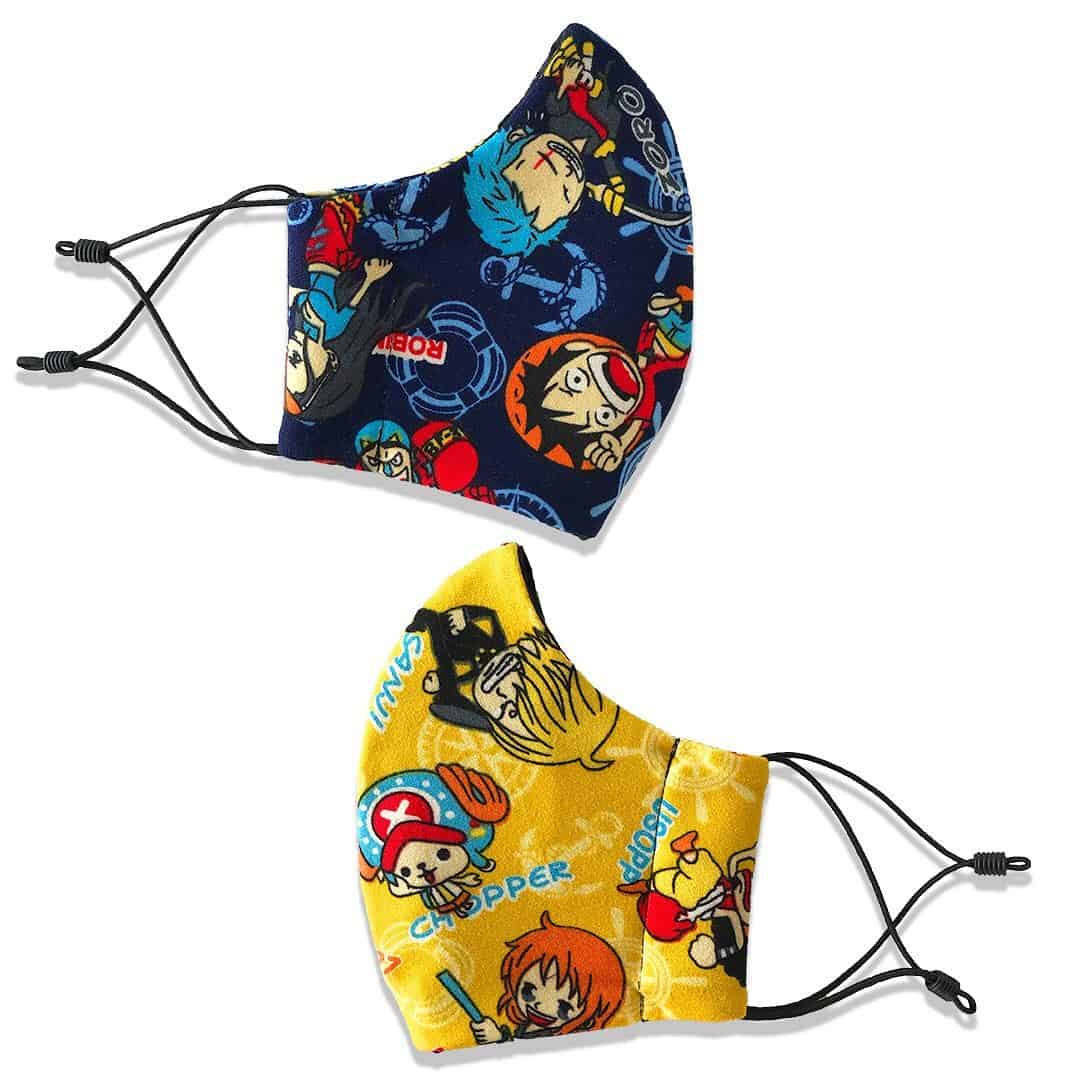 Another old-school, classic anime is One Piece. First released in 1999, One Piece has left such an impact on the popularity of anime worldwide. The anime follows the adventure of Monkey D. Luff and his crew in the world of pirates. The characters have either superpower or are incredibly skilled in fighting, so the fight scenes are always top-tier and super entertaining.
Because there are so many characters in this anime, one can expect a variety of choices when it comes to One Piece-inspired face masks. From logo to character-inspired face masks we're sure you're going to love them.
Some people buy these masks to reminisce over the fun times when they were watching One Piece, and others are just becoming a part of the One Piece fandom. Whether you a beginner in the anime world or a hardcore anime fan, these masks will surely bring fun and joy to your life.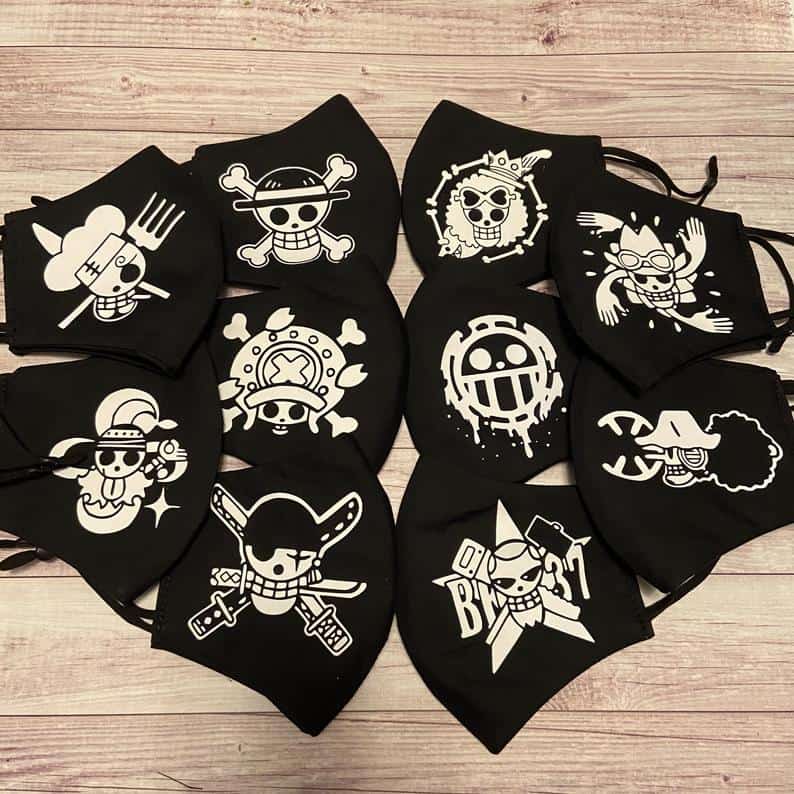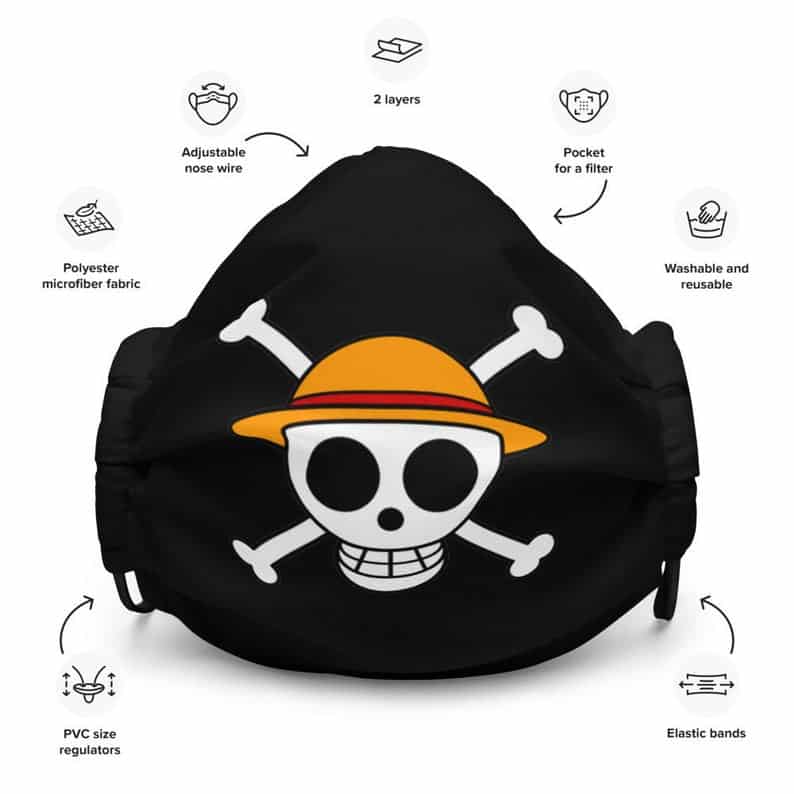 Where to buy? – If you want to buy the exact or similar masks, make sure to check them at    RedBubble, TeePublic, Etsy, and the official Luffy shop.
Final Thoughts
We hope you liked our selection of anime-inspired face masks. We're sorry if we failed to include your favorite anime as an inspiration for face coverings, but we're sure there we'll be an update on this article quite soon.
We do have to mention one thing; these masks are not medical grade. They are generally cloth masks made from cotton and polyester. They do provide certain levels of protection, but they're not as good as the 'boring' surgical masks. We just want you to bear the info in mind before you go buy or make such masks yourself.