The Guide to American Flag Masks
If you're going to put your patriotism on display, there is no better way than with an American flag mask. A face mask remains a smart and necessary accessory during the current global pandemic. To stay safe in public spaces, you don't have to compromise on style or patriotism.
Whether you want it for an Independence Day party or just to go to your local grocery store, we can let you know the best types of masks and where you can buy them.
Types of American Flag Masks
An American flag mask is more than just the red, white, and blue stars and stripes. There is a range of different styles that let you show your patriotism.
The classic American flag mask. The most popular American flag mask is the classic star-spangled banner. Whether it's in full or just a part of it. The print attractive and the colors bold, making the ideal mask design.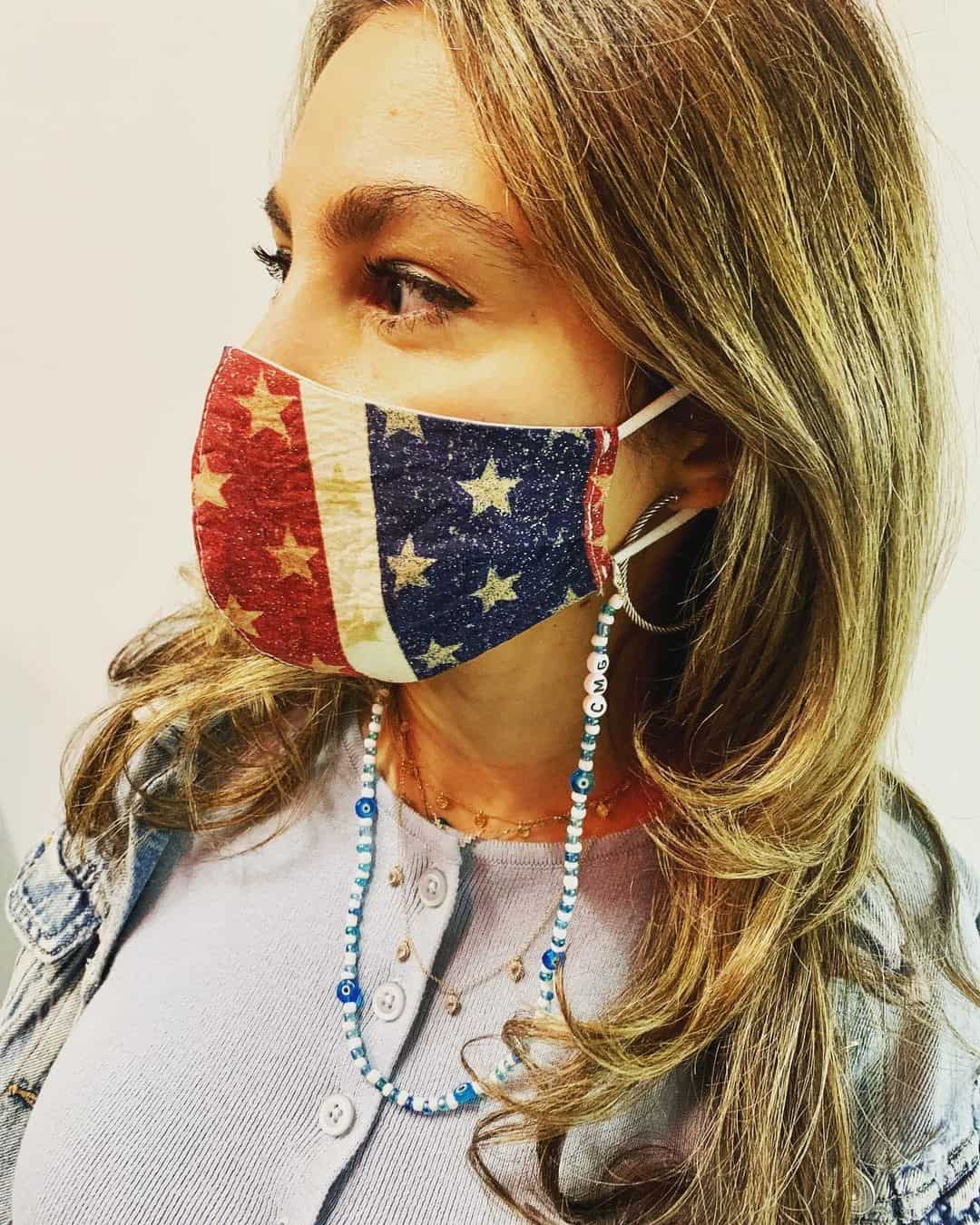 The American eagle mask. The eagle has long represented America, strong and proud, it can also be added to a face mask design. The American flag is often incorporated into the eagle design.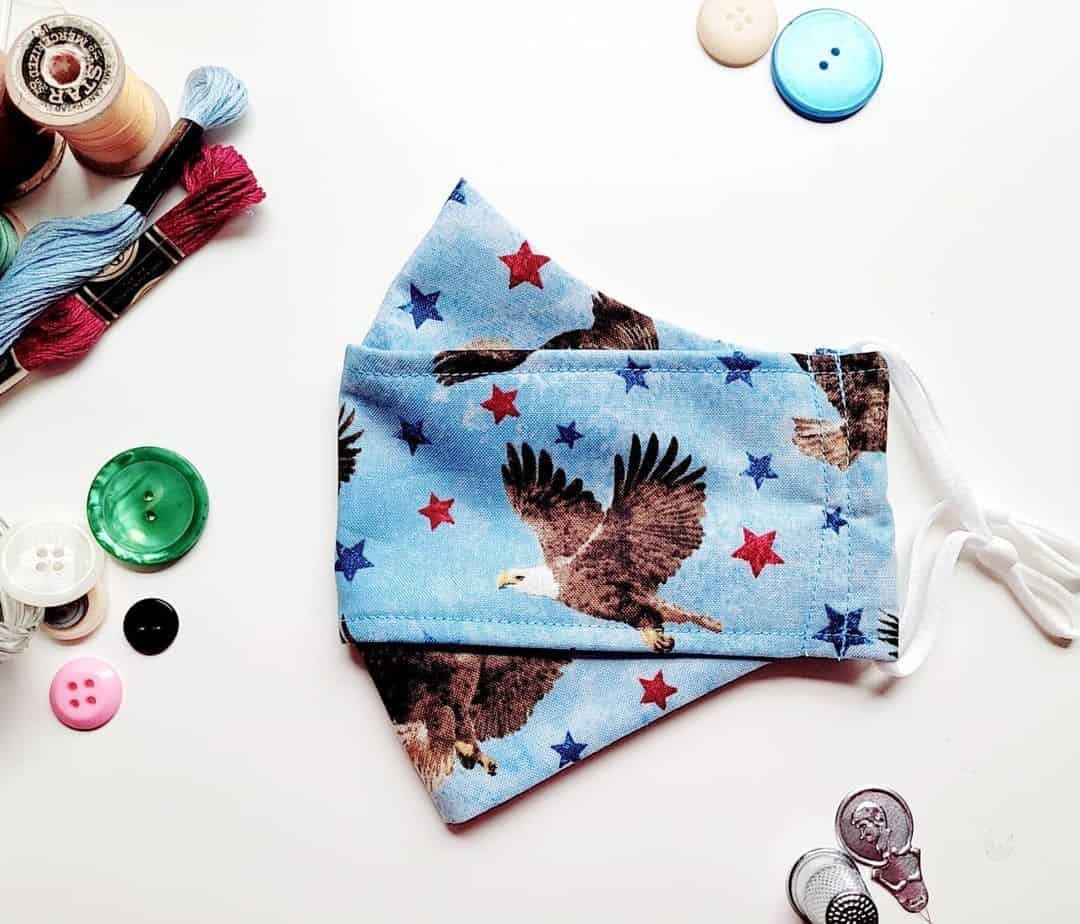 American flag masks do not have to be obvious. They can also be incorporated into other designs, as a backdrop or as a trim. They can also be added into Pride and BLM mask designs, so you can really stand up for your rights.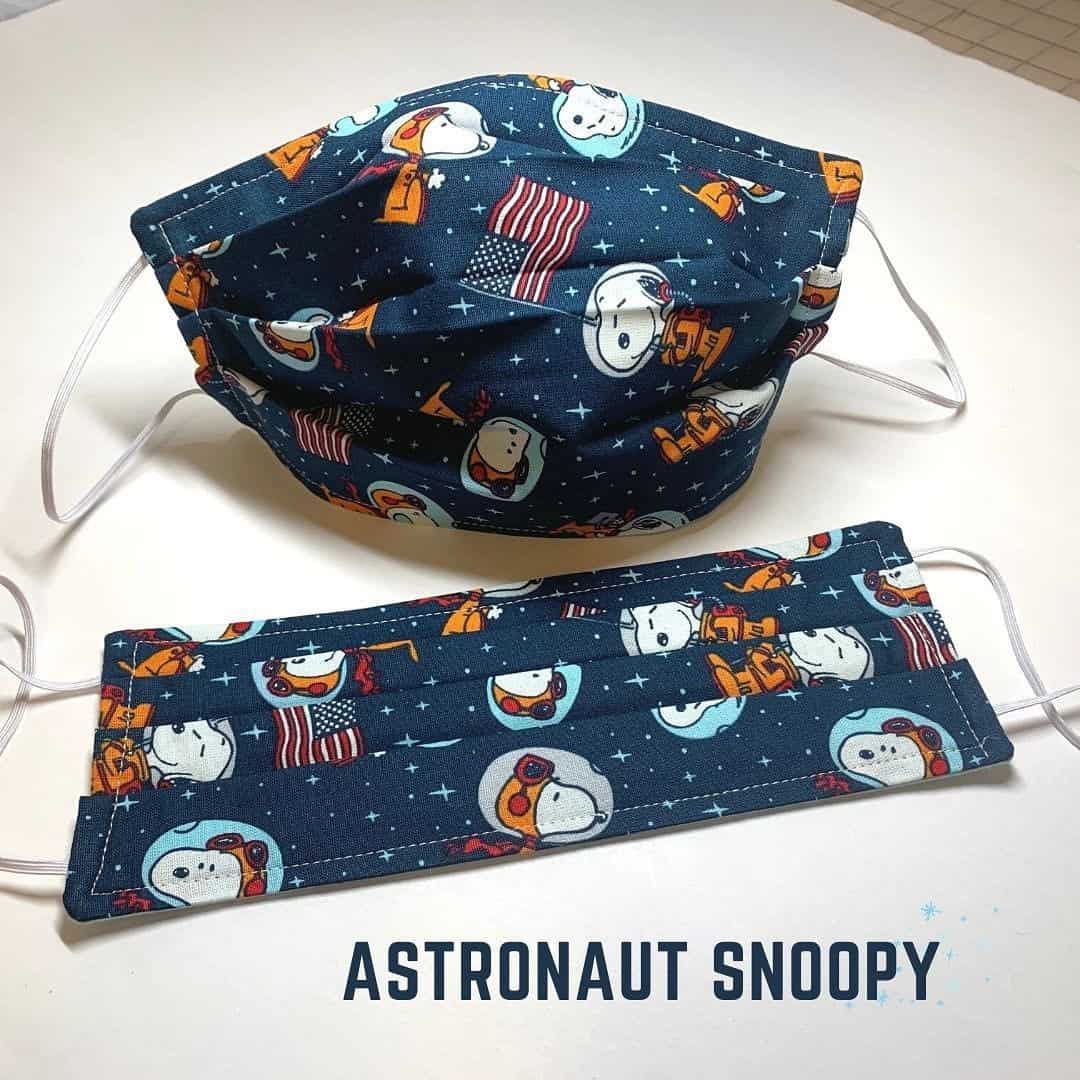 Dark colored American flag mask. If you have an edgier aesthetic, choose one of these black and gray masks. This distressed design is often associated with punk and grunge musicians.
Not a fan of dark colors but don't want the standard red, white and blue? There are many fun American flag masks available on the market, all in bright rainbow shades.
Sparkly American flag designs for the mask-wearer looking for glamor and sparkle in their lives. Rhinestones and gems in the recognizable red, white and blue design is incredibly popular and very trendy.
July the 4th masks show patriotism without being overly obvious. Usually these designs, in the classic red, white and blue color combo, have firework designs to help you celebrate and stay safe.
Celebrate your love of the USA by getting American flag mask with your favorite characters. They could be wearing USA themed outfits or celebrating their patriotism. This is an ideal choice for families with children.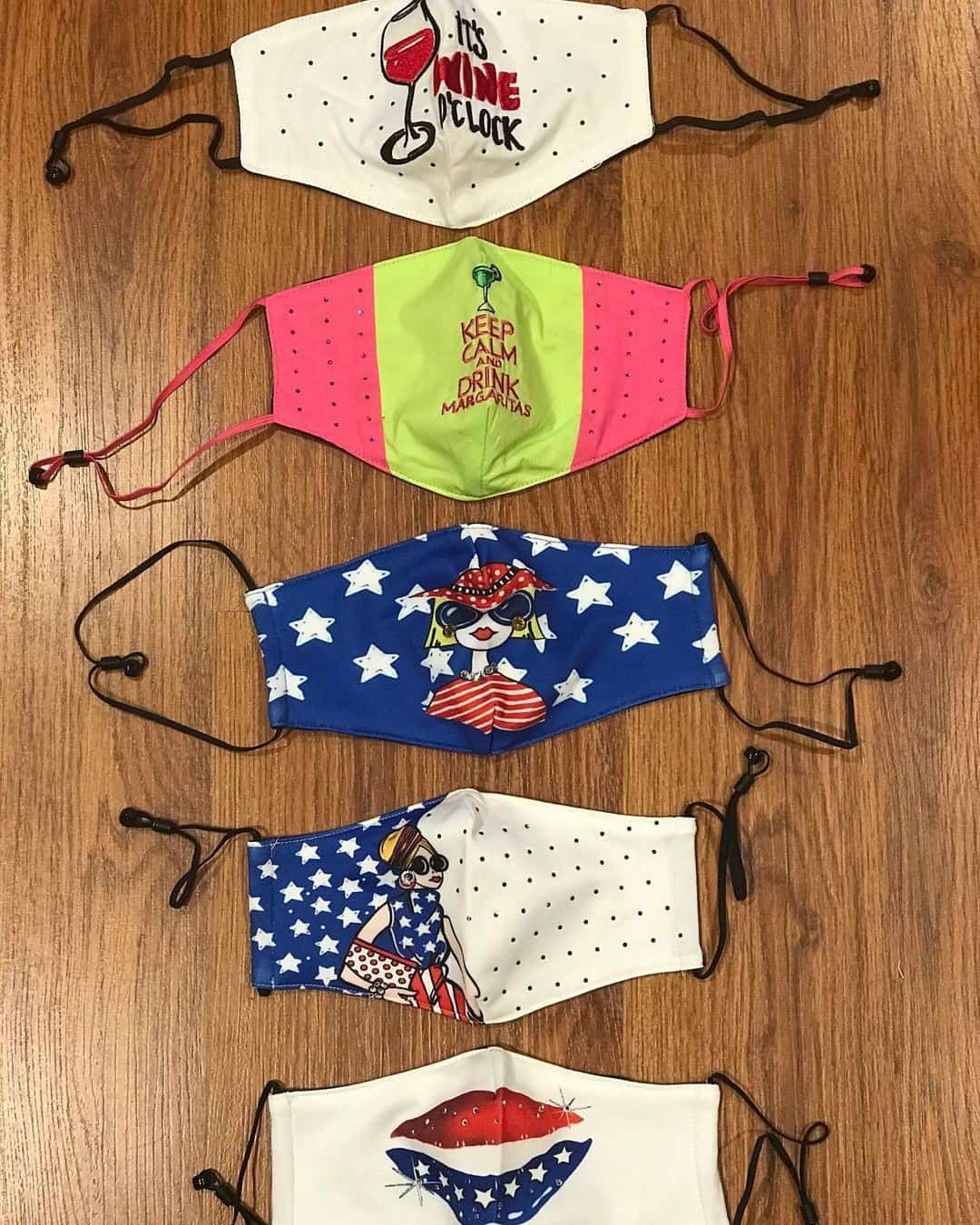 Nothing supports your country more than voting. Encourage voting by wearing a voting mask in the colors of your party or in the colors of the United States of American flag.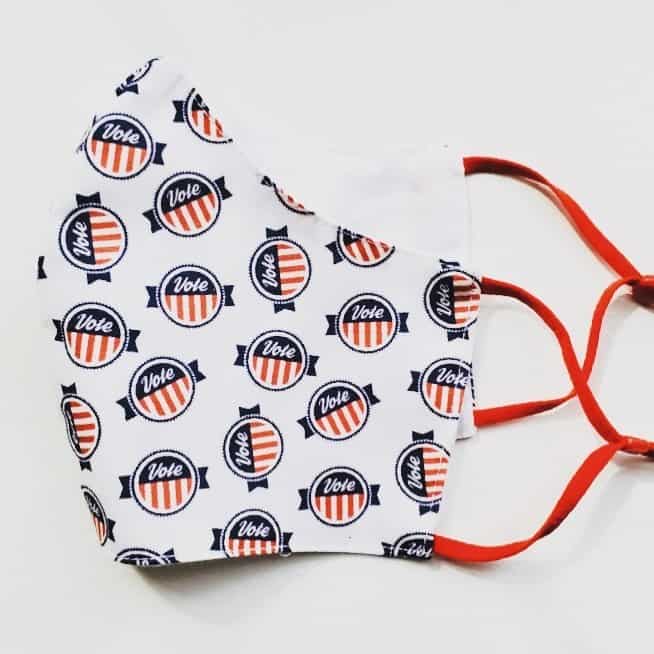 State pride. Show your pride for your state by getting the flag on your mask, either alone or alongside an American flag.
Where to Buy American Flag Masks
https://www.shutterstock.com/image-photo/young-female-using-american-flag-medical-1704270085
Etsy
Etsy have a section dedicated to USA flag masks. Home to independent sellers, Etsy have a large range of American flags. From bandana masks to rhinestone designs and the classic stars and stripes.
Zazzle
Embrace your patriotism with an American flag mask from Zazzle. They have every style of American flag you could think of from the patriotic to the feminist, the comedic to the grunge.
Sleefs
When you purchase an American flag mask from Sleefs, we will donate the same item to a youth shelter in America. Choose from the classic red, white and blue or an edgier black and gray design. A fan of the American flag design, Sleefs have a huge range of apparel and accessories in this style.
The Flag Shirt
The Flag Shirt specializes in patriotic clothing and accessories. This includes masks, which range from eagle designs, to classic designs and bandanas. If you love the American flag, you can get it on all types of clothing and designs.
Redbubble
Redbubble sell an attractive range of American flag masks in a range of prices. From American positive quotes to edgy skull designs and state pride, you will find your dream mask at a fantastic price. They even have a section dedicated to sequin American flag masks. Check out the Redbubble size guide to ensure you get the right mask for you.
Teepublic
Teepublic is home to a huge range of American flag mask designs, Patriotic designs and July the 4th themed masks. Teepublic is home to one of the largest communities of independent designers. With over 15 years of experience, Teepublic is obsessed with quality and has established the highest standards of masks.
Lighting Wear
Lighting Wear offer a two-layer polyester micro mesh material American flag mask. You can easily choose the size of this mask, available for men, women and kids. They also sell a Maryland mask.
Mask Market
Mask Market have a wide range of American themed masks at fantastic prices. From stars to stripes, to camo and grungy versions of the American flag mask. If these designs aren't for you, make your own by using the custom mask designer.
Bows N Ties
Bows N Ties are sell a high quality American flag mask, which is also available in neck ties, bow ties and pocket squares. Because they care about all aspects of health and safety, the miniature American flags are printed on the poly outer layer using only Prop 65 certified inks.
Jam Up Apparel
Jam Up Apparel are an American brand that manufactures all their products domestically. They specialize in billiards and pool apparel, but also sell items for golf, fishing and darts amongst others. The apparel range includes American flag face masks, including models for kids and teenagers.
All USA Clothing
All USA Clothing specializes in American made clothing and manufacturer. Just part of their patriotic range of apparel is this eagle face mask, their American flag mask and their smiley USA design.
Southern Sisters
Southern Sisters have a whole section of their website dedicated to patriotic USA flag clothing, which includes American flag masks, monochrome flag designs and Texas inspired items.
Walmart
As you do your weekly grocery shop, you can pick yourself up an American flag mask. Walmart sell 100% cotton reusable face coverings in a variety of styles. We love this classic contemporary USA flag mask, this sports-inspired USA mask, and this quirky tie die design.
Teachwear is a brand that sells items designed to be worn during outdoor sport. Their range high performance apparel includes patriot masks. The brand also sell 2.5 face mask filters to keep you additionally protected when wearing their masks.
Hoo-Rag
For specially printed designs to show respect towards the USA, Hoo-rag has a massive collection of designer face masks with American flags imprinted on them. From classic designs, neck gaiters and kids items.
US Patriots
US Patriot flags have taken their flag design and applied it to a stylish face mask. Buy in a multipack or use their multi-buy discounts to ensure you always have an American flag mask on hand. US Patriots is there for all your American flag mask needs, including a purple design or a classic flag mask.
The Home Depot
Sort all your loved ones out with the multipack American flag mask from The Home Depot. Available in a pack of 50, you are only paying 32 cents a mask! Also available in other prints including polka dot and tie dye, these masks are comfortable, easy to breathe through and conveniently disposable.
Green Supply
Be patriotic with this reusable and washable American Flag print face mask featuring an interior filter pocket. The Green Supply is dedicated to providing health and wellness products, including masks and hand sanitizer.
Chase Street Accessories and Engraving
Chase Street Accessories have created an assortment of red, white, and blue themed masks. When ordering, you will receive a randomly selected USA themed pattern. All profits that are made from purchasing a mask are then used to make masks for high-risk individuals and medical workers.
Pomchies
Pomchies is a local company based out of Paradise Valley, Arizona, that focuses on creating pom-pom products. They create a wide variety of cute mask designs for adults and children. Their Liberty Stars set comes with two masks, one that is solid red and another that features blue and red stars. The most unique thing about these masks is the braided red, white, and blue ear straps.
Mask Club
Mask Club are dedicated to bringing customers the best masks. They have a section of their website dedicated to American flag masks which include state flags, national flags and stylish superhero designs. Show your state pride with Mask Club.
Kohls
Department store Kohls sell adult and child American flag masks. Available in different sizes, this USA flag mask has a built-in bendable nose bar for an adjustable fit and elastic ear bands. If you like their American flag range, they also sell patriotic t-shirts for the family.
Look Human
Look Human sell a range of classic American flag masks that will help you become patriotic without compromising on your personal safety. You can choose from an accordion mask, a flat style or a neck gaiter in this iconic flag design.
FAQ
Is it offensive to wear an American flag mask?
Yes. Unless an article of clothing is made from an actual United States flag, there is no issue with wearing an American flag mask. There is nothing illegal, or even frowned upon about celebrating your love for the USA by wearing masks inspired by the country. This etiquette is not a legal guidance, you can not be fined or arrested for wearing clothing made from the American flag.
Did you know:
Betsey Ross is believed to have created the very first American flag.
How does a face mask protect me?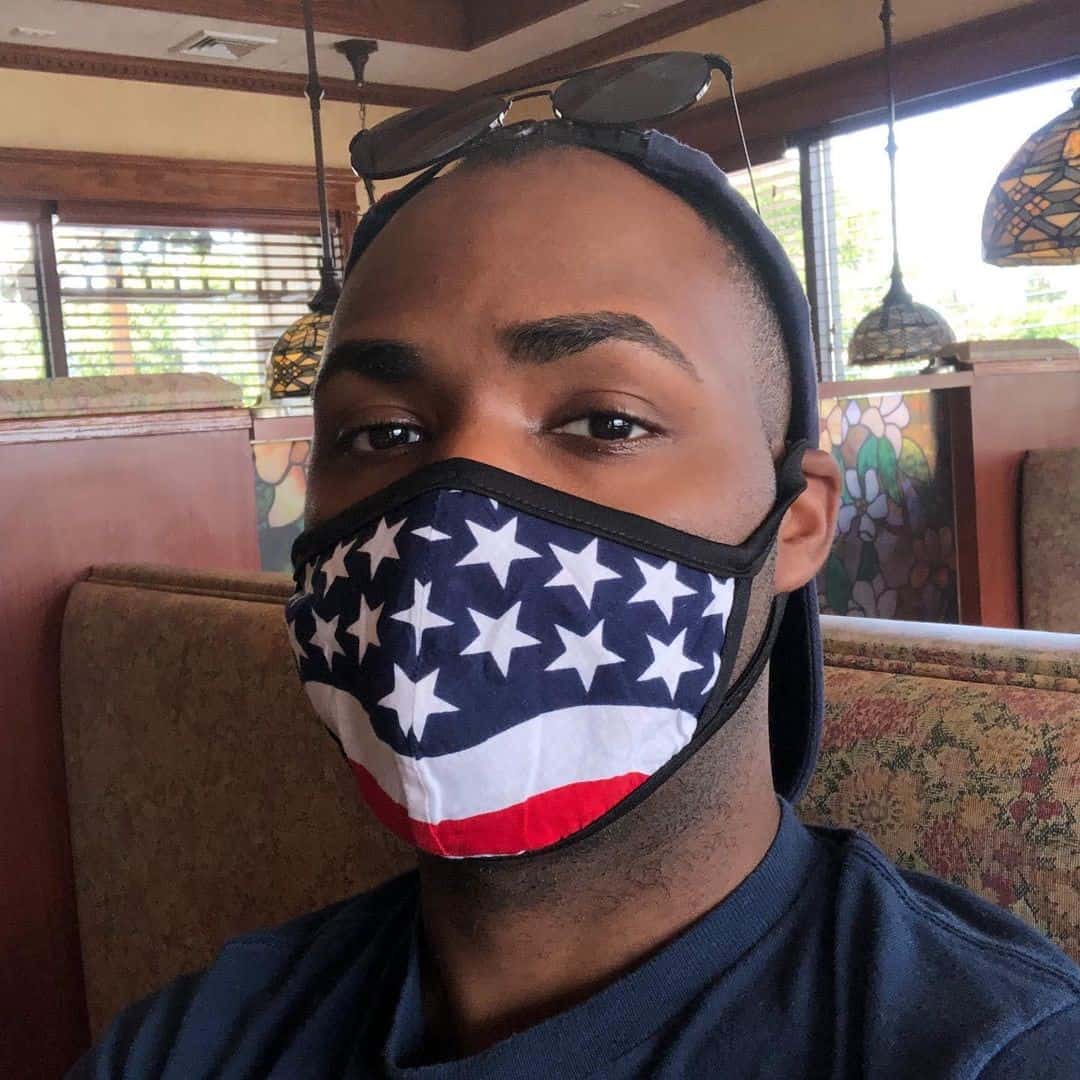 A cloth face mask will help protect you from contagious diseases, including COVID-19. It stops the polluted air, which often presents itself as droplets when we cough, sneeze, or talk. Wearing a face mask can help keep you safe.
If you're coughing or sneezing, these droplets catch in the inside of your mask. If you are near to someone else, their droplets will hit the outside of the mark. Not only are you protecting yourself by wearing a mask, but you are also protecting those around you.
How effective are neck gaiters?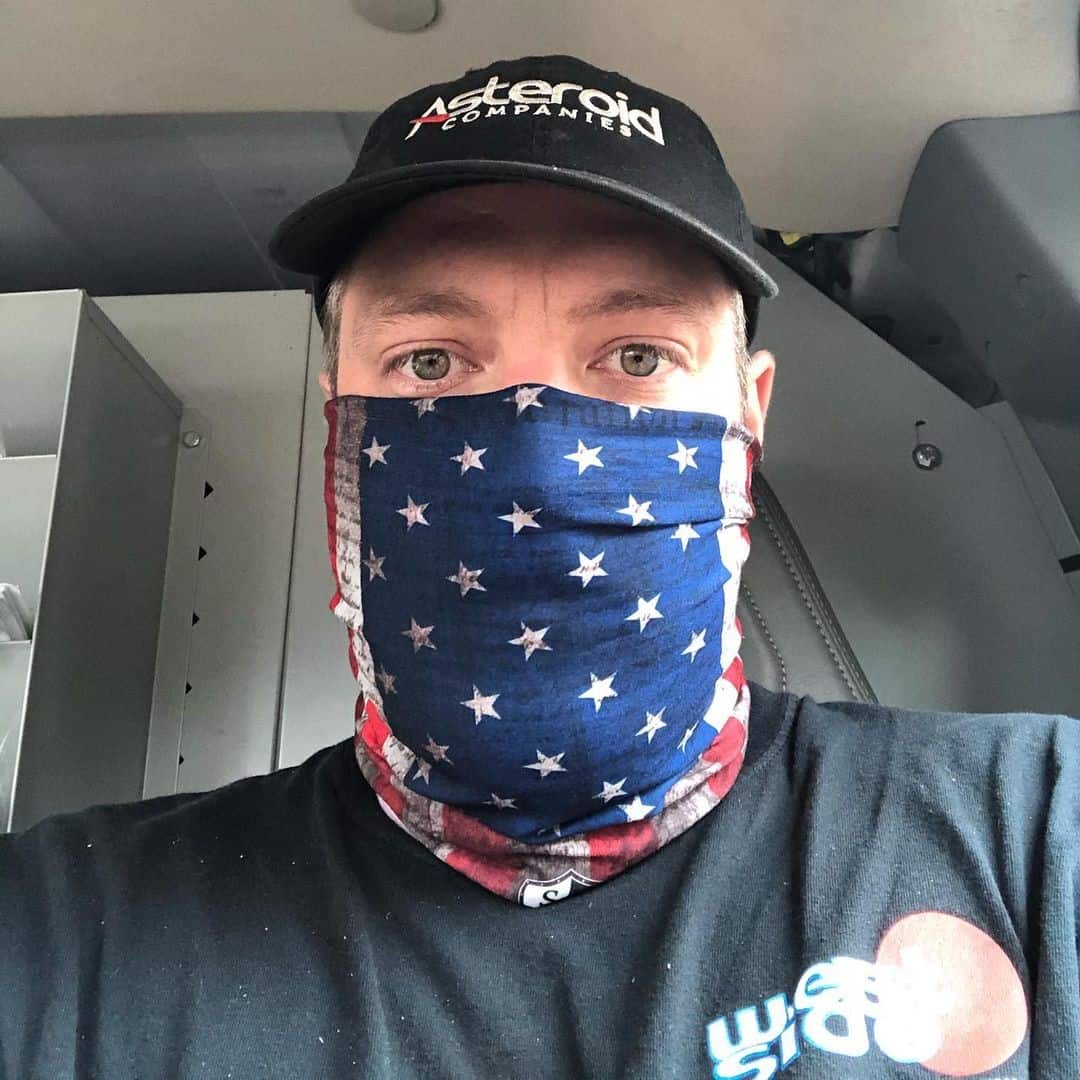 When looking to purchase an American flag mask, you will find lots of neck gaiters. They look cool and very stylish, but are they effective against the spread of COVID-19?
A study by the CDC and National Institute for Occupational Safety and Health (NIOSH) has reported that neck gaiters are just as effective as cloth masks. It just depends on the fit and the material used. So be careful when choosing your neck gaiter.
Studies have shown that standard neck gaiters made from fleece aren't effective in blocking coronavirus droplets. There is nothing wrong with the shape of neck gaiters, it's the material they are commonly made out of that is the issue.
If you are interested in wearing a neck gaiter, avoid polyester and instead opt for a triple layered cotton product. It should always fit your nose and be snug under your chin.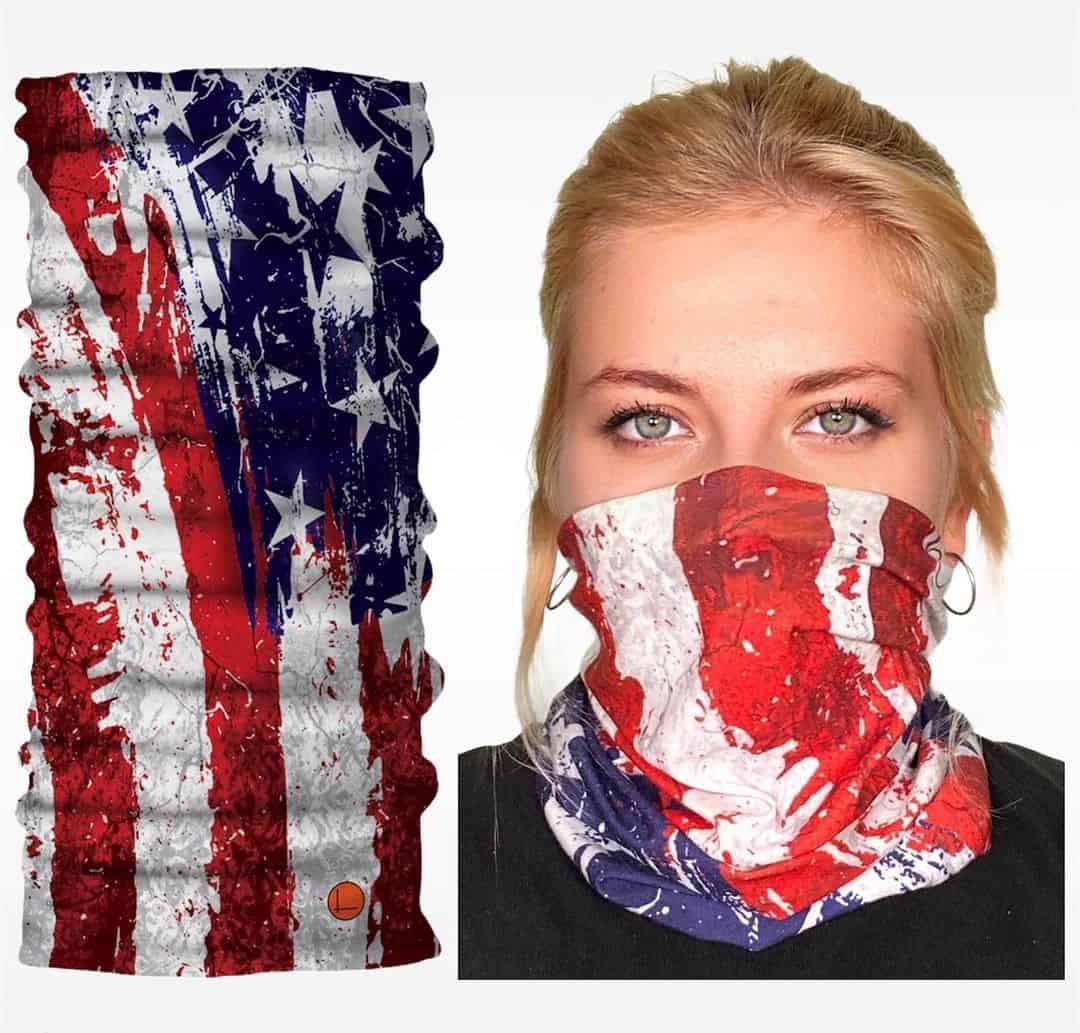 Did you know:
Hold up your neck gaiter to the light, you shouldn't be able to see daylight through it. If you do, then it will not perform well to prevent viral spread.
Things to look for and avoid when buying an American flag mask.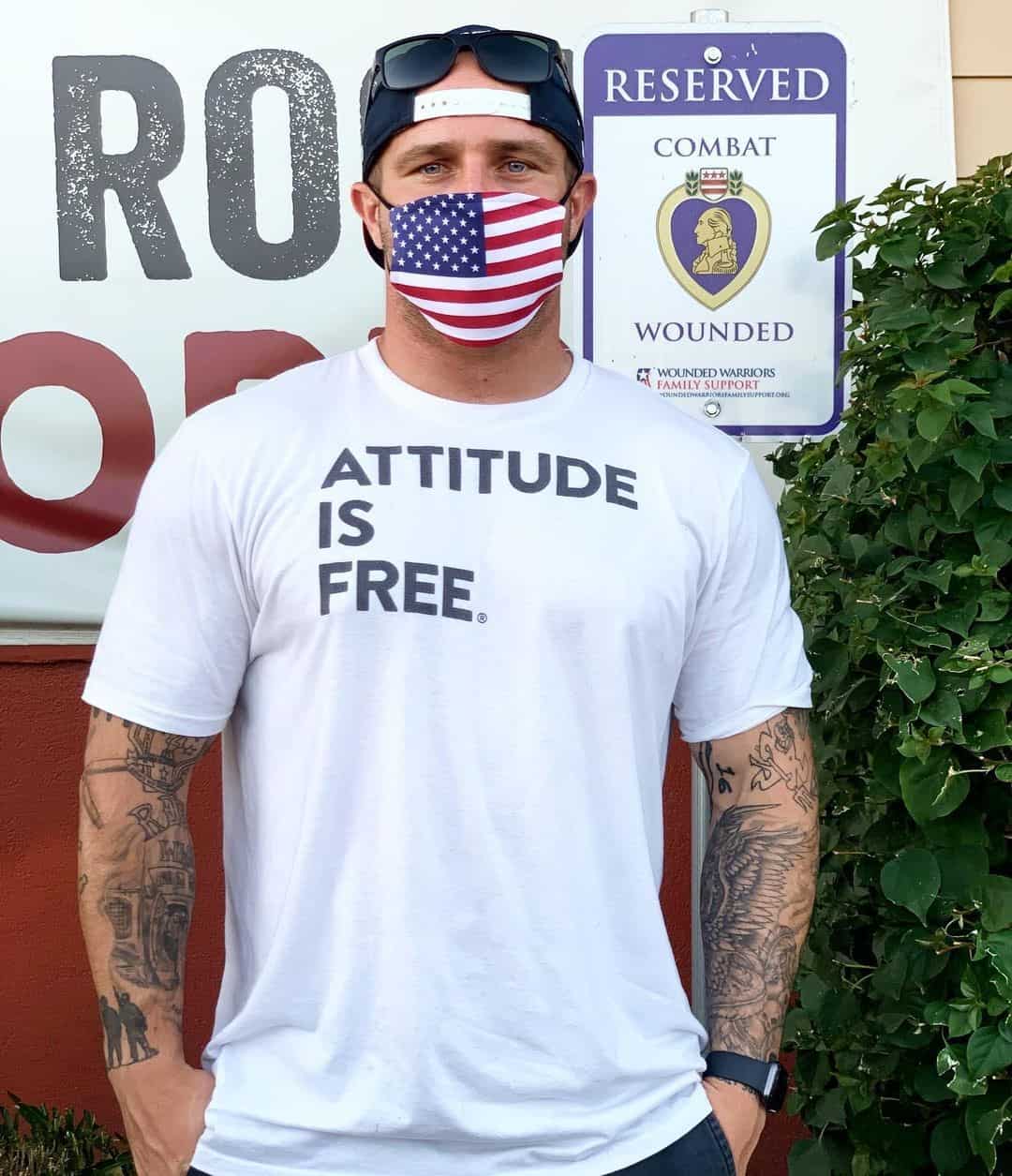 Looking to buy an American flag mask can be overwhelming, even when presented with a list like the one in this guide. Not all face masks are created equal. When you are purchasing an American flag mask, you should look out for:
Avoid buying medical-grade masks unless you are a medical professional or are immunocompromised. These medical masks should be saved for professionals, as there are still shortages around the world of medical-grade face coverings. It has also been shown that they don't provide significant protections for healthy individuals.
Your mask should comfortably cover your nose and mouth. The mask should be firmly kept in place when you talk, walk, and breathe. You need a mask that allows you to move without having to be adjusted. Every time you adjust your mask, your risk exposing your nose and mouth to germs. Handle your mask by touching the ear loops or ties—not the face covering.
The ideal face mask will have an adjustable band to minimize the gap between your cheeks and nose.
The most effective face mask fabrics are water resistant and tightly woven. Avoid anything sheer or stretchy. Your mask should also be 2-ply or 3-ply.
A good American flag mask should be easy to wash, preferably in a machine. You should wash it after every use. Filters cannot be washed and instead should be replaced.
The safest masks are those with plain designs, embellishments can encourage particles to linger on them.
Did you know:
A disposable face shield should only be considered an alternative to a face covering and should only be worn when wearing a cloth face covering is otherwise not possible.
What does a black and gray American flag mask mean?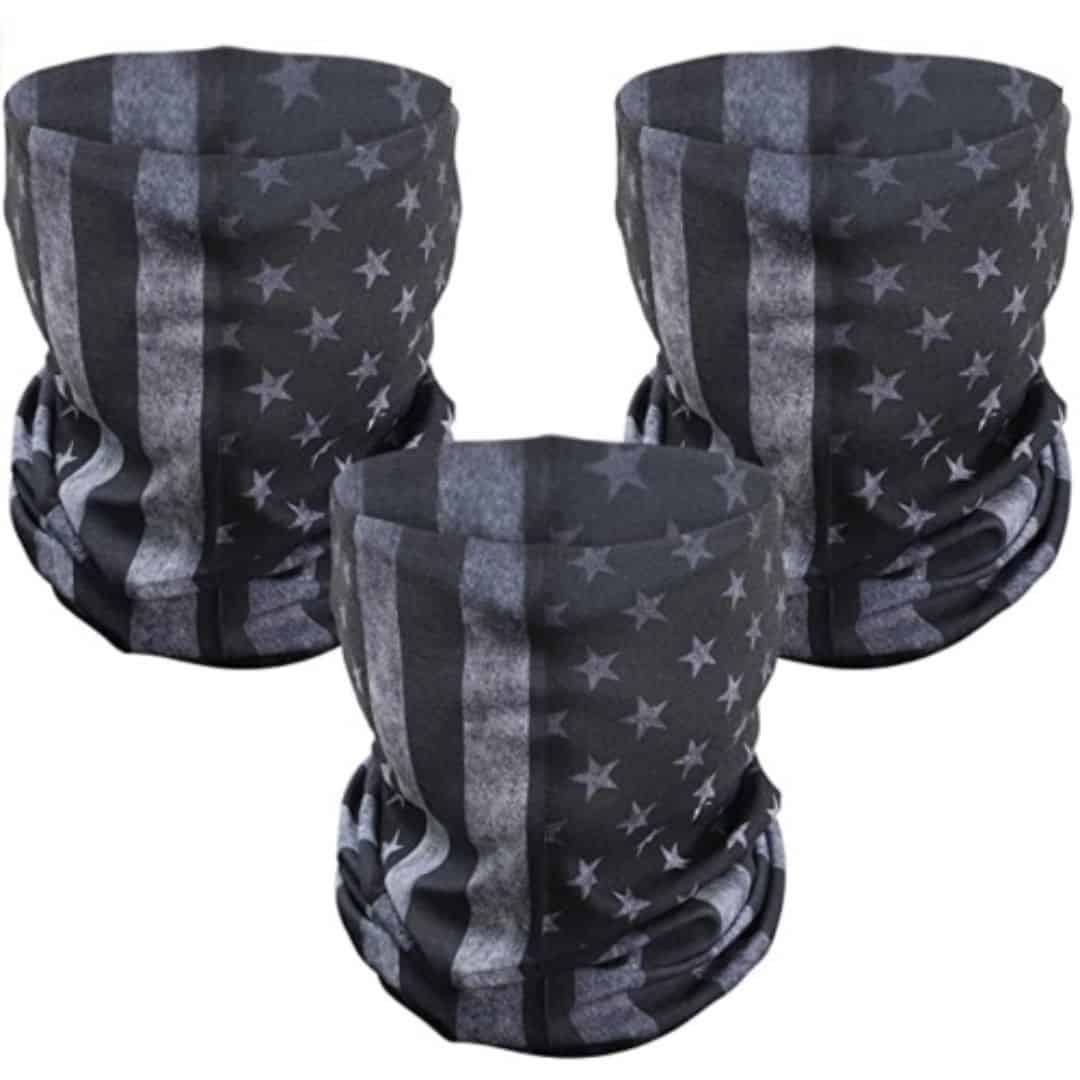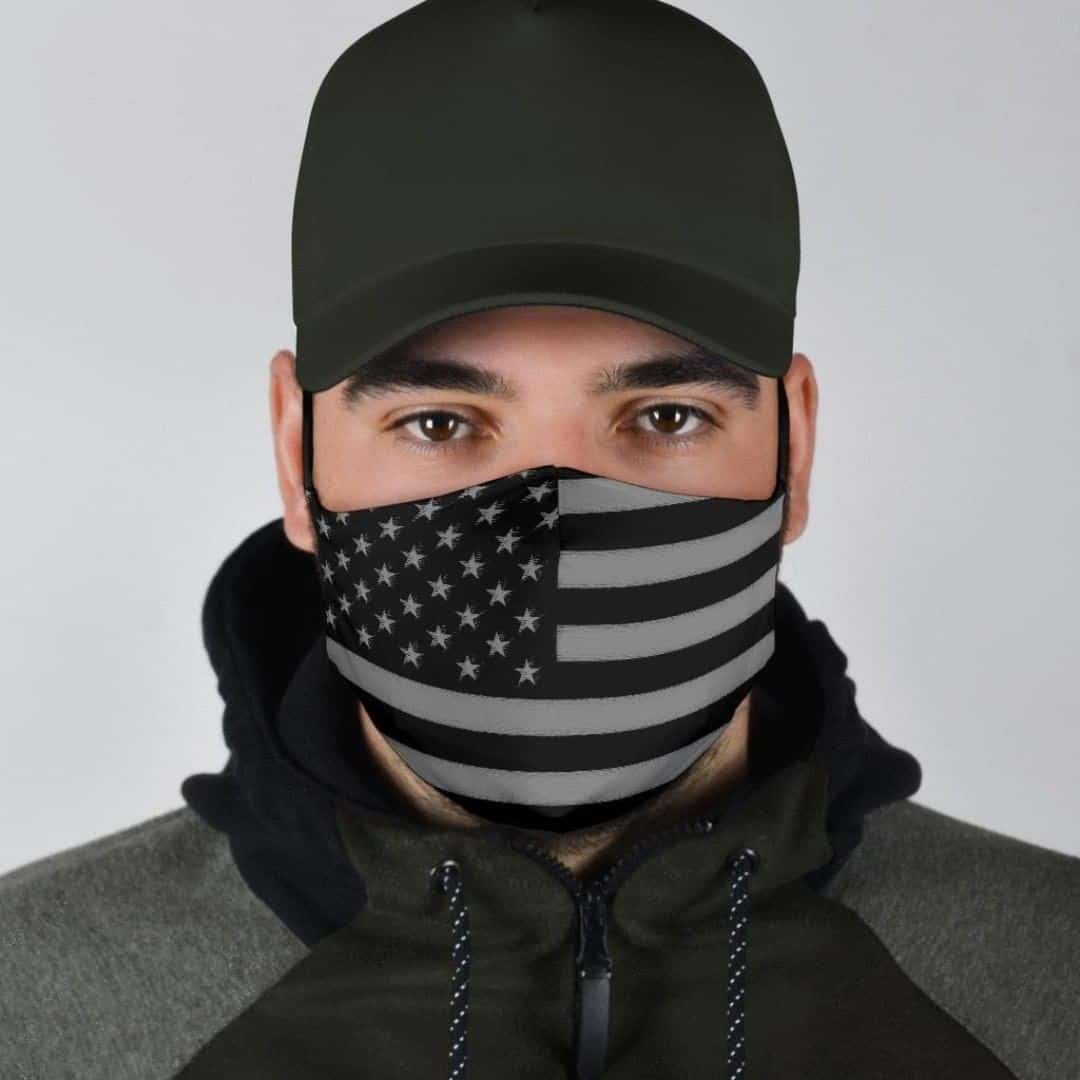 The black American flag first appeared during the American Civil War. Confederate army soldiers flew the black flag to symbolize the opposite of the white flag of surrender. It symbolizes strength and the refusal to surrender or give in. This is very rarely seen now, if it is, it's usually aesthetic reasons.
The black and gray American flag can mean anything you want it to. Some use it as a statement to the declining economy and the equality within the country. Certain parts of the military use this sombre color to show solidarity.
A black and gray flag with a thin blue line is a controversial pro-police symbol, that has been seen to be an anti-Black Lives Matter symbol. The thin red line American flag was created to show support and solidarity with fire service personnel and to honor fallen firefighters.
Did you know:
Some people do not agree with the alteration of the American flag. Others view the thin blue and thin red line was being representative of political statements.
 How do I wash and dry my American flag mask?
Wash your American flag cloth mask whenever it gets dirty. A maximum you should wash your mask after a day's wear. If you have a disposable face mask, throw it away after the first wear.
You can wash your American flag masks in your washing machine alongside your other washing. Use regularly laundry detergent and the warmest water setting appropriate for the material. If you prefer, you can wash your face mask by hand.
Some tips:
Always check the label to see which setting the material is best washed on.
If you are using bleach, ensure it is safe to use on colored clothing and intended for disinfection.
Next mix bleach with ammonia with any other cleanser.
If you wash by hand always scrub for 20 seconds with soapy warm water.
When hand washing, always thoroughly rinse.
Dry your mask in a warm or hot dryer. Never wear a wet or damp face mask.
Hang your mask up to dry or allow it to completely dry flat.